The Swingle Singers: Nothing but Blue Skyes – 100th Birthday Tribute to Irving Berlin. Trax modem CD 1009 (1988) 5014585310091
(also on LP, Modem 1009, barcode 5014585110097, see entry on Discogs. com, and cassette, Modem C 1009, barcode 5014585210094, page with good set of photos on Amazon.com)
Reissue Summit SUMCD 4054 "Nothing But Blue Skyes – The Irving Berlin Songbook" (1996) barcode 5027626405427
Reissue Sanctuary Records Castle Pulse PLSCD 644 "The Swingle Singers Sing Irving Berlin" (2003) barcode 5016073764423
The Swingle Singers Centenary tribute to Irving Berlin – the arrangements are not always successul
Originally posted on Amazon.com, 15 October 2012, links updated for repost February 2022
I am not at all familiar with the songs of Irving Berlin, I came to this disc prompted by an interest for the Swingle Singers. Their Irving Berlin tribute was recorded in 1988, on the occasion of the centenary of Berlin's birth. They had already sung some of the standards of American song and Broadway, Stephen Foster, Cole Porter, Gershwin, Hammerstein & Kern, Sondheim, but other than "White Christmas" (an old companion since their 1968 album Christmastime, it was the first time they tackled Berlin.
The arrangements should not be heard as "imitations" of the original deliveries of the song (as with the wordless and "dee-duming" arrangements of the great hits of classical music with which the Swingle Singers became an instant success in the early 1960s), but as "re-creations" or "variations", the same way as when Jazz musicians pick up old standards and play them in their own style. Many of the original or near-original performances of the songs selected by the Swingle Singers can be found on You Tube. The style and atmosphere of the Swingle Singers' arrangements are very different, and little of the 1920s to 40s music-hall and Broadway atmosphere is left. The arrangements fall in two styles: a few are purely "a cappella" in a manner typical of the Comedian Harmonists or of the Swingle Singers themselves from the 1990s onwards, or just with a light, rhythmic instrumental accompaniment. They gain a sweet and silky elegance that makes them a mixture of the English madrigal tradition and the 1950s-to-1970s sentimental crooning style of popular music for mass consumption: track 2 "How Deep is the Ocean" (sung purely a cappella), 4 beginning of "Blue Skies", 5 "Always" (a cappella), 6 beginning of "They Say It's Wonderful", 8. beginning of "The Song is Ended", 12 "Marrying For Love / The Girl That I Marry", 13 "What'll I Do" (a cappella), 20 "White Christmas" (a cappella). The purely a cappella arrangement turns "Count Your Blessings" (track 19) into a lovely Christmas Carol. The also purely a cappella "It's A Lovely Day Today / Isn't It A Lovely Day" (track 3) is fun with its numerous vocal percussion effects, and likewise with Track 9 "Stepping Out With My Baby" (which has a long solo for saxophone in the middle), one of the best, with many vocal percussion effects, turning it into a quasi-Beatles song, and in both, the change for a more dynamic mood is very welcome. Track 14 "Puttin' on the Ritz" (with discreet jazz drums) and 15 "Abraham" (drums, piano and bass) are very successful too, the latter very much in the "vocalese" style of Hendricks-Lambert-Ross or the Double Six de Paris, with a long solo for scattting, then (I think) bugle in the middle.
But many are very typical of what the ensemble had been doing in the 1970s and 1980s. As in their Live 1987 concert at Ronnie Scott's, many of their arrangements are heavily scored, adding a sizeable "pop-music" instrumental accompaniment (keyboard, drums, bass, guitar, trumpet, saxophone, harmonica) which turns those songs, in the best cases, in Big Band Jazz (track 7 "No Strings", 18 "I've Got My Love To Keep Me Warm"), but more often into pop music – and pop of the most commercial kind at that, the one you'd find in cocktail lounges, not too loud not to disturb the patrons, as in tracks 1 "Top Hat, White Tie And Tails", 4 "Blue Skies", 6 "They Say It's Wonderful", 8 "The Song is Ended", 11 "Cheek To Cheek / Let's Face The Music And Dance". In track 10, Ginger Rogers' "Let Yourself Go" (from "Follow the Fleet") is morphed beyond recognition – but the Swingle Singers' funky version is fun, too. They turn "Heatwave" (track 17) into music for Walt Disney's "The Lion King" – prescient, considering that the CD came 6 years before the film. In itself, the Swingle's arrangement is very effective and entertaining.
I've read some reviews complaining that the Swingles and Berlin "don't mix", but I don't think that's the problem. When Ella and Louis sing "Change Partners" or "Ive Got My Love to Keep Me Warm", you also loose the "authentic" Berlin/Music-hall/Musical spirit. But the problem is not what you loose, it is what you gain, and we know what's gained with Ella and Louis. So the problem with many of these Swingle Singers' arrangements is that what we get in exchange is commercial cocktail-lounge pop music of the 1970s. We were better off with 1920s-to 40s Music Hall and musicals. As for the purely "a cappella" stuff, while very pretty, much of it is relatively repetitive in its sentimental-silky atmospheres.
The recording was originally issued on a label called Trax, label number "Modem CD 1009", under the title "Nothing But Blue Skies" (it also came out as LP and cassette). It's been reissued on various budget labels, under different titles, referenced in the heading, but you can also find it online in what appears to be mp3 files for download, under the titles   "A Celebration Of the Voice" and "Top Hat White Tie And Tails" – both sporting a photo of the original, Paris-based Swingle Singers from the 1960s, none of whom contributed to this recording. The Castle-Pulse reissue comes with a small uninformative blurb and only title of songs and credits of the companies holding the copyrights, but not even a listing of the singers or instrumental players, and no information on the sources of the songs – the original Trax CD is much more informative on all those points. So here are the liner notes you won't get with the CD, with references to the You Tube page where some of those originals or early significant recordings can be heard (I've updated those links for 2022 repost, but with time they come and go…)
1. "Top Hat, White Tie and Tails" was written for the 1935 film Top Hat, where it was introduced by Fred Astaire. See on YouTube (link will open new tab)
2. "How Deep Is the Ocean?" was written in 1932, and was introduced by Paul Whiteman and His Orchestra with vocals by Jack Fulton. It is among the select few of his numbers introduced on the radio rather than onstage or in film. See YouTube (Fulton sings at 1:23)
3. "Isn't It a Lovely Day?" (it should be "Isn't THIS") was also written for the 1935 Top Hat, where it was introduced by Fred Astaire in the scene where his and Ginger Rogers' characters are caught in a gazebo during a rainstorm. On YouTube
The Swingle's arrangements conflates two songs, with the first seguing at 0 :48 into "It's a Lovely Day Today", from the 1950 musical "Call Me Madam" (book by Howard Lindsay and Russel Crouse, with Ethel Merman, also made into a film in 1953 with Merman, George Sanders, Donald O'Connor, and Vera-Ellen).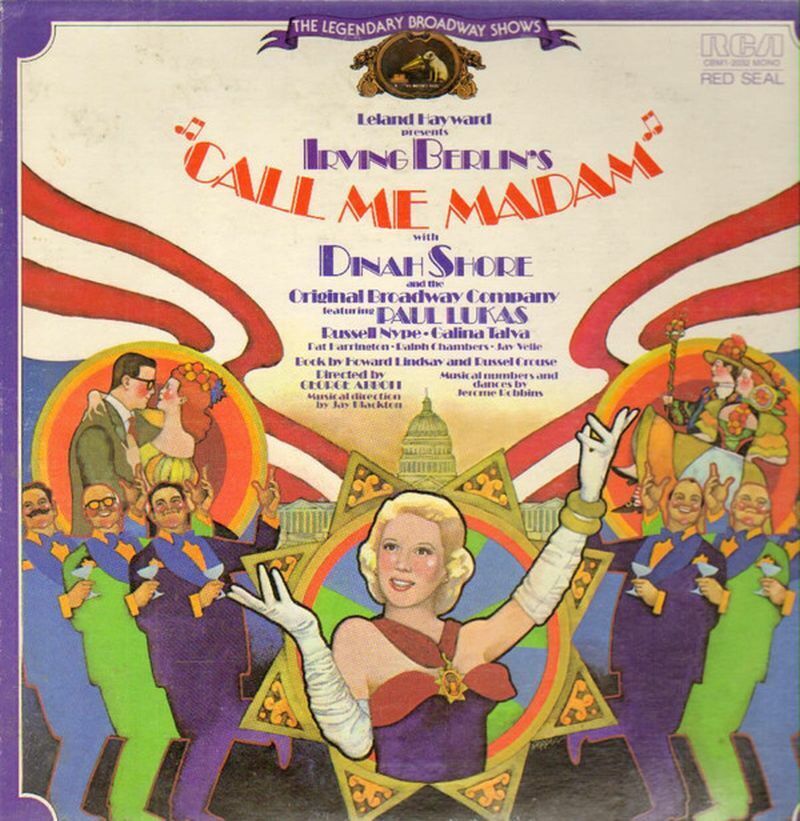 In the original cast recording (originally on RCA),  the song is sung by Russell Nype and Galina Talva.
The same scene in the film is performed by  Donald O'Connor and Vera-Ellen.
Perry Como (and the Fontaine Sisters) and Doris Day left famous early recordings of it.
I also see references to a recording that Ethel Merman would have made of the song (although in the musical it is sung mainly by a man, joined later by a female character that's not the one played by Merman in the show), but I haven't found trace of it and I wonder if the references don't confuse with this,
MCA Classics "Broadway Gold" MCD 10521 (1992) barcode 008811052126 "Ethel Merman 12 Songs From Call Me Madam", where it is sung by Dick Haymes, later joined by Eileen Wilson. Merman couldn't make the RCA original cast recording (see above) because she was under contract with Decca and Decca wouldn't lend her to RCA. So RCA substituted Dinah Shore for the recording and Decca recorded 12 songs with Merman and another cast.
4. "Blue Skies" was composed in 1926 as a last-minute addition to the Rodgers and Hart musical Betsy, where it was sung by Belle Baker. I haven't found a recording by her or even a mention that she recorded it, but Irving Kaufman made a recording a week after the show's opening, on January 6, 1927, which may be the first recording of this song. In 1927, the music was published and Ben Selvin's recorded version with Charles Kaley (vocals) the Knickerbockers was a #1 hit. That same year, it became one of the first songs to be featured in a talkie, when Al Jolson performed it in The Jazz Singer (1927). It was sung by Bing Crosby in the 1946 film "Blue Skies" (starring Bing Crosby, Fred Astaire, and Joan Caulfield) and "White Christmas" (1954).
The version of Irving Kaufman is on YouTube
Ben Selvin  (Kaley sings at 1:19)
Another version from 1927, by Harry Richman
5. "Always" was written by Berlin in 1925, as a wedding gift for his wife Ellin McKay, whom he married in 1926.
Here's a recording from 1926 by Henry Burr
6. "They Say It's Wonderful" from the musical "Annie Get Your Gun" (1946), where it was sung by Ethel Merman & Ray Middleton, heard here.
Another version from 1946 by Perry Como
7. "No Strings (I'm Fancy Free)" written for the 1935 film Top Hat, where it was introduced by Fred Astaire, see here.
8. "The Song is Ended (but the Melody Lingers On)" with lyrics by Beda Loehner, from 1927.
Ruth Etting 1927 or 1928
Annette Hanshaw 1927
9."Steppin' Out with My Baby" written for the 1948 musical film Easter Parade. There it is sung by Fred Astaire as part of a dance number involving Astaire on stairs and three different dance partners, see here. Fab'. Some dream to be Stallone or Schwarzenegger, I dream I were Astaire…
10. "Let Yourself Go" written for the 1936 film Follow the Fleet, where it was introduced by Ginger Rogers. Other notable recording by Astaire
11. "Cheek to Cheek" again from Top Hat (1935). In the movie, Astaire sings the song to Rogers as they dance, see here
In the Swingle's arrangement it segues at 1:49 into
"Let's Face the Music and Dance", written in 1936 for the film Follow the Fleet, where it was introduced by Fred Astaire and featured in a celebrated dance duet with Astaire and Ginger Rogers, here  (the singing starts at 2:23).
12. "Marrying for Love" from the 1946 musical Call Me Madam (see track 3), song sung by Paul Lukas (you can hear it here)
Unfortunately, as of 2022, the video of the 1953 Film version sung by George Sanders is no longer available on YouTube. You can hear it audio only. You've gotta love Sanders' fake "Lichtenburg" accent (he portrays a General from an invented – East ? – European Duchy)
seguing at 1:40 into
"The Girl That I Marry", a song from the 1946 musical Annie Get Your Gun. It was originally performed by Ray Middleton on stage and on record, which can be heard here. Other hit versions in 1946 were by Frank Sinatra, and Eddy Howard
13. "What'll I Do" was introduced in 1923 by singers Grace Moore and John Steel late in the run of Berlin's third Music Box Revue and also was included in the following year's edition (1924). First recording was an instrumnetal arrangement by Paul Whiteman & Orchestra
Other early recordings by Frances Alda, soprano vocal solo, Orchestra conducted by Rosario Bourdon, Recorded June 12, 1924, Victrola 1032,
Perry Como 25 September 1947,
Frank Sinatra 29 October 1947
14. "Puttin' on the Ritz" written and published in 1929 and introduced by Harry Richman in the musical film "Puttin' on the Ritz" (1930). The title derives from the slang expression meaning to dress very fashionably. The expression was inspired by the swanky Ritz Hotel.
The original version of Berlin's song included references to the then-popular fad of flashily-dressed but poor black Harlemites parading "upon Lenox Avenue", "Spending ev'ry dime / For a wonderful time". The song was featured with the original lyrics in the 1939 film Idiot's Delight, where it was performed by Clark Gable and chorus – not where you expect Rhett Butler or  "Gay" Langland ! Columbia released a recording of Fred Astaire singing the original lyrics in 1930. For the film Blue Skies (1946), where it was again performed by Fred Astaire, Berlin revised the lyrics to apply to affluent whites strutting "up and down Park Avenue". [2022 addendum] Sadly, the copyright holders have obtained the suppression from YouTube of the video of the number, with Astaire's jaw dropping "pas de deux" with… his cane. A stupid move, in my opinion: seeing that very scene will entice you to buy the DVD of the complete film (translating into money money money for the copyright holders), whereas, if you have nowhere to see the scene, you won't even know what you're missing….  I've found it on Vimeo, and that'll last as long as it lasts… Marvel in the genius of Fred Astaire.
The Swingles' lyrics are based on the first version, with small emendations, some inspired by those of Blue Skies: still "fifteen dollars" (Astaire 1946 has "lots of" them) and "strolling down Fifth Avenue" instead of Astaire 1930 "upon Lenox Avenue" and Astaire 1946 "up and down Park Avenue", "Why don't you go / Where fashion sits" instead of "Where Harlem flits".
15. "Abraham", from Holiday Inn, a 1942 American musical film directed by Mark Sandrich and starring Bing Crosby and Fred Astaire, where it is sung by Bing Crosby. I'm surprised that this one is still on YouTube (though uner another link than the one I had found when I first published this review) – and it says a lot about the evolution in a decade of the political discourse and sensibilities, that I think I didn't even notice, when I first wrote this review ten years ago, that the scene was typical "blackface", to the point of caricature.
16. "Change Partners" from the 1938 film Carefree, where it was introduced by Fred Astaire  – wonderful scene.
17. "Heat Wave" from the 1933 musical "As Thousands Cheer", and introduced in the show by Ethel Waters. The song was featured in the 1938 movie "Alexander's Ragtime Band", where it was performed by Ethel Merman, and, of course, the hottest version of all, Marylin Monroe's in "There's No Busines Like Show Business", is not to be missed
18. "I've Got My Love to Keep Me Warm" from "On the Avenue" (1937), sung by Dick Powell and Alice Faye.
19. "Count Your Blessings (Instead of Sheep)", written for the 1954 movie "White Christmas". The best-known recordings were made by Rosemary Clooney and Bing Crosby – who both appeared in the film – you can see the song here.
20. "White Christmas" was written in the early 1940s (accounts differ) and Bing Crossby, who first introduced it on his NBC radio show The Kraft Music Hall on Christmas Day, 1941 (there are conflicting reports whether it was recorded), made it the best-selling single of all times when he recorded it in May 1942. The song was included in the 1942 film Holiday Inn with Crosby and Marjorie Reynolds (watch here), and the success of the song eventually led to another film based on it, White Christmas, released in 1954 and starring Crosby, Danny Kaye, Rosemary Clooney and Vera-Ellen (song is here). The 1942 single was re-recorded in 1947 because the original master had been so used that it had worn out and was no longer usable. So that makes it a number of "early" versions by Crosby – 1942 Single, 1942 film (not clear if they're the same but apparently not), 1947 and all those that Crosby may have recorded after, 1954 film, and it is never clear on compilations which one it is, and I am not sure the attributions are always right. Some told to be the same have slight differences between them, and some said to be different sound exactly alike.
Anyway all those "early" versions are not substantially different from the Holiday Inn version. This one purports to be the 1942 recording, and this one the 1947 remake.
And for the "true spirit" of the 1920s Broadway, don't miss this, this, this and this.
************************************************************
Did I say that "I am not at all familiar with the songs of Irving Berlin"? Now I am a specialist of 23 songs of Irving Berlin.