The Swingle Singers: If It's Music, We'll Sing It! Swing CD 6 (1991) no barcode
Mostly a compilation of tracks from the four Virgin CDs – and at the price, it ain't worth it
Originally posted on Amazon.com, 19 October 2012
With the Swingle Singers often doing reprises of songs they recorded before, it wasn't clear from the track listing or any information I was able to gather on the Internet, even from the ensemble's own website, whether this was a collection of new recordings of old material or simply a compilation of earlier recordings.
Finally the great Swingle Singers discography compiled by Thomas Cunniffe on Jazzhistoryonline seemed to solve that issue, indicating that the recordings were made in "Osaka, Japan, December 1980". So I decided to go ahead with it (found a website, acappellazone, that sold it much cheaper than the price demanded on Amazon.com at the time of writing).
Wrong pick! Turns out that Cunniffe's description was imprecise on this one. Only six tracks were, says the CD's product info, recorded live in Osaka in December 1990, 5-7, 9, 17 and 18 (see back cover photo for complete track listing). Those are Bach's Organ Fugue from Fantasia and Fugue BWV 542, excerpts from Tchaikovsky's 1812 Overture, Rimsky-Korsakov's Flight of the Bumble Bee, Henri Mancini's Peter Gunn Theme, Coventry Carol, Carol Medley.
The rest comes from previous albums of the ensemble: the 1991 "A Cappella Amadeus – A Mozart Celebration" on Virgin (tracks 1-3), "The Bach Album" from 1990 on Swing CD 5 (with an augmented reissue by Virgin in 1994, "Bach Hits Back") (track 4), "1812" on Swing CD 4 from 1989, reissued by Virgin in 1995 (tracks 8, 10-12) and "Around The World – A Folk Song Collection" (Virgin Classics 1991) (13-16). The last track comes from Azio Corghi's "Mazapegul – Balletto per Ottetto Vocale e Oboe" on Dischi Ricordi (recorded 1985, released 1988), a vocal "ballet" in the style of Berio, not particularly easy-listening. It ends with 20″ of silence, one wonders why.
Although this is of interest only to the most obsessive discographers (hello? Did someone just mention my name?), note also that there is a minor mystery about the Coventry Carol (track 17): although it is one of the six original tracks indicated to have been recorded live in Osaka, it is the only one where no audience noise or applause is discernible and it sounds very much like a studio recording. It was also issued or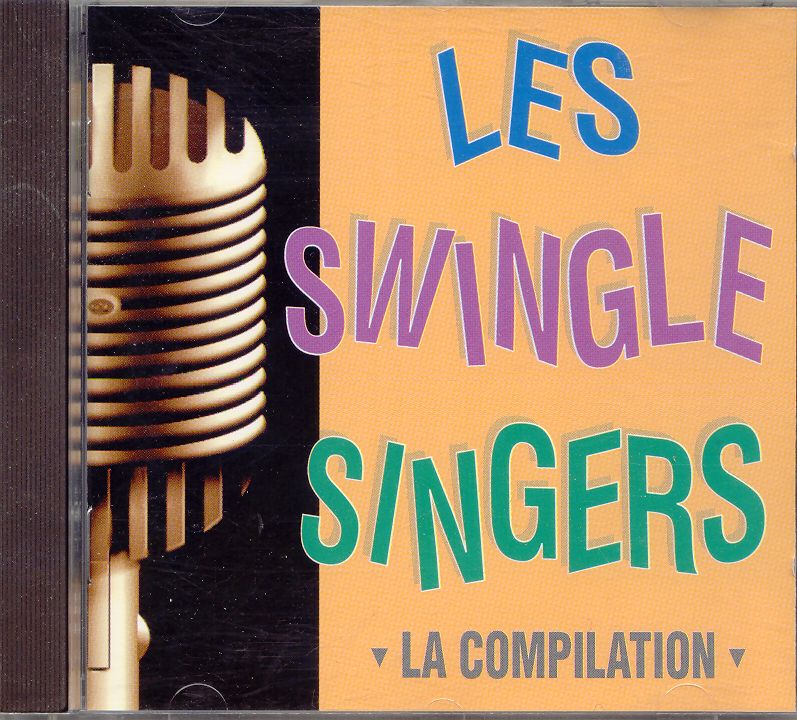 reissued by Virgin-France on a (disappointingly short) Swingle Singer compilation,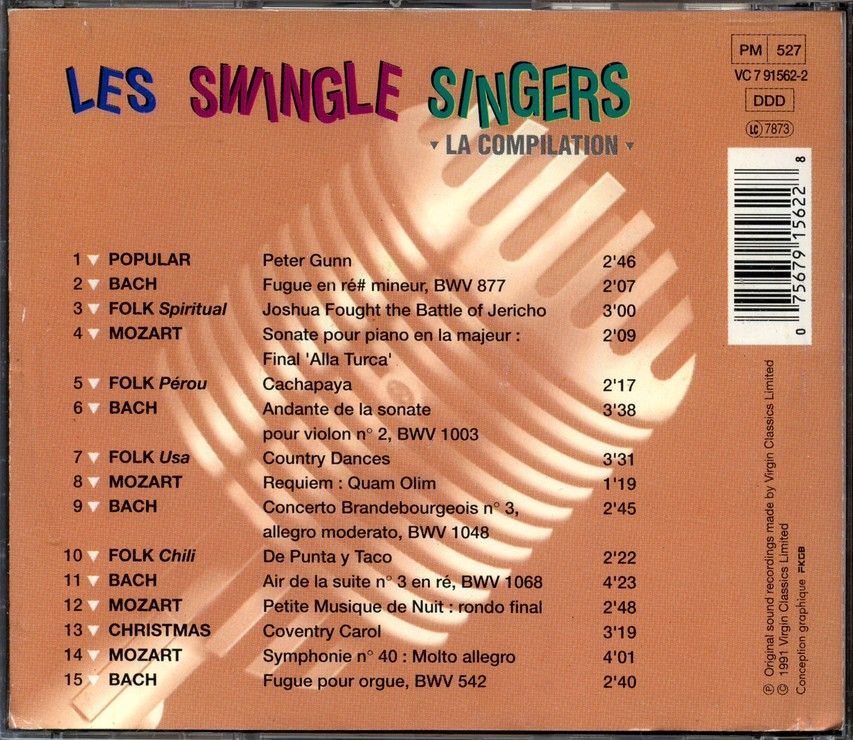 VC 7 91562-2, barcode 075679156228, copyrighted 1991 and titled "La Compilation" (reissued in 2005 under the title "The Swingle Singers", Virgin Classics 4 82132 2, barcode 724348213228). The compilation, which otherwise offers selections from the four Virgin albums mentioned above (not exactly the same as here, although there is some overlap), indicates that all those
tracks were "original sound recordings made by Virgin Classics Ltd", although that particular track appears only in the compilation and in none of the four albums from which the compilation derives.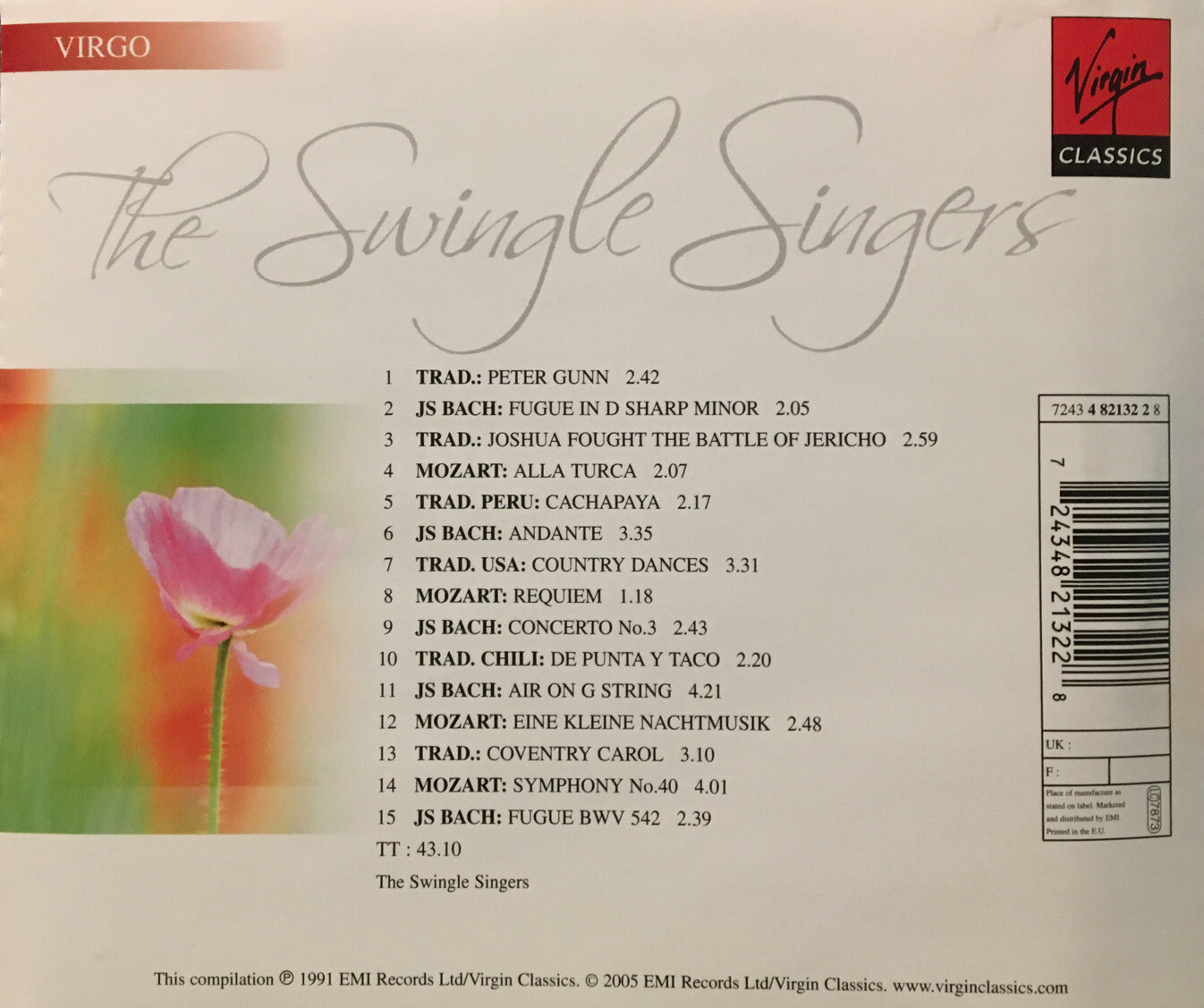 So was it a studio recording made by Virgin for which they thought that the four albums didn't offer a suitable outlet? It would have done fine on 1812 though, the most eclectic in content of the four.
Anyway, for the material from Virgin, better go to the original albums, especially since, on "If it's music", they are transfered at a lower level and don't sound with as much impact. At the time of writing they also sell so cheap and are so good that I don't see how anybody could resist.
And for those tracks from Osaka (or attributed to it), even them are reprises of stuff recorded elsewhere: the Bach fugue on Bach Hits Back, Mancini's Peter Gunn and the 1812 Overture on 1812 (and here we're only given an excerpt of the 1812 Overture, running about half the time of the "complete" Swingle version and obviously extracted from the longer version given at the concert since it is faded in). The Flight of the Bumble Bee is an old companion of the Swingle Singers, found on the LP "Folio" from 1980 (not reissued on CD, see my Swingle Singers discography Part II), the album "Live in New York '82",  "Reflections" from 1985 and later on "Live!" 1996-7, Swing CD 11. The Coventry Carol was first recorded on a Polydor LP, "Christmas", in 1986, and reissued on CD by Spectrum on "The Christmas Album". Finally, the Coventry Carol and Carol Medley are on "The Story of Christmas" from 1994, Swing CD 8.
So, unless you want a 62 minute compilation of the Swingle Singers representing their various styles, and are ready to pay a hefty price for it, this is a non-contender. The other compilation of the Virgin albums, mentioned above, directly from Virgin, is 20 minutes less generous in timing but more than 50 bucks more generous in pricing. Still, the original Virgin albums sell for so cheap that it would be absurd to prefer the excerpts, with the Osaka tracks simply not substantial enough to change the equation.