Swingle Singers: Swinging Mozart. Philips 548 538-2 (2001, digipak), barcode 731454853828
Compiled (with Philips 546 746-2 "Going Baroque") in 586 154-2  (2001), barcode 731458615422
Compiled (with 10 other digipak-CDs of the Paris Swingles) in Swingle Singers (11 CDs) Philips 982 632-5 (2005), barcode 602498263259
Recorded September-October 1964 (date provided by Thomas Cunniffe's Swingle Singers discography on Jazzhistoryonline.com)
A lovely Album of Mozart arrangements – but who'd want it?
Originally posted on Amazon.com, 21 October 2012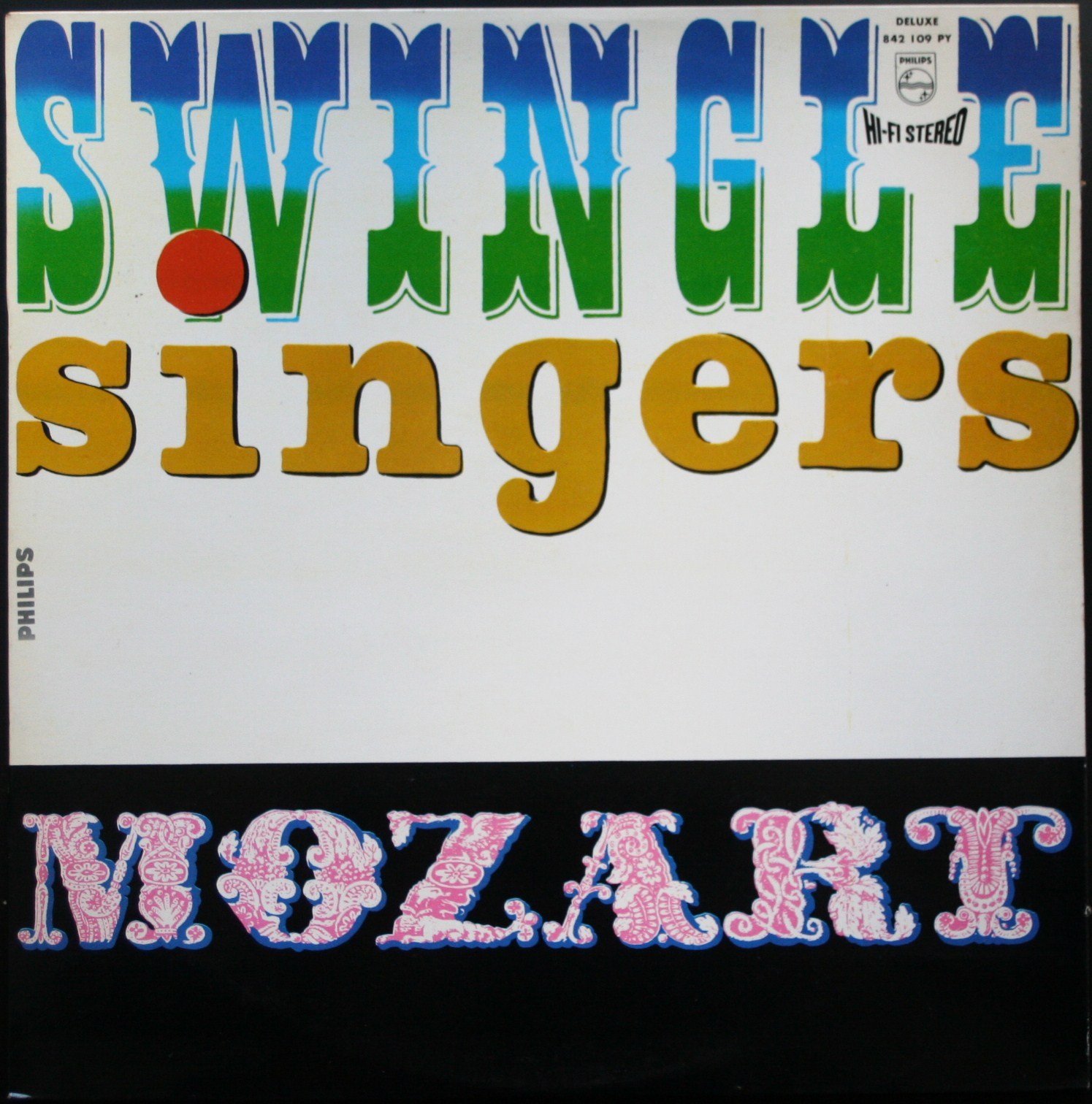 This is a lovely album, the Swingle Singers' third, recorded at the end of 1964 and released in 1965 on Philips 842.109 PY, and in the US with the title "Anyone for Mozart?" on Philips PHS 600-149
. It came after their seminal 1963 Jazz Sébastien Bach and 1964 Going Baroque. The selections are great (Variations "Ah vous dirais-je maman" aka "Twinkle, Twingle Little Star", Kleine Nachtmusik complete, the fugue from Violin and Piano Sonata K. 402, the first movement from Piano Sonata No. 5 K. 283, and the complete Piano Sonata K 545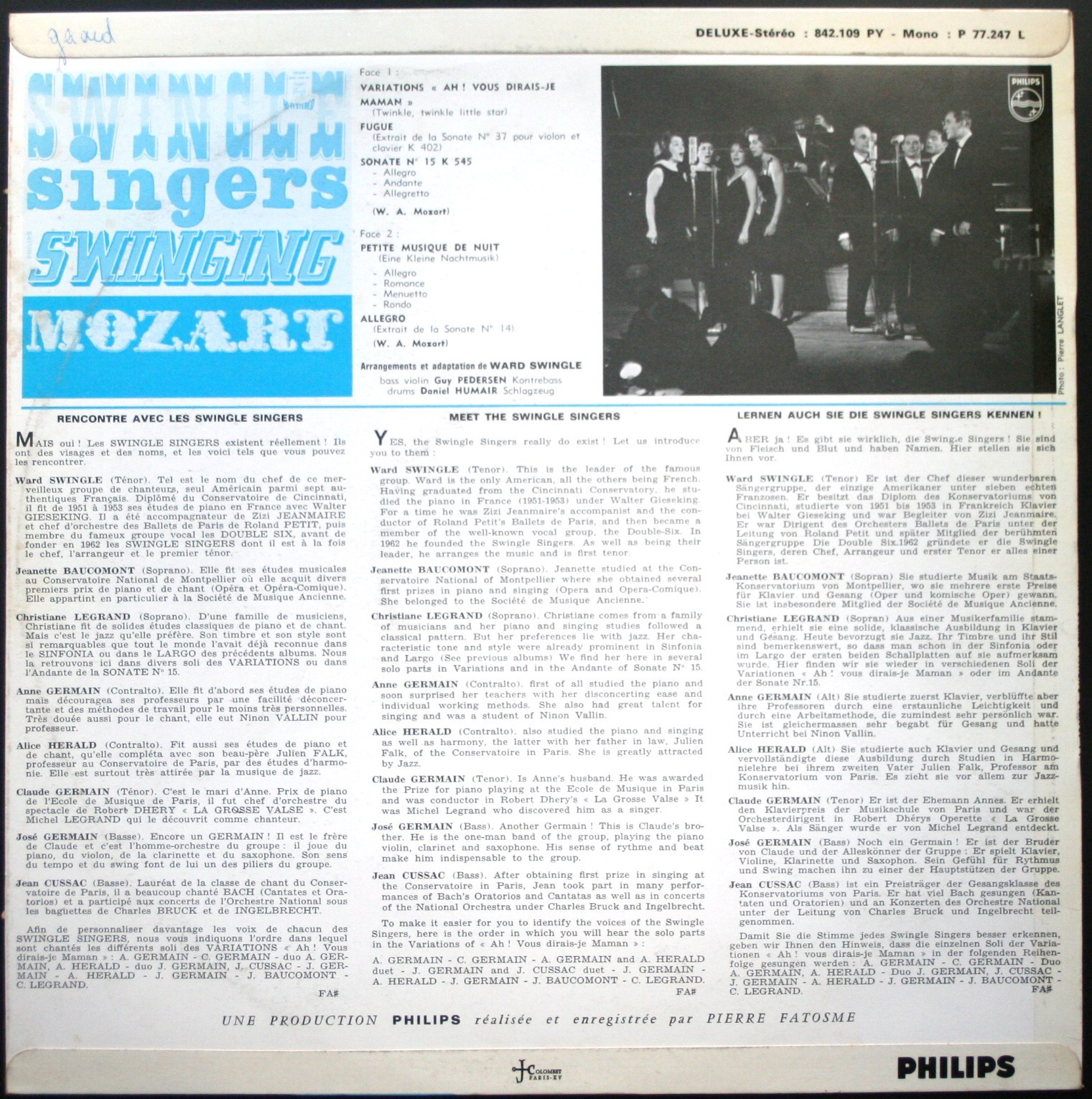 – now considered Mozart's 16th, and not 15th), the arrangements are great, from dazzling to enrapturing (Christiane Legrand turning Mozart's
melodies into sensuous Miles Davis cool is so beautiful that I could weep), the jazz accompaniment (double bass and drums) brings its own layer of color and rhythmic excitement.
But what was accepted from LPs in 1965 – a total time of 28:18! – becomes on CD an infuriating case of the label trying to milk us cows. In the early 2000s, Universal or whoever it was that held the rights to the Philips catalog reissued, as a "collector's treat", the 11 albums recorded for the label by the original, Paris-based Swingle Singers between 1963 and their disbandment in 1972, "straight", as 11 digipak CDs (also paired in groups of two), then (in 2005) gathered in an 11-CD set, Philips 982 632-5 (link and review soon to be provided). Almost all these albums timed 30 minutes or less. Universal sold the set at budget price, but that of course lasted only as long as they had copies for sale, and now that the set is oop and selling very expensive whenever it shows up on the marketplace. Some copies of the individual albums can still be found, here or in Europe, sometimes cheap, sometimes expensive (see my Swingle Singers discography and review of the compilation box for the links – soon to be posted).
But while one might be tempted in the case of albums that can't be found in any other form (the 1966 Swingling Telemann aka "Rococo A Go Go", 1967 Getting Romantic and Concerto d'Ajanjuez/Sounds of Spain, 1969 American Look, 1972 Les Quatre Saisons aka "Joy of Singing"), provided that they can be found at reasonable prices and still fulminating at Universal for forcing us to do so, this is not the case with this one. In the early days of the CD; Phonogram Germany (who then held the rights of the Philips catalog, or at least its pop branch) had done the right thing, reissuing the two Bach albums on one CD, Jazz Sebastian Bach, Philips 824 703-2, and this Swinging Mozart with the tracks from Going Baroque (minus one, incomprehensibly, Handel's Allegro from Concerto Grosso op. 6 No. 4) on aother one: Anyone For Mozart, Bach, Handel, Vivaldi?, Philips 826 948-2. The sound is fine, in fact it is better than on these later reissues (I have the Going Baroque disc for comparison, and the sonics are too loud, with the stereo spread artificially widened, and sounding very artificial), the price is (still) right (in fact it's more than right: at the time of writing it is a steal!), the timing, while nothing to rave about, is twice as generous as this. So who'd want this one, and why? For the original cover?
Shame shame shame on Universal for not doing the same with the other albums. It ain't too late: the 50th anniversary of the Swingle Singers first one, Jazz Sebastian Bach, is coming up next year.