Swingle II: "Madrigals" CBS 80147 (UK edition) (1974)
"Love Songs for Madrigals and Madriguys" Columbia Masterworks M-33013 (US edition) (1974)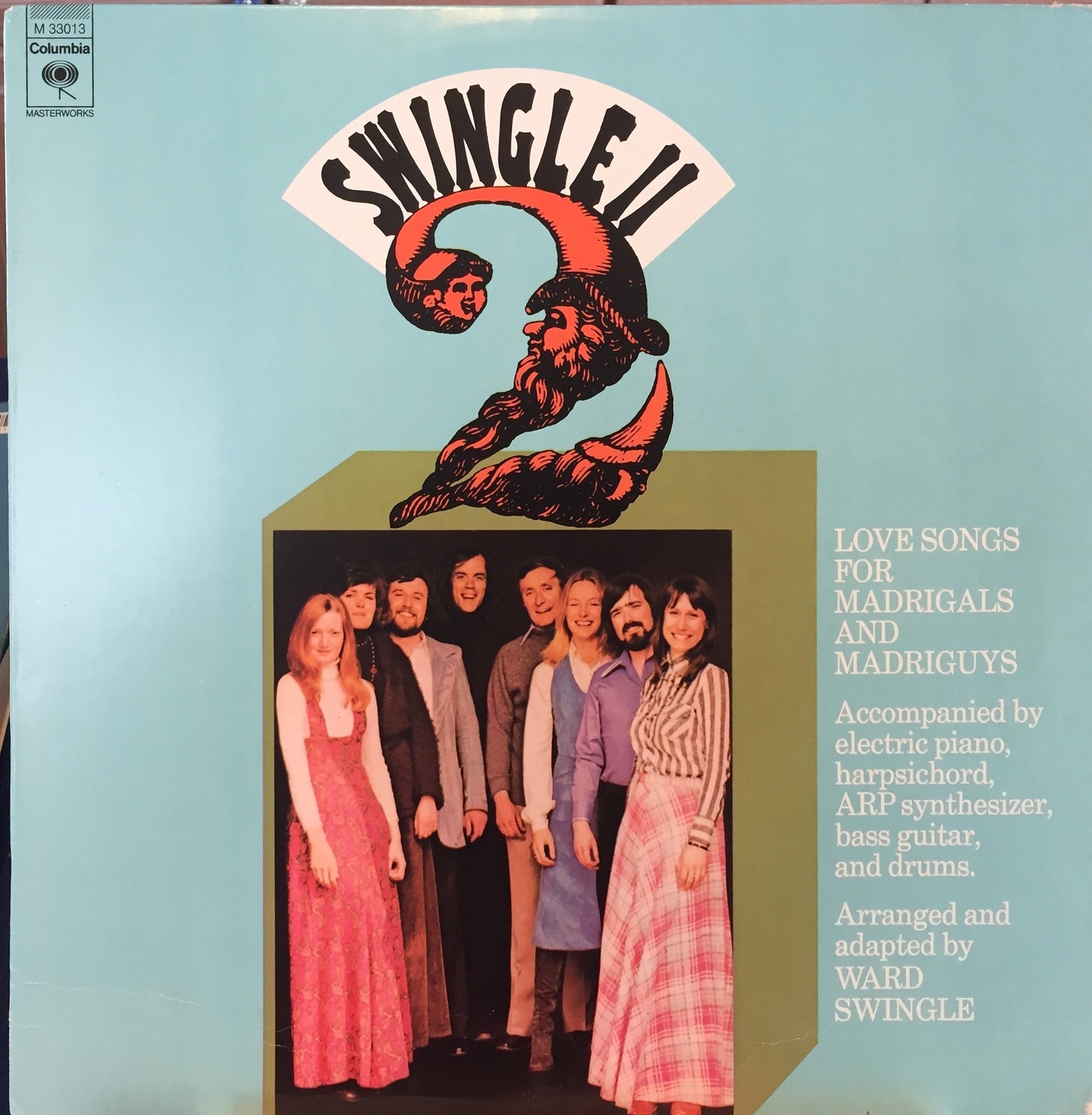 Recorded at CBS Studios, London, date not indicated.
When 15th to 17th century Madrigal meets 1970s pop music: the result is unexpectedly lovely
Originally posted on Amazon.com, 18 October 2012
Never reissued on CD. Sony has done a pitiful job at keeping alive its back catalog of recordings by the Swingle Singers, all made in the 1970s. They only reissued one CD, Sony 88697 552462, Swing Sing, in 2009, a compilation of one full album (the 1975 "Rags And All That Jazz") and excerpts from three others (two tracks from "Words and Music" 1974 , six from "Lovin' You-Words and Music no. 2" 1976 , and one from "No Time To Talk" 1979), standards of Jazz old and new, ragtimes, broadway, film music, the lasting or ephemeral hits of pop music of the day, none the most interesting musically among what the ensemble founded by Mobile, Alabama-born Ward Swingle tackled in those years. The most interesting remains in the vaults, gathering dust, like this one.
The original Swingle Singers, founded in Paris in 1962, disbanded in 1973 and Swingle moved to London where he re-formed a new group made of (mostly) young British singers. Swingle with his original French band had invented a unique style, wordlessly scatting, or rather (since none of it was improvised) "dee-duming" the great instrumental hits of Classical music (and jazzifying them through a jazz rhythmic section of double-bas and drums). I've contended in my reviews of their albums of that era that the reason why it was so endearing is because, by so doing, they returned those great masterpieces of instrumental music to their very essence: the human voice, and made into high art what we all do, inadvertently, without even thinking about it, in our daily lives, washing the dishes, walking the dog, gardening, vacuuming, ironing, showering: humming our favorite tunes. The Paris Swingles had rarely strayed from that style, tackling songs only in their 1968 Christmas album (Christmastime) and their 1969 album of American traditional and popular music (American Look) – but still dee-duming them.
But the new, London Swingle moved on, or back, to singing vocal music, presumably encouraged by the schooling of his youg singers in the great British choral traditions. "Madrigals", aka "Love Songs for Madrigals and Madriguys" as it was titled for the US edition, recorded in 1974, was the first album of the new ensemble – now called Swingle II – tackling madrigals in French, English, German and Spanish from the late-15th to the early-17th Century.
Not that the new Swingles got back into the fold and became just another one of those excellent "a cappella" British vocal ensemble, like the King's Singers or so many others (they're's a great tradition for that in the UK). What Swingle retained from the Paris period was the notion of jazzifying the classics through the use of an instrumental accompanying ensemble playing on modern instruments. Only, here, it is no more jazzifying but "popsifying", pouring a serving of pop music gravy over the viands of 15th-to-17th Century madrigals. You might have thought that the LP's punning title, "Love songs for madrigals and madriguys", was just hip and hype (the UK release went by the more anonymous "Madrigals"), but in fact not at all, it's a fair representation of the record's contents. No more jazz double bass and drums – goodbye, 1950s and 60s Saint-Germain des Prés, hello swinging 1970s London – but bass guitar, drums, synthezisers and keyboard (the two latter played by Swingle himself, a trained classical pianist before he became a singer) – under the pretense that, back then, "instruments were often used in performance, both as accompaniment and in doubling voice parts".
The result could have been hateful, the worst of both worlds, classical music desecrated and bastardized by watered down pop music of the most commercial kind. In fact it's lovely, because the beauty of the originals remain but the accompaniment – always tasteful and discreet – could easily make you think that they were, indeed, pop music ballads written in the 1970s, reminding you of all those songs "in medieval style" written by pop musicians (isn't there one by Robert Wyatt? I haven't heard my LPs of Robert Wyatt in decades). The only thing that would make you doubt is that no aspiring pop star would ever have written lyrics in French, German or Spanish. But in fact it's great, and part of the loveliness, to hear medieval-inspired pop-music ballads in those languages (and I can vouch that their French accent is perfectly acceptable, with just a soft and sweet touch of English in it, to make it even more charming). Swingle may have moved from Jazz to pop, but he did the same thing: back in the 1960s he didn't jazzify Bach, he revealed the jazziness inherent in Bach. And here he didn't "popsify" early music, he revealed the medieval and Renaissance roots of pop music. With good marketing this could have been, and could still be a chart-making success of quality crossover – a punctilious and exclusive lover of Classical music writing, who hasn't listened to his LPs of Robert Wyatt in decades. Too bad the Swingle Singers didn't really persevere, I think the concept of underpinning some of the most lovely vocal works of classical music by a pop rhythmic section had a future, that didn't really come true.
A shame that Sony hasn't reissued it, with its LP timing of 31 minutes it would have made a nice coupling with the 31 minutes of "Baroque", the Swingle II's 1976 album, CBS 69209 (and back to word-less dee-duming and a more jazzy rhythmic accompaniment), also un-reissued. Ignorant and tasteless Sony executives, read this! It's not too late! the fiftieth anniversary of the Swingle Singer's first album, Jazz Sebastian Bach, is next year!