Michael Tippett: Piano Concerto, Piano Sonatas Nos. 1 & 2. John Ogdon, Philharmonia Orchestra, Colin Davis. EMI British Composers 5 86586 2 (2005), barcode 724358658620
reissued on EMI Icon 7 04637-2 "John Ogdon Legendary British Virtuoso" (17 CDs, 2012), barcode 5099970463729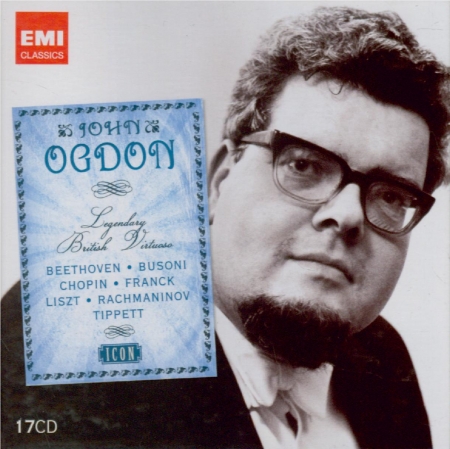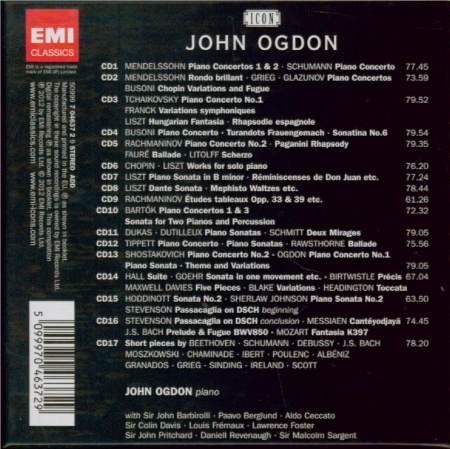 Piano Concerto: recorded 23 & 24 December 1963 at No. 1 Studio, Abbey Road, London
Piano Sonata No. 2: recorded 30 December 1963 at No. 1 Studio, Abbey Road, London
Piano Sonata No. 1: recorded 24 August 1966 at No. 1 Studio, Abbey Road, London
For more reissues of the Piano Concerto in other pairings, see my review of EMI 7 63522 2 (link below) and my comprehensive Tippett discography (link at the end of this review)
An offshoot from EMI Studio's or British Composers 2-CD set of Tippett – the starting point to any Tippett collection
5 March 2022
This CD, released on EMI's "British Composers" collection in 2005, is an offshoot from the 2-CD set they published first on Studio (1991), then on the same British Composers series as here (1993), under the same label number 7 63522 2 and barcode (link will open new tab to my detailed review, and indication of more reissues of the Piano Concerto), reissuing these and other glorious Tippett-EMI recordings from the 1960s, including the Concerto for double string orchestra and Fantasia concertante on a theme of Corelli, and which is the starting point of any Tippett collection (only the first String Quartet performed by the Edinburgh Quartet came from on non-EMI source, and was the less indispensable piece in the reissue). The 2005 reissue then may be attractive for those who'd want only (but why ?) the piano compositions played by John Ogdon.
Ogdon recorded the First Sonata in August 1966 (it came originally on a 2 LP set, EMI ASD 2321-2 with Ronald Stevenson's Passacaglia on DSCH and Ogdon's own Theme and Variations). When you approach it with a historical perspective, e.g. after listening chronologically to the versions recorded before by two women pianists closely associated with Tippett, Phillys Sellick in 1942 (on NMC D103 "Remembering Tippett" with other recording premieres of music of the composers) and Margaret Kitchin in 1959 (on Lyrita REAM.2106 with works of Iain Hamilton and William Wordsworth – links will open new tabs to my reviews), it is striking how Ogdon plays it: big, massive, slightly deliberate in the statement of the theme, with little of the delicacy, lyricism and whimsicality that the ladies (especially Kitchin) brought to it – although there IS a certain delicacy, lyricism and whimsicality, within Ogdon's more massive and pounding parameters. As impressive as it is, I'm not sure Ogdon's approach does full justice to Tippett's composition. The Sonata, one of Tippet's earliest works, is already an entirely personal work, bound to no previous model (except maybe Scarlatti, but only inasmuch as, in the composer's own words, "the music is percussive enough to make us fully aware of the fingers on the keyboard and the hammers at the strings", and if the Beethoven of the 9th Symphony looms in the Scherzo, the influence is entirely transmuted in Tippett's language). About it Tippett explained how he had sought to escape the "heavy" and "too serious" Germanic models, and Ogdon draws him back to an extent in that direction. In the slow movement he doesn't elucidate as clearly as Kitchin the intricate polyphony of voices. But where he is unquestionably impressive is in the Scherzo – not just hugely powerful but taken at a dazzling and almost breathless speed, but without sacrificing digital clarity – and Finale, where Ogdon's muscularity brings out the exuberant hoe-down and honkey-tonk aspects of this vaguely ragtime-inspired music.
The Second Sonata was recorded earlier, in December 1963, shortly after its composition (1962) but released only in 1965 on HMV ASD 621, paired with the Piano Concerto. It is a great work, very original in its form, with a succession of thematic blocks, each with its own tempo and character (always attention-arousing), returning in slightly modified form but never combined. Its more massive and percussive character suits Ogdon perfectly, with his dazzling tempos again bringing in some passages a welcome touch of whimsicality, and although his preference for dry textures and very sparse pedaling deprives it of a touch of atmosphere in some passages (sometimes the same ones). There are faint traces of pre-echo in the long silences of the Sonata's last measures.
Tippett's Piano Concerto is like no one else's. Completed in 1955, it is a richly lyrical work, stemming from the sound world of the composer's opera The Midsummer Marriage, but also from an audition of Beethoven's 4th Piano Concerto played by Gieseking in London. At times what goes on in the orchestra is so lush and sensuous, alternating between luscious outbursts reminiscent of the early orchestral Bartok, and gossamer filigree from the woodwinds or delicate drops from the celesta, that I feel that the piano was not needed: it sounds really like more Ritual Dances from The Midsummer Marriage. I do hear in the music echoes from or similarities with the sound world of Britten – both the extraordinary instrumental delicacy of "A Midsummer Night's Dream" or "The Turn of the Screw" (celesta helping!) and the more powerful utterances of "Peter Grimes" – which doesn't contradict my statement that "Tippett's Piano Concerto is like no one else's", because even Britten never wrote a Piano Concerto like that. The piano is in turn extraordinarily delicate and refined, sounding very much itself like a celesta, and powerful and pounding, and generally so embedded into the orchestral texture that Tippett could have called it a "Symphonie concertante", really. The slow movement – half the length of the first, and with the Finale balancing it – is equally original, two thirds of a threadbare and barely audible melody passing from flutes to clarinets then horns, under (rather than "over") dense and highly decorated piano passagework, and one third of exchanges between piano and strings in the style of the Corelli Fantasia. The Finale is a brilliant and alternately epic and furious toccata, with sweeping flights into the lusher atmospheres of The Midsummer Marriage. To me this qualifies as one of the greatest Piano Concertos of the 20th Century, because one of the most original. But – as I'm sure Beethoven's Piano Concertos in the early 19th Century – it takes I think more than casual listening to grasp its many beauties.
Compared to their few successors – Martino Tirimo with the composer conducting the BBC Philharmonic Orchestra in 1991 on Nimbus NI 5301, barcode 710357530128 (paired with the Triple Concerto,  Howard Shelley and Richard Hickox in 1994 on Chandos 9333, barcode 095115933329 (with the First Symphony) and Steven Osborne with Martyn Brabbins in 2007 on Hyperion (I haven't yet heard Benjamin Frith on Naxos 8.553591, barcode 730099459129, recorded in 1995, published 1999)  – Ogdon and Davis take a slightly more urgent first movement (Tippett conducting is at the other pole, the most expansive and lascivious), which doesn't register as "pressing" or lacking any measure of lyricism and even lusciousness, but brings an undercurrent of nervousness to the lyricism, and I find the mood very welcome – something like a Midsummer Night's Dream fraught with an underlying sense of danger. The very vivid and detailed sonics so typical of the analog era, dryer and more boxy as they may be, give more bite and pungency to the orchestral outbursts than any of its competitors. The oboe sounds a bit nasal as oboes did everywhere in the 1960s: it caught my ear on first hearing, but doesn't bother me in the least on re-hearing, on the contrary I find that it brings character. In the second movement however, although this isn't likely to be perceptible by most listeners, Ogdon is fairly rough and not entirely accurate rhythmically in the awesome piano filigree – again he in Davis are the swiftest and a little more expansiveness might have helped: there are many, many notes to slot into a basic 6/8 rhythm. This is a redoubtable movement, not only to play but also to record, and it is very difficult to get the balance right, without giving the impression that the piano is covered by the strings, and the woodwinds and horns by the piano. The Finale is played with great bravura – by pianist and orchestra alike. The recording of Osborne and Brabbins is the best I've heard, because it combines the rhythmic precision and the lush lyricism without lapsing, as Tippett's own recording, into lasciviousness, but Ogdon-Davis remain, in their very urgency, an important statement.
For more Tippett, see my comprehensive discography (link will open new tab to pdf document that you can read online and/or download).