Michael Tippett: Divertimento on "Sellinger's Round", Little Music for String Orchestra, The Heart's Assurance (orch. Meirion Bowen), Concerto for Double String Orchestra. John Mark Ainsley (tenor), City of London Sinfonia, Richard Hickox. Chandos 9409 (1995), barcode 095115940921
Recorded 7-8 March 1995 at St. Jude's Church, London
Mostly valuable Tippett rarities, overall fine interpretations, with some provisos
Originally posted on Amazon.com, 20 February 2014
A fine Tippett collection, joining the popular (the 1939 Concerto for double string orchestra, the piece that really put the composer, already aged 34 but, unlike his younger colleague Britten, a late blossomer, on the map) and the less well-known. Little Music for string orchestra, comprised of four movements following without break, a Prelude, Fugue, Air and Finale, was composed in 1946 and it isn't major Tippett, because, except in the Finale, it lacks the melodic and rhythmic invention that are typical of the composer at his best. The Finale however is something else, and there the ebullient and passionately lyrical atmospheres of Tippett's first opera and great statement The Midsummer Marriage are adumbrated.
The Sellinger Divertimento started out in 1953 as a single movement, "Lament", part of a collective set of variations on the famous Elizabethan theme commissioned by Britten to celebrate the incoming coronation of the second Elisabeth, and premiered at the 1953 Aldeburgh Festival (the occasion was recorded and comes now as a complement to Britten's Brandenburg Concertos, on
Australian Eloquence 442 9521, barcode 0028944295214): it joined the forces of Imogen Holst (who orchestrated William Byrd's harmonization of the theme), Arthur Oldham, Tippett (contributing the 2nd variation), Lennox Berkeley, Britten, Humphrey Searle & Walton. Tippett then took his Lament and devised his own "Divertimento", in five movements (the Lament again taking second position), with a variation on the theme included in each movement (with also quotes from Gibbons, Purcell, Arne, Field and Sullivan).
As entertaining as it is, Divertimento isn't a masterpiece either, there is too much in it of the light-weight, neo-Renaissance pastiche, its lyricism and melodic invention isn't quite as striking as in the Concerto for double string orchestra and Corelli Fantasia, and Tippett's very typical and personal rhythmic invention, by which the phrases' irregular rhythmic groupings defy the bar lines, is absent from it. But it is very entertaining, and it displays another very typical feature of the composer's style: the very busy instrumental activity. The short and explosive third movement Presto is an orchestral spectacular, and the 1953 Lament, but also the 4th movement Adagio (evocative of Nielsen at times) do rise above the occasion. At Aldeburgh in 1953, Britten fancied that the Variations should be played without indicating who had composed which and let each listener try and attribute who to what. Well, if you knew Tippett's Fantasia concertante on a theme of Corelli (in truth, not many must have, since it got its first recording only in 1964), "Lament" was unmistakable, because it uses the same kind of florid solo violin line. Given how much Lament belongs stylistically with the Corelli Fantasia, it is surprising that Divertimento was paired with the Fantasia only once on disc, its premiere recording, never reissued on CD, by the unexpected
National Arts Centre Orchestra of Canada under Mario Bernardi, published in 1975 by the Canadian Broadcasting Corporation.
Hickox and his City of London Sinfonia deliver good performances of the Concerto, reminiscent, in the drive and dynamism of the Concerto's outer movements, of the "historicals", Walter Goehr (premiere and semi-private recording in 1943, now on NMC's "Remembering Tippet" with other premiere recordings of the composer's music, and remake for HMV with the Philharmonia in 1952, not reissued on CD) and Rudolf Barshai (in 1962 and great stereo, again for HMV, leading the combined forces of his Moscow Chamber Orchestra and Menuhin's Bath Festival Orchestra, collated on an indispensable EMI twofer, 7 63522 2, with other great recordings of music of Tippett from the 1960s) before Neville Marriner in his 1970 recording for Argo established a new and more expansive and pastoral trend. On the other hand Hickox's slow movement is more in the line of the expansive approaches, without either going to the extreme reached by Vernon Handley in 1973 ((first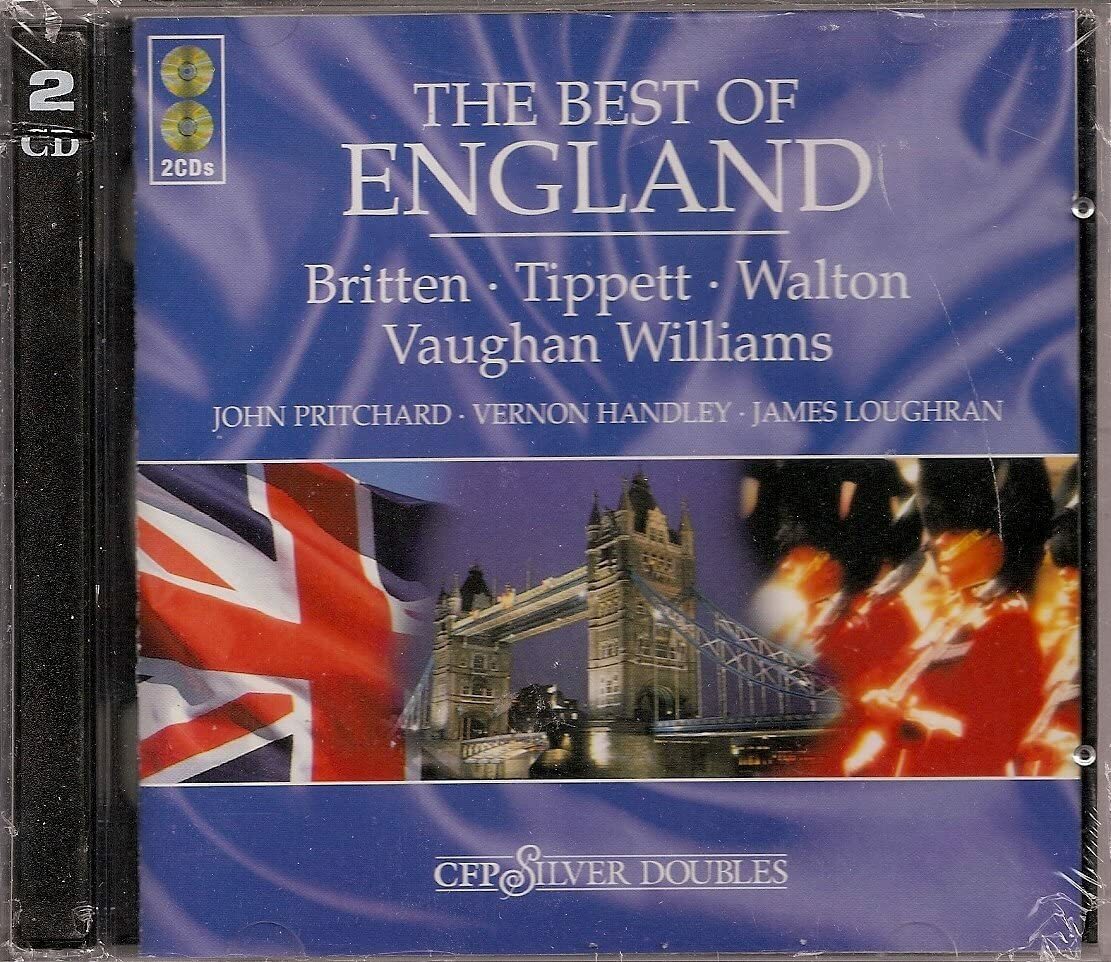 reissued to CD in 1995 on a twofer from EMI Classics For Pleasure, 5 68975 2, "The Best of England", with pieces of Vaughan Williams, Britten and Walton, barcode 724356897526).). The movement doesn't need the expansive approach to unfold its brooding beauty, but it can easily take it. The minor drawback of Hickox's version is that the antiphony of the double orchestra doesn't register as clearly as it might, the City of London Sinfonia sounds more like a single orchestra with first and second violins at both sides.
No such problem in Divertimento and Little Music, and again fine performances, although it seems to me that, in the first movement of Divertimento, Hickox relies a little too much on dynamic piling for the various strands of Tippett's dense orchestration to come out, starting with loud strings and having his wind soloists play even louder to cut through. While fine in itself, his Presto doesn't quite have the drive of Marriner's (recorded less than a month before for EMI's British Composers Series, 5 55452 2), or the instrumental pungency of Del Mar's in 1977 (on Lyrita SRCD.257 with more Divertimentos and Sinfonietas of Rawsthorne, Britten, Berkeley and Arnold, barcode 5020926025722)
. It is interesting though to note that nobody, neither Hickox nor his predecessors Del Mar and Marriner, plays the the Lament at the composer's prescribed tempo – in fact, they all play it about twice as slow, not the "Andante" prescribed by Tippett at 72 quarter notes per minute, but a true Adagio, in Hickox's case at 38. On the other hand, although it is less perceptible, they all play the actual Adagio, the fourth movement, slightly faster than Tippett indicates, circa 84 eighth-notes/mn for Hickox to Tippett's 76 (and they all come within seconds of each other there). No complaint: although it distorts Tippett's intended tempo relationship (with his fast – medium fast – very fast – very slow – fast turned into a symmetrical fast – slow – very fast – slow – fast), the symmetry it achieves is defensible and, more fundamental still, the Lament sounds beautiful like that. Mention should also be made of the Finale of Little Music, which under Hickox is not fast (as it is with Marriner in both his recordings, from 1970 originally for Argo and 1995 for EMI, to exhilarating effect) but robust.
That 1995 EMI recording of Marriner, published at the same time as this CD, had a very similar program, with only the rare and magnificent Sonata for Four Horns from 1955 substituting to Hickox/Chandos' song cycle The Heart's Assurance. The Heart's Assurance is a song cycle for voice and piano, composed in 1951 for Peter Pears and Britten, whom Tippett had met and befriended upon their return from the United States in 1942, and for whom he had already composed the Cantata for tenor and piano Boyhoods End, in 1943. It is set on splendid and cryptic poems by two poets killed during World War II, Alun Lewis and Sidney Keyes, dealing with, in the composer's own words, "love under the shadow of death". The cycle pays tribute to the trio's shared passion for the music of Purcell, his art of word-setting, his florid melismata. As already Boyhood's End, The Heart's Assurance is remarkable for its wealth of musical imagination, both vocally and pianistically. The vocal line jumps from swellingly lyrical to capriciously playful and floridly decorative, and Tippett's characterization is remarkably responsive to the words and meaning; and while the way the piano part anticipates the lush orchestral writing The Midsummer Marriage has been pointed (in particular by Meirion Bowen, Tippett's assistant and authoritative musicologist and biographer) , I see there much also that anticipates Tippett's most mature piano writing in the 3rd and 4th Piano Sonatas.
But what we get here his not the original cycle, but precisely the orchestration made by Meirion Bowen in 1990, with the composer's approval, attempting to draw on the sound-world of The Midsummer Marriage.
I'm not convinced by the result. Certainly the orchestration is beautiful and very refined and very authentically Tippettian, but I find that it "prettyfies" the music and robs it of its angles and edges. The stunning originality of the piano part is lost, in favor of a more anonymously "pretty" orchestration, verging at times on the sentimental (strings, oboe, clarinet melodies can have that effect). I also question one choice of orchestration made by Bowen: the last song and climactic conclusion, "Remember Your Lovers", starts with an upward surge and long descending phrase sung a cappella by the tenor, which recurs throughout. Bowen has that upward surge underpinned by very soft and barely audible – trumpet, I think it is, as it is almost covered by the singer. I suppose it is to help the singer fall perfectly on pitch, but that too is a watering down of Tippett's original conception. Also, because it is more difficult to "pull" fifty players than have ten fingers running on the keyboard, the lovely, scherzando fourth song, "The Dancer", isn't as wittingly scherzando here as in the original versions. I'm not crazy either with the timbre of tenor John Mark Ainsley. No questioning that the voice is firm, valiant, that all those top notes cut through the orchestral texture and radiate, but it also sounds juvenile rather than virile, and vaguely whining at times, I felt.
As a great fan of Tippett and a collector of his recordings, this is a valuable addition to my collection, but I'll take this version of The Heart's Assurance as a curio, and will remain faithful to the original versions, those of Philip Langridge (available only on Decca's four CD compilation of Tippett's Vocal Music, 475 717-2, barcode 028947571728 and
Martyn Hill on Hyperion CDA 66749, barcode 034571167497.
For more Tippett, see my comprehensive discography (link will open new tab to pdf document that you can read online and/or download).