Mahler: Symphony No. 9. Bavarian Radio Symphony Orchestra, Rafael Kubelik 1967. Deutsche Grammophon
Recorded 28 February – 4 March 1967, Herkulesaal, Münich
DG Resonance 445 018-2 (1994), barcode 028944501827:
Collected in 429 042-2 GX10 (10 CDs) with complete symphonies (1990), 028942904224: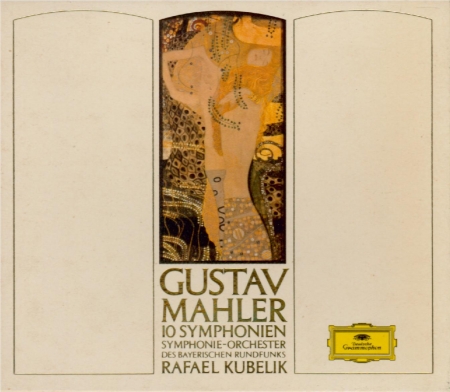 Collected in 463 738-2 "Collectors Edition" (10 CDs) with complete symphonies (2000?), 028946373828:
Collected in "Rafael Kubelik The Symphony Edition" 479 2689 (23 CDs, with the symphonies of Beethoven, Schumann, Dvorak) (2014), barcode 028947926894:
Collected in "Rafael-Kubelik Complete Recordings on Deutsche Grammophon", DG 479 9959 (64 CDs, 2 DVDs) (2018), 028947999591:
Collected with complete symphonies in DG 483 5656 (10 CDs Blu-ray audio in 24 bit / 96 kHz) (2018), 028948356560:
Japanese Editions:
DG Japan UCCG-3955 (476 8155) (1996, reissue 2005, reissue 2016), barcode 4988005404855:
Collected in DG Japan POCG-9861/70 with complete symphonies, Lieder eines fahrenden Gesellen (1996), 4988005189813:
DG Japan UCCG-4990 (476 8155) (SHM-CD) (2014), barcode 4988005812568:

Some dulled sonic edges, but no interpretive understatement here
22 April 2021
I had always read – or I was under the impression that I had always read – that Kubelik's Mahler, recorded for DG with the Bavarian Radio Symphony Orchestra, was understated. Except, perhaps, at times, for the sonics, there is nothing understated about this 9th Symphony, recorded in February and April 1967, almost simultaneously with those of Klemperer (EMI, February) and Solti (Decca, April-May) (links will open new tabs to my reviews).
The sonics do afford a felicitous stereo separation between first and second violins, indispensable to fully hear their delicate polyphony. On the other hand, the sonic pickup is rather generalized especially on bass and brass, the instruments aren't spotlighted and glaring as in Solti's Decca recording or Kondrashin's for Melodiya in 1964, or even, to a lesser extent, in Bruno Walter's valedictory statement from 1961: the cello counter-melodies at the beginning don't register as gloriously and passionately as they do with Bernstein (with the New York Philharmonic in 1965), and brass is sometimes covered under the string texture. At 5:22 into the first movement for instance (measure 88), I'm not sure a listener without a score will hear the horns, and even with the score I don't hear the  trumpets at 12:30 measures 232-233 – trumpets should pierce out, and I wonder if they even entered here.  Another significant example comes in the Finale: shortly after the beginning comes a glorious horn melody, which Mahler notates  ff and "stark hervortretend", strongly coming out, and he has the strings go subito piano to allow for it. Every recording has the horn solo gloriously ringing out. Not Kubelik and DG (at 2:29), it remains distant, sounding from afar, which robs it of its heart-rending lyricism. There are other such moments in the Finale. As a result, the symphony's edges are sometimes dulled – which may have given some commentators, if my memories are right, the impression that Kubelik's interpretation was understated; but, for some who feel that Mahler's edges are too agressive, that dulling may be for the best.
Although Kubelik's opening phrases do not lack in atmosphere and tenderness, his basic tempo in the first movement is swift, even swifter, in the first moments, than Walter's in his pionneering 1938 recording from HMV, and much in the league of the passionate if coarse Kondrashin. The result could feel glib but I find it – like Kondrashin's – beautifully passionate. Significantly, Kubelik applies an unmarked acceleration to convey the transition between the tender mood of the first measures to the more passionate working up at 1:56 (measure 29), his fliessend flows (4:12 measure 86), and on the other hand, just like Kondrashin (and at the opposite of Walter 1961), he doesn't do much with the bar of Rit. measure 91 (5:26). It's a detail, but unlike many including Bernstein, after the interruption in Mahler's buildup of dynamics and tension (6:06 measure 108), Kubelik takes the returned "broken heartbeat theme" as written, at the previous allegro tempo, and not at the ensuing "Tempo 1". His build-up of dramatic tension through simultaneous acceleration of tempo and piling of dynamics starting at "allmählich fliessender / progressively more flowing" at 9:22 measure 164 leading to the "Mit Wut – Allegro risoluto" at 9:47 is perfectly done, and his "mit Wut" is truly furious, but the whole passage (leading to the movement's first great crash) retains the moments of subtle tempo elasticity that keep it from being purely mechanical. After another such fine buildup, his "second great crash" and ensuing timpani thwacks, at 17:18 and further (measures 314-318), may not be the most powerful I've heard, but they are powerful aplenty.
But for all his passionate briskness, Kubelik's reading (and orchestra) are marked by no lack of warmth either, as exemplified by the heartfelt horn surges at 8:37 (measure 152), entoned and phrased exactly as Mahler wrote it: "sung tenderly but strongly coming out". And, likewise and conversely, the movement's funeral marches (the first one starting at 6:11 measure 110) are taken very slowly and with great atmosphere; and no dull edges, here, there is a great "nastiness" to the brass fanfares at 7:00 measure 125, which I've heard with no one else.
Again in the Ländler, the Bavarian Radio Orchestra's instrumental timbres have presence and character without being aggressively spotlighted as they are with Solti's contemporary account with the London Symphony Orchestra. Kubelik shows himself to be more responsive than most to Mahler's consant tempo changes, and the movement's three basic tempi and their relationship, slow, a bit faster, very slow, are finely judged, with Kubelik being closer, in the opening section, to the easy-going bonhomie of Horenstein or Walter (but not as pedestrian as them – to say nothing of Klemperer…) than to the brisker braggadocio of Ancerl (1966, with the Czech Philharmonic Orchestra), Bernstein or Barbirolli but, unlike Walter, establishing the necessary contrast when comes the very slow third section. But I wonder why, starting at 6:11 measure 242 and in later passages in the movement, Kubelik has his oboes, followed by flutes and horns, distort the typical rhythm of dotted quarter-note – eighth note, to a double dotted quarter-sixteenth; it has no logic – that rhythmic cell is pervasive in the movement, why change it? – and feels awkward. I doubt that it is a problem with the edition they are using, I've heard no one else do that.
Kubelik's Rondo-Burleske, in his choice of basic tempo, strikes a perfect balance between the mad rush of Leopold Ludwig (first stereo version, from 1959, on Everest, and an unjustly neglected one) and the more relaxed and jocular pace of Walter in 1961 (to say nothing of Klemperer's elephantine gait), giving, more than Bernstein in New York, a sense of defiant forward drive ("sehr trotzig" is Mahler's character indication for the movement); but the way Kubelik manages the transition at 1:52 (measure 109) is masterful, relaxing oh so slightly the tempo to press out the music's more "burlesque" strains. Thanks again to the sonics, the transparency of the intricate string texture is a joy to hear. Again, the brass sound very natural and aren't as glaringly and aggressively spotlighted as they are in Solti's LSO recording – don't take this comment as a criticism of Solti and the Decca sound: I love them and I consider Solti's LSO recording to be possibly the best version of the LP era; but it is true that it lends great aggressiveness, even brutality, to the movement, stressing Mahler's "sehr trotzig" at the expense of the movement's "Burleske". I'm of the opinon that this "Burleske" should not be construed as "jolly" or even "clownish", but that it is a grim and brutal "Burleske", a defiant (indeed) caricature of the good Viennese society recklessly dancing on the brink of the abyss. But Kubelik offers a fine alternative to those who'd find it too brutal, although, for my own listening enjoyment, I need to crank up DG's volume.
Other than the problem with dulled sonics resulting from recessed brass that I mentioned above, I find little to object to Kubelik's Finale. The great string outburst at 12:44 (measure 108), notated "breaking out violently", lacks violence. But I appreciate that Kubelik maintains his opening tempo when Mahler gives no indication otherwise, where others have played unmarked accelerations in some passages, as if the "time-at-a-standstill" atmosphere exuding from the music was too much for them; The bassoon solo at 1:43 (measure 11) conveys a beautifully desolate atmosphere. Still, listening to this Finale and many others after some years away from Mahler's 9th  (this comment isn't specific to Kubelik's reading), it strikes me that nobody I've heard fully and precisely observes Mahler's tempo relationships and many tempo changes (details would require a full post, which I intend to write). Not that it invalidates what they do with the music, and at any tempo Mahler's 9th remains among the most beaufiul music ever written, but I'd love to hear Mahler's symphony played exactly as he wrote it and, presumably, intended it, at least once in my life.
That said, while Kubelik certainly doesn't represent the ultimate and last possible word on the Symphony, nobody who bought this version in the late 1960s got shortchanged and, although a lot of water has flown under the Mahlerian bridges since, nobody who did today would either.