Joaquin Rodrigo:  Music for Violin. León Ara, Eugène de Canck. Cpo 999 186-2 (1993) barcode 761203918621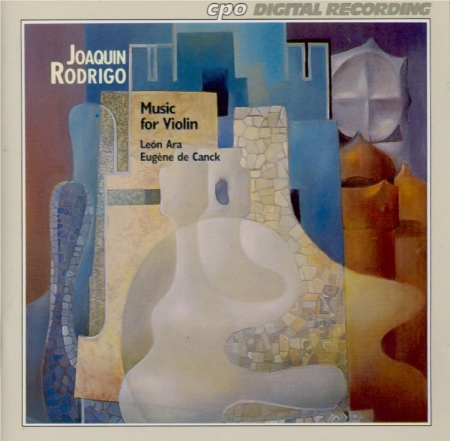 Reissued Ediciones Joaquin Rodrigo CD 116
Recorded March 1989 at Studio Steurbaut, Belgium
Very beautiful, if you are ready to disregard that all of this might have been composed before 1945
22 March 2022

The problem with Joaquin Rodrigo (1901-1999) is that he composed, way into the 1980s (he was still alive when the CD was published in 1993), music that was in the style of what Falla or Ravel composed in the three first decades of the 20th Century or Enescu in the 1940s. What would posterity have done with Brahms if, at the end of his life, he had been composing symphonies of Beethoven?
We have a good sample here, from Rodrigo's Dos Esbozos (Two Sketches) opus 1, composed in 1923 (the only piece to which he gave an opus number) to the Seven Songs from Valencia which he composed in 1982 for León Ara who plays them here. The Esbozos open with a touching lullaby that may recall Ravel's "Berceuse sur le nom de Fauré" or, even more, Falla's "Nana" from Siete Canciones populares españolas from 1914 in Paul Kochanski's arrangement— Rodrigo's is actually the portrait of a young girl in love at a fountain in the gardens of Valencia – and continue with a Spanish Dance, "Pequena Ronda", bringing to mind the dances ("El paño moruno", "Polo", "Jota') from Falla's same cycle. "Rumaniana" is from 1943 and would make a perfect match on disc or in concert with Enescu's Third Violin Sonata "Dans le caractère populaire roumain" ("in the Romanian popular style") from 1926 or his mesmerizing "Impressions d'enfance" ("Impressions from Childhood") from 1940 – in fact, it is hard to think Rodrigo didn't have these two pieces in mind when he composed his own. The Capriccio for solo violin from 1944 is on the austere side, far removed from the sensuousness and lushness of Ysaye's own – again, it is the solo passages in Enescu's Impressions d'Enfance which come to mind –, although there again it would make a fine match on CD with Ysaye's cycle (and a quick check shows that it has been done indeed: in 2004, by Renate Eggebrecht on Troubadisc TRO CD 01443, barcode 4014432014432).
And Rodrigo's style didn't evolve very much. The Two Sketches are juvenilia, but there's not much difference between the opening lullaby and the fourth Cançon from 1982, and the dance, even more than those in Falla's cycle, evokes the Finale of Rodrigo's own Violin Concerto ("Concierto de estío", "Summer Concerto"), composed in 1944 – and so does the middle section (Allegro vivace), starting at 3'19, of the second movement of the 1966 "Sonata pimpante". And then, the last composition on the CD are the Siete Cançiones Valencianas from 1982, and I think the title is clear enough as to where they come from – nearly 7 decades earlier, although their stylistic world is at times more pensive and touching, closer again to Enescu's reflexive Impressions d'Enfance. The sixth Cançon, Andante religioso, has a timeless beauty.
But if you are ready to disregard these matters of style and "historicity"– and I certainly am, far more than I would be for a Beethoven symphony composed in 1880 – the music is very beautiful, very entertaining, very pleasing, and all those who aren't satiated with Kochanski's arrangement of Falla's Siete Canciones populares españolas, or regret that Albeniz didn't compose anything for violin and piano, will find much to enjoy here. I can't really explain why, but it is easy to think of Rodrigo as a composer who composed 80 years within the time-frame of 1923 to 1943.
Although billed on cover as León Ara, fiddler is better known as Agustin León Ara. Born in 1936, he was taught at the Royal College of Music in London by Albert Sammons, Cecil Aronowitz and Alan Loveday, and in Brussels by André Gertler, and, in turn, taught at the Brussels and Barcelona Conservatories and the Paris Conservatoire National Supérieur. He appears to have unique legitimacy in this repertoire, as he was dedicatee and premiere performer of both the Siete Cançiones and of the 1966 Sonata pimpante.  A quick check shows that there is now another recording of the same material: Naxos 8.572648 (2016) 747313264872 by Eva Léon and Olga Vinokur,
adding the 1982 Serenata al alba del día for Violin and Guitar (with Virginia Luque, guitar). Hearing Sonata pimpante and Rumaniana on YouTube, what strikes, more than intepretive differences (in favor of Naxos, a more dynamic approach in the fast middle section of the slow movement of Sonata pimpante), are the differences of sonic perspectives: the Naxos recording is much more in your ears, and piano tends to cover violin in the louder passages (as the opening of the Sonata).
TT 55 minutes. There is, in the German translation (which opens the booklet) of the English liner notes, a formulation which I can't decide if it is a voluntary (and unfortunate) quip, or an involuntary slip: the original text notes that the composer's abundant output "is all the more remarkable when it is remembered that Rodrigo has been blind from an early age", which the German translation renders in "Das ist umso bemerkenswererter, wenn man sich vor Augen führt, daß Rodrigo schon sehr jung erblindete", which, translated back to English, gives : "it is all the more remarkable, when one keeps in sight (litterally: in front of the eyes) that Rodrigo became blind at a very young age". Yes, "sich vor Augen führen" is a common expression in German, meaning "to be aware of", "to consider", but I've seen more tasteful.