Ignace Strasfogel: Piano Music. Kolja Lessing. 1 Decca 455 359-2 / London 289 455 359-2 "Entartete Musik" (1998), barcode 028945535920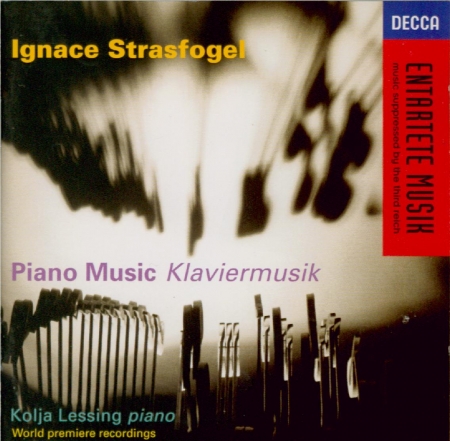 Recorded August 1996, Jesus-Christus-Kirche, Berlin Dahlem
An interesting (though not essential) rediscovery by an interesting artist
Originally posted on Amazon.com,  7 May 2007
Kolja Lessing is an interesting artist. Apparently equally proficient with the violin (which he teaches) and the piano, he has specialized in the rediscovery of forgotten composers from the Austro-German world between the two World Wars. I first encountered Lessing with his recording of piano music by Felix Petyrek (in a series devoted to the pupils of the then famous late-Romantic composer and teacher Franz Schreker, EDA 017-2, link will open new tab to my review); I got curious about Petyrek, an all-but-forgotten composer, as George Antheil, the self-styled "Bad Boy of Music", mentions him in his autobiography as one of the major composers in the German-speaking area in the early 20s, along with such luminaries as "Berg, Petyrek, Webern, Krenek, Hindemith, Schoenberg, Rathaus".
Likewise, Ignatz or Ignaz Strasfogel (he changed his first name to the French spelling Ignace after 1933) was born in Warsaw in 1909 but studied in Berlin, especially with Schreker (one of his fellow students was Berthold Goldschmidt, whose personal fate and late re-discovery bears resemblances with Strasfogel's). He had a career mostly as a pianist, accompanist of musicians such as Szigeti or Carl Flesch (and later, in America in the late 30s and early 40s, of Lauritz Melchior), and repetiteur in various German opera houses, but he was starting to get a reputation as a composer, and his 1926 Second Piano Sonata won the much-coveted Mendelssohn Prize – a feat all the more remarkable, as he was only 17 then. 1933 abruptly interrupted his burgeoning career (he was only 24 then) and forced him to emigrate to the United States, where he worked as a pianist and later as conductor of the New York Philharmonic and the Metropolitan Opera. But he was never able to establish himself as a composer there and more or less gave up the effort.
His two early Piano Sonatas (1925 and 1926) are pretty incredible for a teen-ager of 16 and 17. Their language is close to Berg's Piano Sonata opus 1, with a post-busonian (or pre-neo-classical) taste for contrapuntal elaboration (as in the 1st movement of the First Sonata and throughout the Second Sonata, especially in its finale), but they are not as cogently organized as Berg's early masterpiece. The scherzo ("Presto scherzando") and finale ("Rondo") of the First Sonata are both whimsical and busy scherzo-like pieces. The slow movement of the first is a stern and somewhat rambling chordal elaboration rising to massive climaxes (some of them, as the one at 2:40, evoking the "serious" piano music of Aaron Copland) over a passacaglia-like ostinato of three intervals (two of which, it seems to me, form the beginning of the famous B-A-C-H sequence). The finale of the Second is a theme with 6 variations, mixing the Busonian modernization of baroque forms ("Fugato", "Canone all'ottava", "Passacaglia") and a Hindemithian interest for new musical languages ("Quasi Jazz-Band").
What Strasfogel lacks – and no wonder, given his age – is an entirely distinctive voice, such as makes the piano music of Berg, Hindemith, Schoenberg (to limit myself to the German-speaking sphere) immediately recognizable as their own and stand out unmistakably from all their contemporaries. On blind listening you could easily mistake the music of Strasfogel for Krenek's, Eisler's, Petyrek's and all those Schoenberg-influenced composers with a bent for neo-baroque contrapuntal textures.
Some composers do not evolve and Strasfogel seems one of those. His Preludio fugato from 1946 as well as his Scherzo No. 2 from 1992 are couched in the same kind of language as his early sonatas.
A big part of Strasfogel's small output is apparently in the Lied form, so it is interesting to hear his long (13:40) song "Dear Men and Women" after a poem from the American poet John Hall Wheelock (1886-1978). The music is grey, austere, the vocal writing very "conversational", bringing to mind Satie's Socrate or Milhaud's Alissa. The text is unfortunately not provided for copyright reasons.