Domenico Cimarosa: Six Flute Quartets. Loïc Poulain, members of the Dolezal Quartets. Adda 581031 (1988), no barcode then 3355385810315
Reissue Accord 241982 (1995) barcode 3229262419826:
Reissue Accord collection Rond Point des Musiciens 472 348 2 (2002), barcode 0028947234821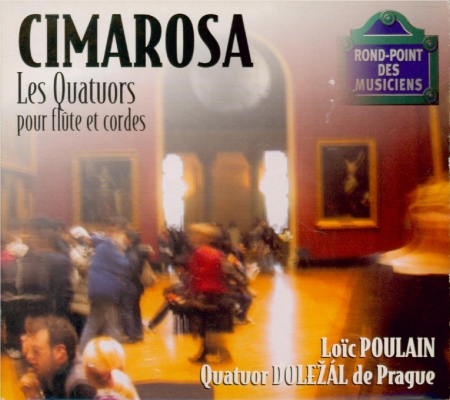 Recorded 7-9 June 1988, Eglise Evangélique de Paris
18th Century background music
20 August 2021
Pretty, charming inconspicuous, music for the 18th-century equivalent of the café (music in the background, never disturbing the precious conversations) rather than even for the parlor or salon, where at least you are required to listen. There is a certain pre-romantic nostalgia under the surface of subdued and hollow merriment in the first two movements of the sixth quartet (would Cimarosa have written for the clarinet and not for the flute, and one could have mistaken the adagio for a composition of Mozart!) and a merry dynamism in its finale, that rise a little above the level of the rest, although it risks getting lost in the background if by then one has busied oneself with more pressing affairs. I bought this CD because it was on the label Adda, an enterprising but short-lived label from the early days of the CD (1987-1993) and I collect their releases. A number of their recordings including this one, were later reissued by the French label Accord. Other than his famous comic operas (a few of them at least), Cimarosa wrote great keyboard sonatas, something like a bridge between Scarlatti and Haydn, see my review of Marcella Crudeli's recording of 62 of them on Arcobaleno (boasting to be the complete sonatas, but I'm not sure, Wikipedia mentions 88).
One thing in the recordings' favor, though: only three of these quartet were ever published, in 1975. The manuscripts are kept in the musical archives of the Frydland (say the liner notes – in fact it should be Frýdlant, see Wikipedia) Castle, in Bohemia, part of Communist Czechoslavakia when the recording was made, now in the Czech Republic – testifying to Cimarosa's international fame back in the days. These are premiere recordings.