Alexander Goehr: Piano Concerto op. 33 (Peter Serkin, London Sinfonietta, Oliver Knussen), Symphony in One Movement op. 29 (BBC Scottish Symphony Orchestra, Richard Bernas). NMC D023 (1995), barcode 5023363002325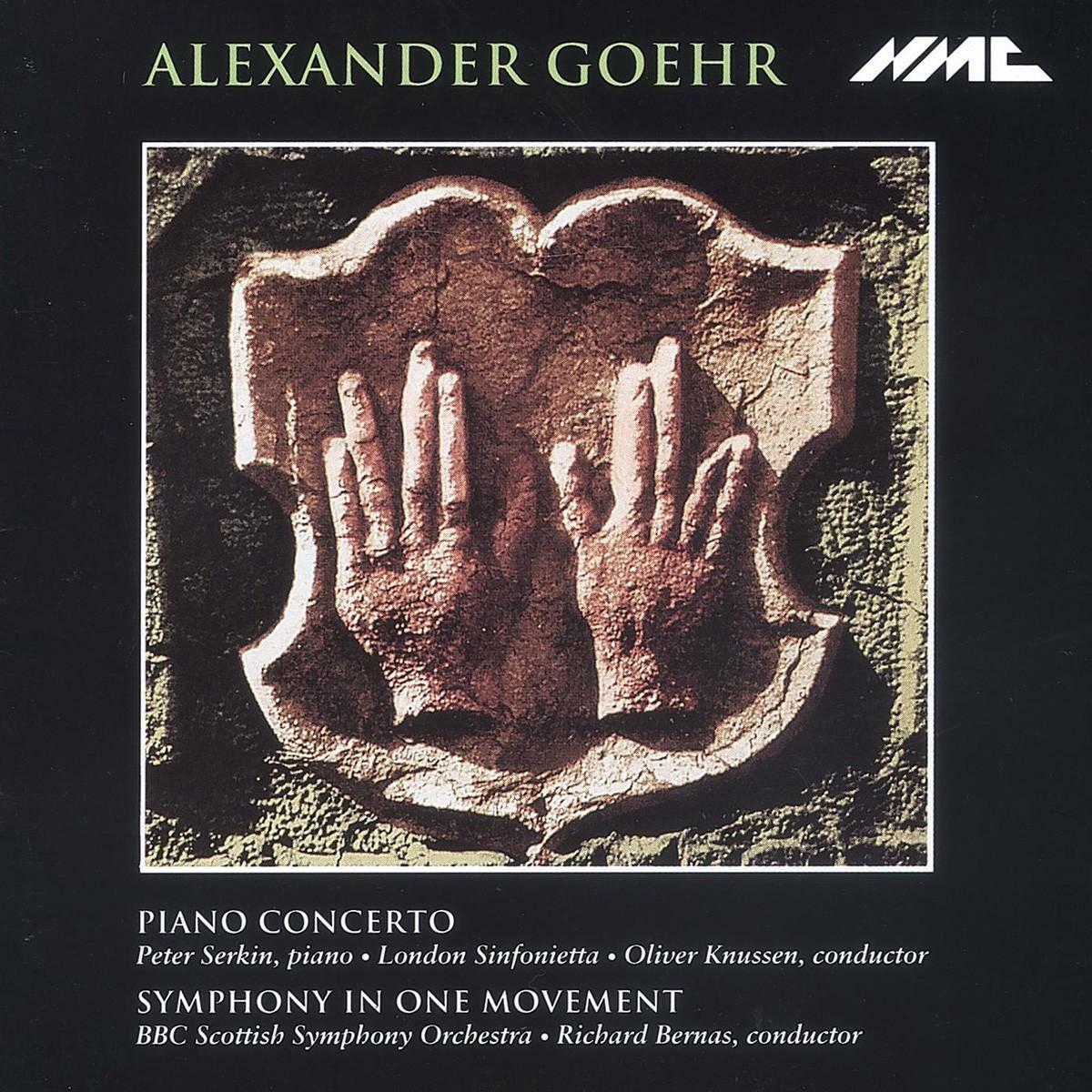 The Concerto difficult but rewarding, the Symphony a masterpiece of awesome power – but it is not well-served by this recording
Originally posted on Amazon.com, 16 September 2010
Alexander Goehr's Symphony in one movement, written in 1970, is a masterpiece of awesome power – but unfortunately you are not likely to hear it on this recording. The Italian label Intaglio made available the live recording of the premiere performance, by the New Philharmonia Orchestra under Edward Downes, given in May 1970 (and paired with a sonically flawed but historically essential live recording of Jacqueline du Pré and Daniel Barenboim playing Goehr's Romanza for cello and orchestra – link will open new tab to my review). Not only are the sonics significantly more vivid and present than on this distant NMC Studio recording, but Downes' reading is also more biting and explosive, and has more instrumental pungency as well. Hearing that premiere performance you perceive then what you will easily miss on the BBC Scottish Orchestra under Richard Bernas: that the Symphony stages an implacable piling up of energy, from its brooding introduction to its climax of brutal violence, for which I can see only Varèse's Amériques as a forerunner. With Bernas it is rather Berg (Three Pieces opus 6 and Wozzeck) who comes to mind, but in comparison to Downes' his reading sounds dulled and if I had known Goehr's Symphony only through this recording, I'm not sure I would have recognized it as the masterpiece it is, and I think I might have found its 35 minutes somewhat meandering and long-winded.
The Piano Concerto op 33 was composed in 1972. It is not an easy piece, but it is a rewarding one. The music is, of course, atonal and not only its melodies but the constant and delicate interplay between piano and orchestra sound very post-Schoenbergian, with the orchestra treated chamber-like and rarely used for mass. The ear is constantly aroused by unexpected and interesting twists of instrumental writing. Formally Goehr says he tried to combine the variation technique (his principal means for creating large forms in those years), with the traditional sonata form. Without a score it is not this architectural cogency that I perceive but a constant state of flux, with new musical events drifting in and out, not at random but with an underlying sense of logic and unfolding. Many contemporary composers – including a few major ones – have in my opinion failed in their attemps at writing piano concertos because, while they have brought to bear in their orchestral writing all the resources and instrumental techniques invented in the 20th Century, in their approach to the solo instrument they have relied on the big, virtuosic gestures that find their root in Liszt, not sensing or anticipating that they were thus opening a huge and irreconcilable contradiction between the two. An additional factor that makes Goehr's Concerto very effective is that he has avoided that pitfall, keeping his piano writing very coherent with the orchestra, always dry, lucid, crystalline, and very whimsical in mood.
If interested in the music of Alexander Goehr, buy this disc mainly for the Concerto, then, and don't miss the Intaglio disc, both for the Symphony and for the superb Romanza, despite its sonic flaws.