Not that I think this has any interest to anyone but a mad discographer like myself, but just to keep record for myself and as a follow up on my blog post from May 24, I've just found another of these (rare) cases where a label gives the same barcode to two different CDs. In this case, it is Chant du Monde (and the true culprit would be Harmonia Mundi, who distributed the label and thus attributed the barcodes), with two issues bearing the same barcode 3149025056559: 288 015/17, 3 CDs with Vassili Sinaiski leading the Moscow Philharmonic in the Complete Tone Poems of Sibelius, and 288 051, Russian Pianno Trios vol. 2 with Rimsky-Korsakov's Piano trio in C minor and Borodin's Unfinished Piano Trio by The Moscow Trio, two releases from 1992. I haven't found any entirely suitable backcover photo online of 288 015/17 (Sibelius), all are unfocused on the vital information: the barcode, but from what I can make out of it, it is indeed the same (and backcover photo is not my only clue; some eBay sellers unmistakably selling the Sibelius set give its barcode as 3149025056559):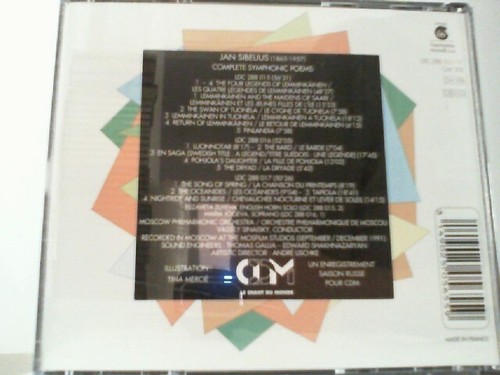 The French Amazon entry is typically jinxed:
So again, if you buy on Amazon, you don't know what you'll be paying for: 3 for the price of one, or one for the price of 3? Melomania and Rakuten list the barcode only as Russian Piano Trios.