Swingle Singers: Les Romantiques (French edition) / Getting Romantic (English edition). Philips 586 736-2 (2002), barcode 731458673620
Compiled (with "Swingling Telemann", Philips 586 735-2) in  Philips 586 737-2 (2002), barcode 731458673729
Compiled (with 10 other digipak-CDs of the Paris Swingles) in Swingle Singers (11 CDs) Philips 982 632-5 (2005), barcode 602498263259
Recorded 1965
This is so good, there's simply not enough of it, and Philips/Universal is really milking the cows here
Originally posted on Amazon.com, 4 April 2011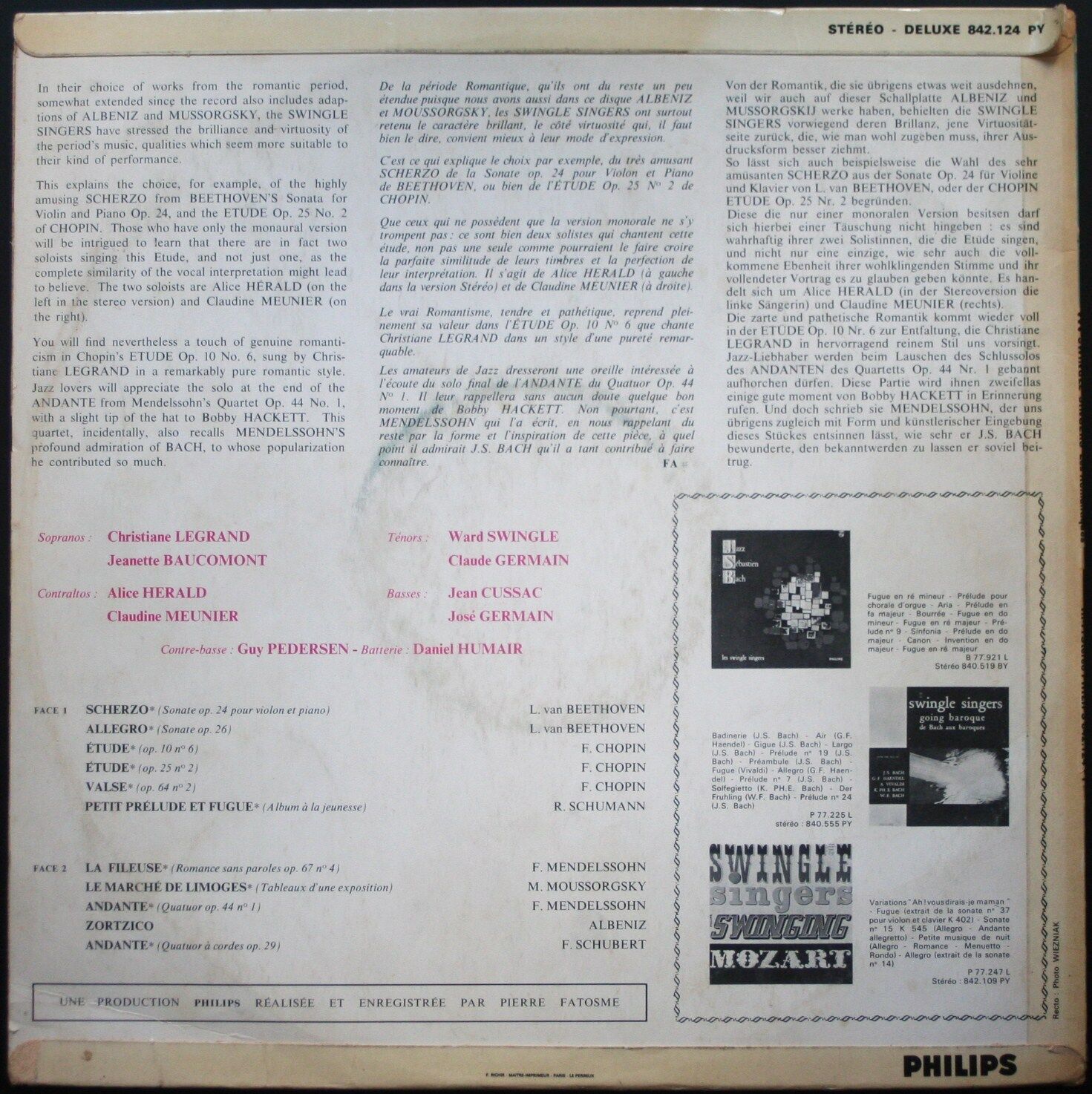 First, let me vent my frustrations: this is so good and entertaining, why so little of it? The original LP, released in Europe as Philips  842.124 PY with the title "Les Romantiques" (US Philips PHS 600-191 "Getting Romantic") was short even for an LP: 28 minutes 35. In the 2000s, Universal reissued the 11 albums recorded for Philips by the original, Paris-based ensemble, as 11 digipak-CDs in "original jacket collection"-style, short timings and all; they also released them as pairs, and in 2005 gathered the whole in an 11 CD box on Philips 982 632-5. 
Now come on, what's the point!?? Getting the glands of nostalgia of the older generation of listeners to salivate? Short thinking. The more you go, the less of the older generation there will be to salivate anyway, and personally I don't buy nostalgia, I buy music. And there aren't even any substantial liner notes from the original LP that might justify it, as sometimes with Sony/CBS' original jacket collection reissues. So why give us the scanty 30-minutes minus, when two of the original LPs would easily fit on one CD? And this is indeed what Phonogram Germany did in the early days of the CD when they started reissuing the Swingles' original recordings: the two Bach albums from 1963 and 1968 were reissued as "Jazz Sebastian Bach" on Philips 824 703-2, and the 1964 album "Going Baroque" was paired with the 1965 LP "Anyone for Mozart?" on Philips 826 948-2 "Anyone For Mozart, Bach, Handel, Vivaldi?" (although, who knows why, one track from Going Baroque was left out, that could have easily fit). So really, this 1965 album, "Getting Romantic" (released in France under the title "Les Romantiques") should have been paired with, say, the Swingle's next from 1966, "Swingling Telemann / Rococo A Go Go". Anyway, as it is, find it priced accordingly.
In passing, there is an issue with the album's dating. The CD reissue says 1967, and that's the date retained by Tom Cunniffe in his great Swingle Singers discography on Jazzhistoryonline.com, but that's not possible. The album (US edition) is first announced in the Billboard of Sept. 25, 1965 and gets a review in High Fidelity of December of that same year. This would confirm the Wikipedia entry, which says 1965. Label numbering of the French and US releases of Romantiques and Swingling Telemann suggests that, unlike its predecessors, this one was released in the US first, and in France after what appears to be its recording successor, Swingling Telemann;
so I conjecture that Philips Europe waited 1967 to get it out, which would explain the misleading copyright year.
So this makes it the fourth, not sixth, album of the original, Paris-based Swingle ensemble, that had burst into the limelight in 1963 with their chart-making "Jazz Sébastien Bach" ("Bach's Greatest Hits" in the US). Two members had changed since the original album: one mezzo and one bass. Not that you can hear any difference. The Paris-based Swingles used a jazz drum and double-bass accompaniment section – here, Guy Pedersen, also Michel Legrand's double-bassist, and Daniel Humair at the drums, who became (and still is) one of France's top jazz drummers. When the group reformed in 1973 in London, they became a purely "a capella" group; not that they dispensed with the jazz accompaniment: they now sung it.
Another frustration comes from this habit of the Swingle Singers to play only snippets: the finale of Beethoven's 5th Violin-Piano Sonata (the "Spring") but not the rest – the first movement in particular has a gorgeously lyrical theme that would have been ideally suited to the Swingles -, Mussorgky's "Market of Limoges" from "Pictures at an Exhibition", but why not more ? All the more frustrating as, in the original, "Market of Limoges" leads directly, by way of a great crescendo-accelerando, to the awesome and funeral Catacombae. In fact, why not the complete Pictures ? Two Etudes and a Waltz from Chopin, fine, great, but are you telling me that in 50 years of existence (personnel constantly changing, of course) the Swingles never found the time to adapt and perform Chopin's complete Preludes, Etudes and Waltzes ?!!! The andante from Schubert's 13th String Quartet, but where's the rest, and where is "Death and the Maiden", Schubert's awesome 14th String Quartet?
Am I asking for  too much? Yes, that's what lovers do. In fact, the Swingles' arrangements and realizations are so enticing, entertaining, illuminating, that I crave for complete traversals of everything: Schubert's complete quartets and two quintets, Scarlatti's 555 sonatas, Mozart's and Beethoven's symphonies, concertos and piano sonatas , Bach's Goldberg Variations and Well-Tempered Clavier, Vivaldi's complete Four Seasons, and…. Oh, well, everything. In fact, if I am not forgetting anything, the only complete works the Swingles have recorded in their 50 years of existence, although in abridged form, are Mozart's Kleine Nachtmusik in the "Anyone for…" album mentioned above and 40th Symphony, in A Cappella Amadeus – A Mozart Celebration, a 1981 recording…
I've written a number of reviews of the Swingle's discs recently, and I've contended that the fascination and entertainment of their arrangements and realizations derive from the fact that they elevate to the status of high art what we all do, almost inadvertently, without even thinking about it, in a very rudimentary form, walking on the street, washing the dishes, vacuuming and ironing – and, of course, under the notorious shower: humming our favorite tunes. But the Swingles are to our shower humming what a Picasso is to your kid's drawings. And I've also opined that by so doing, they return instrumental music to its very origin and essence: the human voice – as, presumably, all these great composers, Bach, Mozart, Vivaldi, Handel, Beethoven, Chopin and all the rest first hummed these tunes for themselves before committing them to the music sheet. Consequently, it is asked of and expected from a pianist playing Chopin (or Beethoven, or Schumann, or Schubert) to make his instrument SING, even if (or precisely because) its acoustical properties are radically different from those of the human voice: no sustained out-breath, but the vibration of a struck chord that will start decaying as soon as it is produced.
The Swingles' arrangements and realizations are great. You get here their customary mixture of the dazzlingly virtuosic (the two Beethoven, Chopin's Etude op. 25/2 with great tossing of the melody between the two sopranos, Mendelssohn's Song without Words "Spinner's Song/Spinnerlied", here titled "La Fileuse", Mussorgsky), and the sensuously caressing soprano(s) over the silky tapestry of the vocal accompaniment (Chopin's Etude op. 10/6 and Waltz, Schubert's Rosamunde).
But 28 minutes! It took me longer to write the review: not a good ratio. It's an enthusiastic thumb up for the music, a frustrated thumb down for the disappointing timing. Find it cheap.