Part II: the London Swingles – LP era (1974-1984)
Part I concentrated on the 1963-1973 period of the original, Paris-based Swingle Singers (only four from the initial lineup were still with the group in 1972, including founder Ward Swingle). That group disbanded in 1973 and Swingle moved to London, where he re-formed a new group with himself and young British singers, alternatively called (depending on the recording label) Swingle II, Swingle, The New Swingle Singers or The Swingles. For the anecdote, John Lubbock was a member of the Swingles (bass) from 1974 "Madrigals" (#18) to 1976 "Lovin' You – Words & Music II" (#24):  record collectors will probably remember him better through his recording activites as conductor of the St. John's Smith Square Orchestra.
But the changes were more sweeping than just that. There was a change of recording company – no more Philips but CBS in the 1970s, and also RCA, EMI-Columbia/Moss Music Group at the end of the 1970s, Polydor in the mid 1980s – and more fundamentally still, a change of style(s): the Paris Swingles had developed the unique techniques of scatting the Classical music hits, with rare forays into Christmas music and the American vernacular (but still scatted, even when singing arrangements of songs). The new Swingles sung and recorded much more of the standards, old and new, of Jazz, pop music, ragtimes, Broadway. Moreover, they now not only performed many more songs than instrumental music, but sung the lyrics of the songs they arranged for vocal octet, sometimes even adding lyrics to pieces that were originally instrumental, in the style of the Jazz vocalese of the Hendricks-Lambert-Ross trio and the French Double Six.
By so doing I find that they lost part of their originality, becoming an excellent vocal octet among many others, rather than the unique Swingle Singers. But I don't deny the need for change, a group can't eternally milk its past successes.
The Swingles' 1970s to mid-1980s period is not well represented on CD. Sony and the others have done a terrible job at re-issuing their back catalog. Things get better past the mid-1980s, with the advent of the CD, but that's Part III of the discography. Recorded dates are not always provided on the album; in some cases I use the datings provided by Swingle Singers' discographer and biographer Tom Cunniffe on Jazzhistoryonline.com.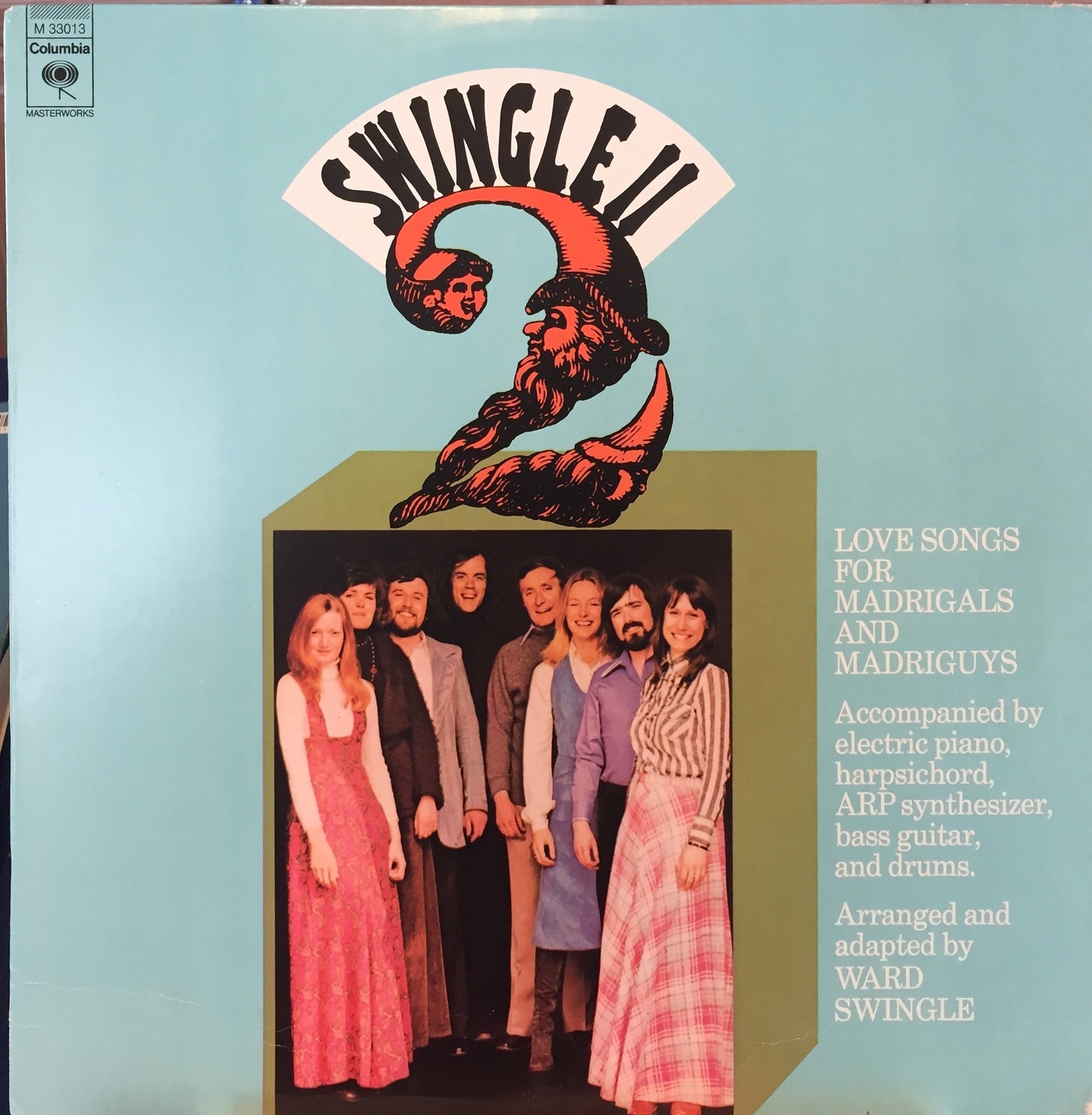 II-1 (18).
Swingle II: "Madrigals" CBS 80147 (UK edition) , "Love Songs for Madrigals and Madriguys" Columbia Masterworks M 33013 (US edition) (1974). Recorded at CBS Studios, London, date not indicated. Never reissued on CD
The "hip" US title is actually more appropriate, as these Medieval & Renaisance madrigals are "popsified" through an instrumental accompaniment of synthesizer & keyboards-bass guitar-drums. The result is unexpectedly lovely. That this album has not been reissued to CD is lamentable.
II-2 (19). 
Swingle II "Words & Music",  CBS 80554 (1974). Recorded at CBS Studios, London, no recording date. Never reissued on CD
Arrangements of pops, songs from film & musicals, traditional. The two Joplin ragtimes (Maple Leaf Rag & The Entertainer), with "vocalese" lyrics by Tony Vincent Isaacs, were reissued on the compilation CD Swing Sing, see below.
 II-3 (20).
Swingle II: "Rags and all that Jazz", CBS 80947 (UK edition, 1975), Columbia Masterworks PC 34194 (US edition, 1976) 
More arrangements of ragtimes and early jazz piano compositions (by Joplin, Jelly Roll Morton, Bix Beiderbecke, Fats Waller) in "vocalese" style with lyrics especially written by Tony Vincent Isaacs. My review gives the details about sources. All tracks reissued on Swing Sing (see hereafter). To me, the Swingles sound here like an excellent vocal octet (among others), but they lost what made them unique: scatting the classics. And, sorry fans of ragtime and early jazz, but I personnally don't find that Joplin and co. procure as much abiding and profound musical satisfaction as Bach.
(20-b). 
CD reissue Swing Sing', Sony 88697 552462 (2009)
Sony's "great" effort at reissuing some of their Swingle II's material. Sounds dubbed directly from an LP (surfaces are very silent, but typical swish of LP can be heard in the silences at the end of the tracks)- has Sony lost the original tapes? "Rags & All that Jazz" complete, six tracks from "Lovin' You", two from "Words and Music", one from "No Time to Talk", adding up to a TT of only 60:40, meaning that Sony could easily have put 15 more on the disc, like the 4 missing tracks from "Lovin' You". To add to the sloppiness of the reissue, texts of songs are not provided – which is especially frustrating, given that the whole point of this new style of the Swingles is, precisely, the "vocalese" lyrics.
 II-4 (21).
Swingle II: "Baroque", CBS 69209 (1976), recorded in January 1976 at CBS Studios, London
The London Swingles returning to what had made the original Swingles such a unique ensemble: scatting the Classical music hits. 6 tracks out of nine are one-offs, the few old friends come in new arrangements and Ward Swingle proves, in Bach's Brandeburg No. 5, to be a virtuoso keyboard player, making it even more a pity that it wasn't reissued to CD. In fact, the pairing of "Madrigals" and "Baroque" would make a great CD. Anybody awake, Sony?
II-5 (22).
Luciano Berio: A Ronne, Cries of London. Decca HEAD 15 (1976), recorded February and July 1976.
CD Decca / London 425 620-2 (1990)
Berio's continued inspiration from the Swingle Singers and two other masterpieces of contemporary vocal writing. Inventive and fun. Wild and provocative, too: if you are approaching the Swingle Singers from the "easy listening" angle, steer clear of A-Ronne. Cries of London on the other hand is easily approachable.
II-6 (23). Swingle II: Vaughan Williams, Stanford, Britten, Elgar, Debussy, Saint-Saëns, Ravel, Poulenc. RCA Red Seal RL 25112 (1977). Recorded in 1976 (April says Thomas Cunniffe on Jazzhistoryonline).
Not arrangements, no scatting, French and English part-song exactly as written, and the Swingles just an excellent a cappella vocal ensemble.
Watch a live performance of Swingle II, from the Norwegian TV in 1976, on YouTube, with selections drawn from "Madrigals" to the Part Songs on RCA (above), and a good compendium of the Swingles from that era. See my You Tube comment for precise track listing.
II-7 (24).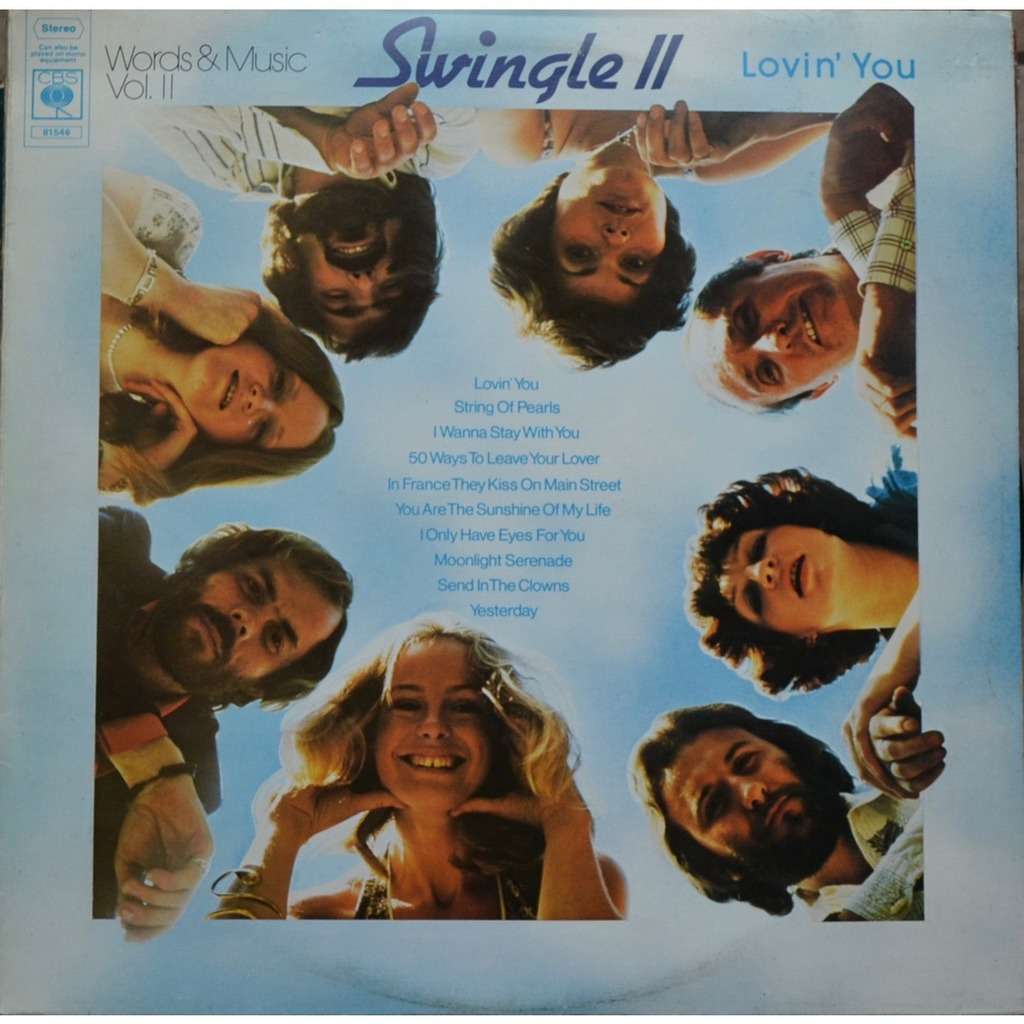 "Lovin' You: Words & Music vol. 2",  CBS 81546 (1976). Recording dated July 1976 by Thomas Cunniffe..
More arrangements of pop standards, songs of Paul Simon, Galagher & Lyle, Joni Mitchell, Minnie Riperton, Stevie Wonder, The Beatles, Sondheim – lyrics sung. The Swingles sound here like a pop group of a capella vocalists. Nothing bad with that in itself, but also nothing unique about it. 6 of the 10 tracks reissued on "Swing Sing" (see above #20)
II-8 (25). "Pieces of Eight",  CBS 82305 (1977). Recorded at CBS Studios, London. Recording dated July-August, 1977 by Thomas Cunniffe.
II-9 (26). "Swingle Bells
". EMI-Columbia SCX 6603 (UK), Moss Music Group MMG 1124 (US) (1978). German edition on Aves INT 161.524 (1978) under the title "Die Swingle Singers wünschen swingende Weihnachten" (transl. "The Swingle Singers wish a swinging Christmas" –
a perfect illustration of the old cliche on how Germans like to make it kolossally light). Recording made "at Redan Recorders" and dated July 1978 by Tom Cunniffe. Not reissued to CD.
The group is here called "Swingle" on the UK edition, "The New Swingle Singers" on the US LP and "Die Swingle Singers" on the German release). See the entries on discogs, with good photos, for SCX 6603 , MMG 1124  and Aves INT 161.524 (small type on backcover here is hardly legible). A Christmas album, duplicating entirely the contents of the 1968 Christmastime (see #10) – but it's not a reissue: it is the British Singers who sing, and the accompanying instrumentalists and instruments are entirely different from the French album's, and more "pop": keyboards, guitar, bass-guitar and drums-percussion (the similarity of contents with the 1968 Philips album fooled whoever created the entry on Discogs.com for the German editon on Aves). I imagine (I don't have the album) that now the lyrics are sung. 
II-10 (27). Swingle II "No Time To Talk", CBS 83458 (1979), mostly not reissued to CD. See details on Discogs.com
More pops, ephemeral or abiding successes of the day, medleys of songs from the Bee-Gees, Carpenters, 10CC, Beach Boys, songs of Billy Joel, The Little River Band (remember THEM and their hit "Reminiscing"?). Only the Bee-Gees Medley reissued on "Swing Sing".
II-11 (28). The New Swingle Singers "Swingle Skyliner",  EMI-Columbia SCX 6617 (UK), Moss Music Group MMG 1115 (US) (1979), not reissued to CD
10 tributes the the golden era of the big band in the vocalese style, with the lyrics of some of the arrangements specifically written by Jon Henricks. The ensemble is now called "The New Swingle Singers" – but still "The Swingle Singers" on the German edition, Aves  INT 161.530 (published under the title "Back to Swing", see listing on Discogs.com)
II-12 (29). "Folio", EMI-Columbia SCX 6631 (UK), Moss Music Group MMG 1125 (US), Aves INT 161.532 (Germany, with title "Swing The Classics") (1980), not reissued to CD
More lovely arrangements of hits of Classical music by the Swingle Singers, another LP badly in need of CD reissue. Folio was a great album, because it returned to the Swingle Singers' basics : dee-duming the instrumental hits of Classical music. The repertoire is great and significant, all firsts for the Swingle Singers except for Mozart's Eine kleine Nachtmusik, nd although some became standards often reprised by them, most others get here their only recording. The arrangements are great too, from lovely to dazzling (Ward Swingle is joined as arranger by his wife, François Demorest), and I find that the pop music instrumental accompaniment works perfectly, and draws interesting and unsuspected links between Classical music and pop.
II-13 (30).
Ben Johnston: Sonnets of Desolation (1981). The New Swingle Singers. CRI SD 515 (with Johnston "Visions and Spels"). Recorded November 1981 in Urbana, Illinois. See entry on discogs, where you can even hear both pieces
Available as on-demand CD-R from New World Records, NWCLR 515 (released 2011)
Liner notes to CD-R available here.
II-14 (31).
The New Swingle Singers live in New York '82. Recorded 15-16 October 1982 at The Village Gate, New York. Originally self-produced cassette, no label number
Reissued to CD on SwingCD R01 (2006). 
This live recital given in October 1982 was first circulated as a self-produced cassette which, I would have thought, would not even have maintained a ghostly presence online after all these years, and my jaws drop when I see that the irreplacable discogs.com documents it. It was belatedly issued on CD in 2006 on the ensemble's own label as an archive release. Nice recital mixing Classical, pop, Jazz/Broadway, traditional, and four of Ward Swingle's own compositions (including a brilliant medley of American Country Dances), but TT 43:58. One important harbinger of stylistic changes that would be confirmed at the end of the 1980s: now the group is (almost) entirely a cappella, with percussion sung. Eight of these 14 tracks were reprised (with changes in personnel) on the 1985 "Reflections" (see below III-1), and three among those on the 1987 "Live at Ronnie Scotts) (III-4), with only two members remaining from the 1982 ensemble. They sound fuller on the CD reissue "Compilation Album" (see III-1), and the "Country Dances" are sung with more saucy character and verve.
II-15 (32). Berio: Sinfonia (completed version in 5 movements). Boston Symphony Orchestra, Berio, live 22 August, 1982. Commercial download from the BSO (2012). 
I'm indebted to Amazon reviewer David D. Gable for calling my attention on the live performance of Berio's Sinfonia (complete version in 5 movements) given at Tangelwood with the Boston Symphony Orchestra conducted by the composer on 22 August, 1982 with the group then called "The New Swingle Singers". It was made available for download in July 2012 by the Boston Symphony on the occasion of Tanglewood's 75th Anniversary, among a chockfull of recordings from 1937 to 2009. However, it doesn't appear to be purchasable any more: I've found no link to this and the other recordings on the BSO's website.
II-16 (33). Let's All Get Together. The Ad Libitum chorus and The New Swingle Singers. LP SVT Telegram SVT 7029 (1984).
Documents performances (also televised) given with the Swedish choir Ad Libitum on 3 and 4 December 1983 at the Konsert-teatern in Linköping, Sweden. Thanks again to the invaluable Discogs.com for making me aware of its existence.
Here is all you want to know about the Ad Libitum choir.
II-17 (34).
Berio: Sinfonia. New Swingle Singers, Orchestre National de France, Pierre Boulez, April 1984. Original release LP Erato NUM 75198 (1986), CD Erato ECD 88151 (1986), barcode 3269658815122.
Reissues Erato 2292-45228-2, barcode 022924522826 (1990?)
Apex 8573 89226 2, barcode 685738922628 (2001)
Erato 2564 69707 5 barcode 825646970759 (2003?)
compiled in Erato 4509-98496-2 (5 CDs, 1995) barcode 745099849627
Compiled in Erato 3984-25259-2, barcode 639842525923 (9 CDs, 1998)
Of course, of the original 1968 group that recorded it with Berio, only Swingle remains. You lose the heavy French accents in the English text. I don't know, maybe Berio meant it to sound French. For years I thought (and so did Tom Cunniffe on Jazzhistoryonline.com) that it was also Swingle's last recording as singer with the group he founded 20 years earlier. Not so. 
II-18 (35) The New Swingle Singers: Chameleon (1984).  Cassette, no label name and number, self-produced
The invaluable Discogs.com documents this rare release (a pendant to the Live in New York '82 cassette, see above II-14), to the best of my knowledge never issued or reissued in any other form. It was recorded at Redan Recorders, August-September 1984, and, yep, Swingle is still a singing member of the group.
Sopranos: Olive Simpson & Jacqueline Barron, Altos Jean Carter & Carol Canning, Tenors Philip Sheffield & Ward Swingle, Basses Michael Dore and Simon Grant (Ward Swingle at the piano, Carol Canning and Simon Grant at the synthesizer)
Although such boundaries are to an extent arbitrary, I find it fitting to end this second chapter of the Swingle Singers' journey with the last recording made by Swingle. Thereafter he acted as arranger and musical adviser to the ensemble. It neatly divides the first two chapters of the ensemble in 10-year spans (which makes it mind-boggling that the ensemble's "third period" would have been going for almost 35 years as I write!). It is also the recording that ushers in the CD era. (to be continued)