Roy Harris: Symphony No. 6 "Gettysburg" (1943-4), Aaron Copland: Songs on Poems of Emily Dickinson. Marni Nixon, The Pacific Symphony Orchestra, Keith Clark. Varèse Sarabande VCD-47245 (1986), no barcode
Harris recorded 7 March 1981, Copland recorded 23 February 1985
Harris reissued on Albany TROY 064 (1992) barcode 034061006428 (with Samuel Barber's Capricorn Concerto and Essay for Orchestra No. 1 and Aaron Copland's "Saga of the Prairies"):
Copland also on Reference Recording RR22-CD (1986), barcode 030911102227 (with "Appalachian Spring" Suite – original version for 13 instruments, and "An Outdoor Overture":
I think Harris needs to be reappraised – the 6th Symphony is a composition of confounding beauty (or am I mellowing?)
Originally posted on Amazon.com, 19 December 2007 under the Albany CD listing, substantially modified for repost
I don't know why, but from hearing the music of Roy Harris these past few years or months, I had been left with the impression of tritely "western", pastoral music. But reviewing the recorded legacy of the Louisville Orchestra gave me a chance to return to Harris' Symphonies 1 & 5, and I found them to be fine works, very personal within the limits of the composer's traditional language, heroic without lapsing into bombast (see, on Amazon.com pending repost here, my review of Louisville First Edition Encores AR012 barcode 034061001225). So I pulled out of my shelves the original Varèse Sarabande CD release of Harris' Symphony No. 6 "Gettysburg", coupled there with Copland's Eight Poems of Emily Dickison. I find it to be a stupendous composition.
Unbelievably for a work composed in 1943-4 by one of America's recognized major symphonists, the Varèse Sarabande recording, made in 1981, boasts being a premiere recording. In the late 1990s the  bootleg label from Monaco,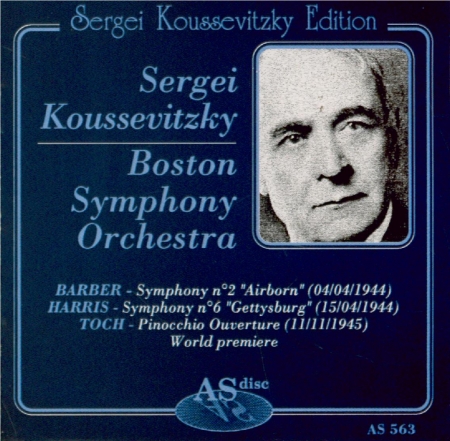 AS Disc made available Koussevitsky's world premiere concert with the Boston Symphony from April 15, 1944 (AS 563, no barcode), paired with the same forces' premiere of Barber's 2nd Symphony (which the labels attributes to April 4, 1944 – but according to the Koussevitsky website and the authoritative Discography of the Boston Symphony Orchestra by James H. North, it was March 4) and Ernst Toch's Pinocchio's Overture – but those were concert recordings, and I am not aware that they were ever issued on disc before the AS Disc release. Anyway, whatever the merits of Koussevitky's readings – and they are obviously immense – sonics make a huge difference here, and those of Varèse Sarabande are exceptionally deep and vivid.
The music starts in a ghostly manner, with hushed strings playing sweet whiffs of a melody in their upper registers, as mermaids heard singing from under water. The mood is pastoral and nostalgic, rising in the course of the movement's 7 minutes to a climax of epic sweep. It could be (good) film music for any of the heroic fantasy blockbusters that have been successful in the recent years, except that no music written for those films have been even remotely that good. The language is traditional and tonal, but Harris has twists and turns in his melodic and harmonic writing and orchestration that make it uniquely his, and constantly ear-catching. Thus, the epic, I find, never turns into bombast. The second movement is another good example, starting with dramatic brass calls over an ominous string ostinato in the middle registers and again developping into a crescendo of brass belches of high dramatic impact. The effects are simple, but highly effective, bringing Shostakovich to mind (in the compositional method, not in the melodic turns), especially the 11th Symphony. Again I find the third movement very remarkable, with a weeping violin solo over long-lined, baritonal strings, a harbinger of the kind of "neo-simplicity" that we associate with composers such as Pärt, Gorecki and the American minimalists. I find it of breathtaking beauty – and I am otherwise rather demanding and very critical of the kind of heart-on-sleeve, mawkish lyricism one associates with American symphonies from the 1930s and `40s. But here Harris avoids all the pitfalls and manages to be movingly plangent without being maudlin. Or maybe I am mellowing. The finale is the summation of all the characteristics from the previous ones – it begins like the third movement ended, rises to irresistible, epic heights through a kind of orchestral bacchanale. Irresistible.
[Addendum 16 February 2023, upon repost: The Varèse Sarabande CD is a rarity. That's it doesn't even have a barcode makes it harder to list on the Marketplace websites. Albany reissued the Harris Symphony in 1992, but with other pairings, also drawn from another
Varèse Sarabande CD, VCD47211 (I have it in the form of a Varèse-Sarabande manufactured Andante ACD 85705), which paired Barber's First Essay for Orchestra and Capricorn Concerto with Copland's Saga of the Prairies (all picked up here by Albany) and Outdoor Overture, and with Ives' Overture from the Third Orchestral Set. Too bad they left out the 9-minute Outdoor Overture: it would have fitted. But that may be due to the fact that the Overture was already on the Reference Recordings CD listed above. That one, which has the Emily Dickinson songs and the Appalachian Spring Suite in its original version, seems to be roughly contemporary with the Varèse Sarabande releases, so I don't know which came first.]
Anyway, although I am not very fond of Copland's more popular, "prairie" style, I find his Dickinson Songs so quintessentially American as to be endearing, and I wouldn't want to part with that original coupling (they would also make a perfect companion on disc to Barber's Knoxville – and have, as on
EMI 5 55358 2 barcode 724355535825 with Barbara Hendricks and Michael Tilson Thomas,
or Measha Brüggergosman with Roy Goodman on the Canadian CBC Records, barcode 059582523421).
I'll return when I can to the Dickinson Songs for more substantial comments.