Rafael Puyana Baroque Masterpieces for the harpsichord (Giovanni Picchi, Frescobaldi, Telemann, CPE Bach, Domenico Scarlatti, Johann Caspar Ferdinand Fischer). Mercury Living Presence 462 959-2 (1999), barcode 028946295922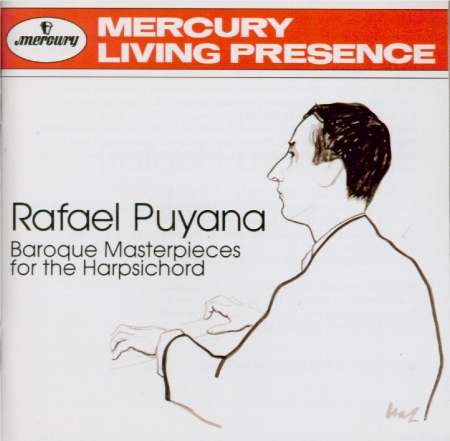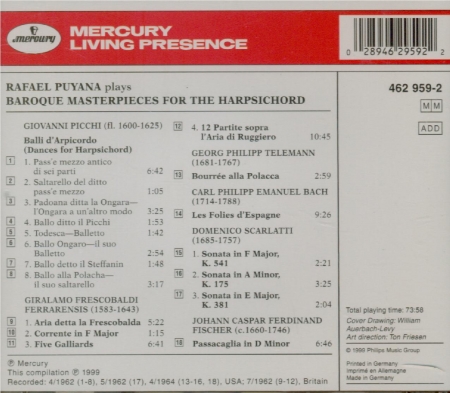 Recorded 4/62 (Picchi), 7/62 (Frescobaldi), 4/64 (Telemann & CPE Bach), 5/62 and 4/64 (Scarlatti), 4/64 (Fischer)
"Happily, Renaissance and Baroque music are generous towards the imagination of today's performer"
Originally posted on Amazon.com, 5 June 2012
Very enjoyable recital. Sonorous harpsichord, recorded from close up (in 1962 and 1964), but never banging and clanging either. Original pieces and nice discoveries, like Picchi's Balli d'Arpicordo (Dances for Haspichord, of which this was the first complete recording), dance-like, festive, exuberant, stylistically Renaissance-sounding (Picchi was born in 1600 and died young in 1625), and at times harmonically daring. Picchi's collection ends with a Ballo alla Polacha, and Telemann's Bourrée alla Polacca, composed more than a century later, makes a fine complement (track 13), even though, originally, it was released on another LP: Picchi (pronounce "picky") and Frescobaldi came on
Mercury SR90259, the rest (Telemann, CPE Bach, Scarlatti, Fischer) except Scarlatti's Sonata in E-Major (track 17) on SR90411 ("Baroque Masterpieces for the Harpsichord") which also had Louis Couperin's Pavane in F-sharp minor, Chambonnieres' Le moutier after Louis Couperin, Rameau's Gavotte et Doubles, Dieupart's Passepied and François Couperin's La Pantomime
, all those previously CD-reissued on  "The Golden Age of Harpsichord Music", Mercury Living Presence 434 364-2 (1995) barcode 028943436427, completing the contents of the original Mercury LP SR90304 "The Golden Age of Harpsichord Music" which also had the missing Scarlatti – is anybody getting confused? Anyway, bottom line: you get three Puyana LPs on two CDs.
In fact the choice of title for this CD reissue wasn't entirely appropriate: Picchi and Frescobaldi are more late Renaissance than truly Baroque, and it is only the program complement that really fits the title. In the erudite liner notes to the "Baroque Masterpieces" which he contributed himself and which are reproduced here inasmuch as they pertain to what was selected from the original LP program, Puyana says that "in selecting the program for this recording [he] endeavored to assemble, in contrast to one another, a collection of great masterpieces of the Baroque for the harpsichord". And he did. CPE Bach's "Les Folies d'Espagne" is a great series of variations on the theme made famous by Corelli, and Puyana's sense of coloring, his changes of registration are great. And the three Scarlatti Sonatas are gems, especially K541 (L120) in F Major, not a very popular one apparently (I had no other version in my library outside of the complete cycle of Scott Ross) and again Puyana's kaleidoscopic coloring and registrational imagination works to marvelous effect. Johann Caspar Ferdinand Fischer's Passacaglia is more stern and granitic in outlook, but impressive, with reminiscences of Bach (of whom he was a contemporary), and further enhanced by Puyana's registrational imagination. Among the Frescobaldi pieces, the twelve Partite on the Aria from Ruggiero is the most substantial. The liner notes don't tell you, but it is part of Frescobaldi's first book of Toccate e Partie d'intavolatura di Cimbalo. On the International Music Score Library Project (IMSLP) you can find a wonderful facsimile of what is presented as the second edition from 1616, uploaded by Bibliothèque Nationale de France, the French National Library, eternal gratitude. Click here for direct access to the score (will open a new tab). The Ruggiero partite come after the Toccate, .pdf page 62. I don't know if I would have enjoyed the piece so much if I'd listened without following on the score. It is a fascinating exercise in trying to adjust to typographic conventions that have dramatically changed. It also shows that the score is only the bare bones, on which it bears on the interpreter to put the flesh – and that includes, for Puyana, changing the 12 partite into a suite by varying tempi, adding his own ornamentation, and repeating the first partita at the end, turning it into an "aria da capo".
I feel I must quote another passage from Puyana's outstanding liner notes. It pertains to Picchi's Balli, but can be generalized:
"Any musician wishing to accomplish a satisfactory interpretation of a work like the Balli d'Arpicordo must be able to put factual knowledge in the setting of the composer's era and environment. A precise transcription of a tablature is but the basis of such an undertaking. Whatever pertinent information the interpreter can gather should be used with conviction, even if it means drastic changes in conception and technique to the service of an idea. Authenticity must then be sought to enhance the revival of a musical masterpiece, but never at the price of its life. Happily, Renaissance and Baroque music are generous towards the imagination of today's performer: the texts are so bare that he must investigate, judge, and decide about their many aspects before he can bring true life to them. Baroque music affords and demands great freedom of expression and an attitude of inventiveness, both practicable within a large historical and aesthetical frame. Today's interpreter can, by this very reason, enjoy a high level of creativity."
Program accomplished by Mr. Puyana, to the hilt.