Michael Tippett: Fantasia concertante on a theme of Corelli (Yehudi Menuhin, Robert Masters, Derek Simpson, Bath Festival Orchestra, Michael Tippett), Concerto for double string orchestra (Moscow Chamber Orchestra and Bath Festival Orchestra, Rudolf Barshai), Piano Concerto, Piano Sonatas 1 & 2 ( John Ogdon, Philharmonia Orchestra, Colin Davis), String Quartet No. 1 (Endinburgh Quartet). 2 CDs EMI Studio CMS 7 63522 2 (1991), barcode 0077776352220
reissued EMI British Collection, same label number with prefix CMS or ZDMB and barcode 077776352220  (1993)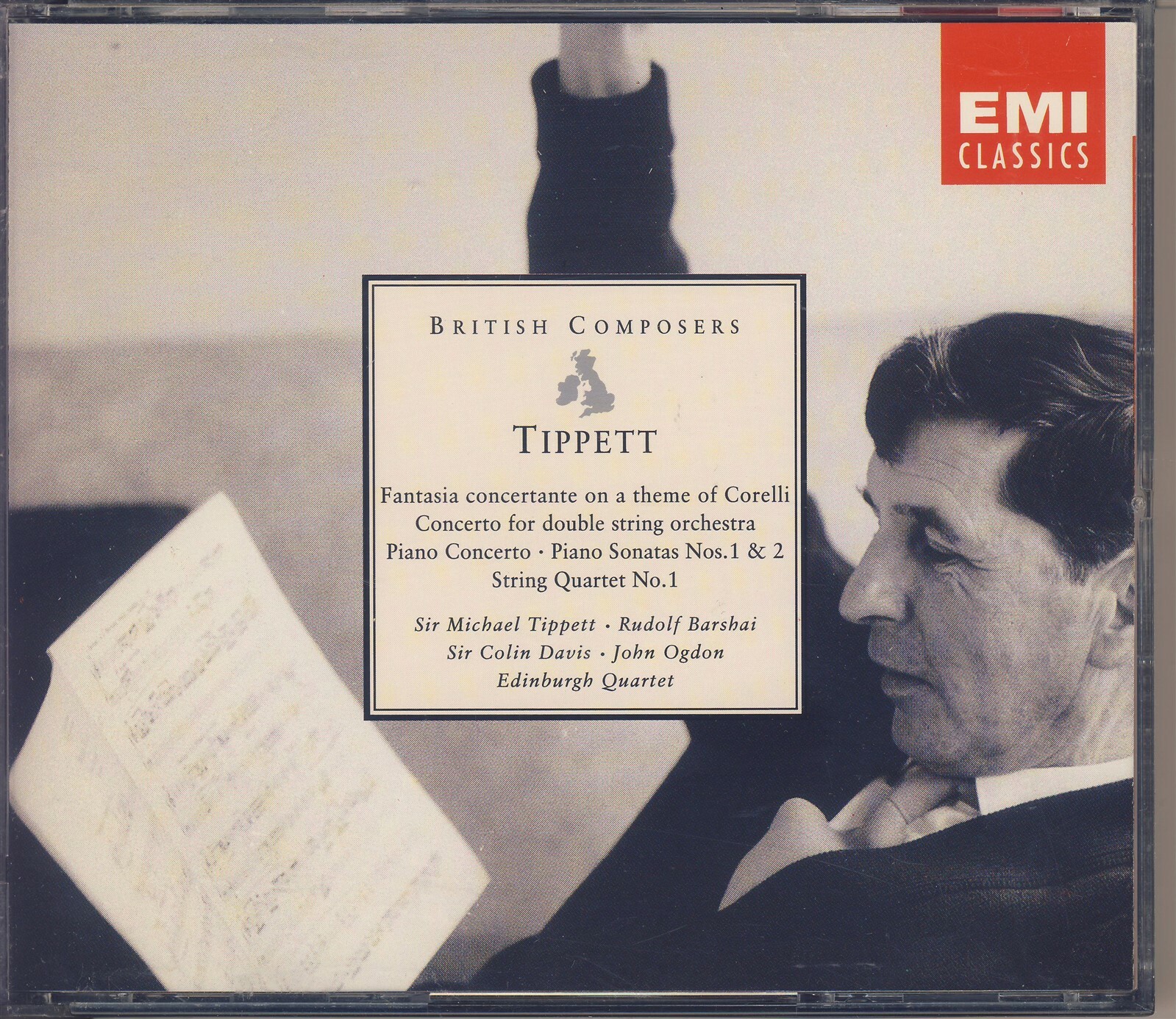 Concerto for double string orchestra: recorded 2 July 1962 at No. 1 Studio, Abbey Road, London
Piano Concerto: recorded 23 & 24 December 1963 at No. 1 Studio, Abbey Road, London
Piano Sonata No. 2: recorded 30 December 1963 at No. 1 Studio, Abbey Road, London
Fantasia concertante recorded 22-23 October 1964 in Kingsway Hall, London
String Quartet No. 1 exact date and venue unknown, originally published in 1964 on LP Waverley LLP 1027 (mono), SLLP 1028 (stereo) (with Ernest Bloch String Quartet No. 3)
Piano Sonata No. 1: recorded 24 August 1966 at No. 1 Studio, Abbey Road, London
Significant partial reissues
Fantasia Concertante on a Theme of Corelli, Piano Concerto, Concerto for Double String Orchestra reissued on HMV Classics 5 68783 2  ("The HMV Classics Collection 139" (1995), barcode 724356878327, and HMV Classics 5 73049 2 (1998), barcode 724357304924
Same on EMI Nipper Collection "Encore" 2 35744 2 barcode 5099923574427 and EMI Angel "Encore" 2 35743 2 barcode 5099923574328 (2009)
Piano Concerto and Piano Sonatas 1 & 2 reissued on EMI British Composers 5 86586 2 (2005), barcode 724358658620
Piano Concerto and Sonatas reissued EMI Icon 7 04637-2 "John Ogdon Legendary British Virtuoso" (17 CDs, 2012), barcode 5099970463729 (same set was later reissued with Warner logo, with same label number and barcode)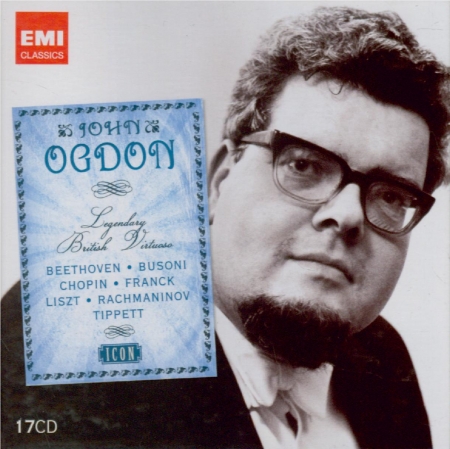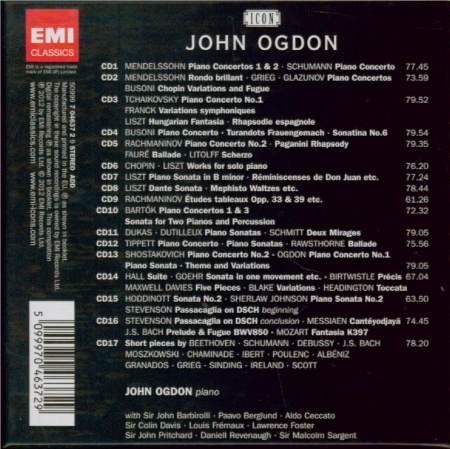 (for more reissues of the various works collated here, see my comprehensive Tippett discography – link at the end of review)
Any Tippett collection starts here
Originally posted on Amazon.com, 27 February 27 2014
Gratitude to EMI for giving new lease on life to these invaluable Tippett recordings from the 1960s. The compilation first came out on a 2-LP set in 1984 to honor the composer's approaching 80th birthday. It was reissued on CD in 1991, in the mid-price EMI-studio collection (which is how I have it), and later reissued on the British Composers series, with the same catalog number (prefix may change depending on the edition) and barcode (save an opening zero).
Only one of the recordings wasn't originally produced by EMI, the First String Quartet by the Edinburgh Quartet, which came on the obscure Scottish label Waverley SLLP 1028 (and in the US on Monitor), paired with Ernest Bloch's String Quartet No. 3. The recording date and location are unknown (says the booklet), but the LP came out in 1964. The Quartet, or at least its second and third movements, is the earliest work Tippett allowed to be published: it was written in 1935 but revised before its publication in 1943 (with a new first movement replacing the two from the original conception), and by then Tippett had already written and published the First Piano Sonata (1937) and Second String Quartet (1942). Although marked by Tippett's lifelong fascination for Beethoven, it isn't entirely significant of the composer's unique voice. The vehemently passionate first movement lets one hear striking echoes of Debussy's Quartet and, in the very intensity of its lyricism, a few of Berg as well, and the intense but somewhat austere lyricism of the second movement possibly brings Reger to mind. But the future Tippett is adumbrated mainly in the Finale, with its carefree dancing in irregular meters. The Edingburgh Quartet acquits itself well, with all the vehemence required in the first movement, a Finale taken with more bonhomie than true drive and a slow movement that apparently established a tradition, followed by all the other ensembles that have recorded it, of being played WAY slower than Tippett's metronome indication (circa 46-50 eighth-notes per minute to his c79), but the sonics are very dry and boxy and make this recording little more than a historical document.
John Ogdon recorded Tippett's First Sonata in August 1966 (it came originally on a 2 LP set, EMI ASD 2321-2322 with Ronald Stevenson's Passacaglia on DSCH and Ogdon's own Theme and Variations, see listing on Discogs.com). When you approach it with a historical perspective, e.g. after listening chronologically to the versions recorded before by two women pianists closely associated with Tippett, Phillys Sellick in 1941 (on "Remembering Tippett: Recordings from the 1940s", NMC D103) and Margaret Kitchin in 1959 (on Lyrita REAM.2106, with a fine Sonata by Scottish composer Iain Hamilton and less interesting pieces by William Wordsworth), it is striking how Ogdon plays it: big, massive, slightly deliberate in the statement of the theme, with little of the delicacy, lyricism and whimsicality that the ladies (especially Kitchin) brought to it – although there IS a certain delicacy, lyricism and whimsicality, within Ogdon's more massive and pounding parameters. As impressive as it is, I'm not sure Ogdon's approach does full justice to Tippett's composition. The Sonata, one of Tippet's earliest works, is already an entirely personal work, bound to no previous model (except maybe Scarlatti, but only inasmuch as, in the composer's own words, "the music is percussive enough to make us fully aware of the fingers on the keyboard and the hammers at the strings", and if the Beethoven of the 9th Symphony looms in the Scherzo, the influence is entirely transmuted in Tippett's language). About it Tippett explained how he had sought to escape the "heavy" and "too serious" Germanic models, and Ogdon draws him back to an extent in that direction. In the slow movement he doesn't elucidate as clearly as Kitchin the intricate polyphony of voices. But where he is unquestionably impressive is in the Scherzo – not just hugely powerful but taken at a dazzling and almost breathless speed, but without sacrificing digital clarity – and Finale, where Ogdon's muscularity brings out the exuberant hoe-down and honkey-tonk aspects of this vaguely ragtime-inspired music.
The Second Sonata was recorded earlier, in December 1963, shortly after its composition (1962) but released only in 1965 on HMV ASD 621, paired with the Piano Concerto (see entry on Discogs.com). It is a great work, very original in its form, with a succession of thematic blocks, each with its own tempo and character (always attention-arousing), returning in slightly modified form but never combined. Its more massive and percussive character suits Ogdon perfectly, with his dazzling tempos again bringing in some passages a welcome touch of whimsicality, and although his preference for dry textures and very sparse pedaling deprives it of a touch of atmosphere in some passages (sometimes the same ones). There are faint traces of pre-echo in the long silences of the Sonata's last measures.
Tippett's Piano Concerto is like no one else's. Completed in 1955, it is a richly lyrical work, stemming from the sound world of the composer's opera The Midsummer Marriage, but also from an audition of Beethoven's 4th Piano Concerto played by Gieseking in London. At times what goes on in the orchestra is so lush and sensuous, alternating between luscious outbursts reminiscent of the early orchestral Bartok, and gossamer filigree from the woodwinds or delicate drops from the celesta, that I feel that the piano was not needed: it sounds really like more Ritual Dances from The Midsummer Marriage. I do hear in the music echoes from or similarities with the sound world of Britten – both the extraordinary instrumental delicacy of "A Midsummer Night's Dream" or "The Turn of the Screw" (celesta helping!) and the more powerful utterances of "Peter Grimes" – which doesn't contradict my statement that "Tippett's Piano Concerto is like no one else's", because even Britten never wrote a Piano Concerto like that. The piano is in turn extraordinarily delicate and refined, sounding very much itself like a celesta, and powerful and pounding, and generally so embedded into the orchestral texture that Tippett could have called it a "Symphonie concertante", really. The slow movement – half the length of the first, and with the Finale balancing it – is equally original, two thirds of a threadbare and barely audible melody passing from flutes to clarinets then horns, under (rather than "over") dense and highly decorated piano passagework, and one third of exchanges between piano and strings in the style of the Corelli Fantasia. The Finale is a brilliant and alternately epic and furious toccata, with sweeping flights into the lusher atmospheres of The Midsummer Marriage. To me this qualifies as one of the greatest Piano Concertos of the 20th Century, because one of the most original. But – as I'm sure Beethoven's Piano Concertos in the early 19th Century – it takes I think more than casual listening to grasp its many beauties.
Compared to their few successors – Martino Tirimo with the composer conducting the BBC Philharmonic Orchestra in 1991 on Nimbus NI 5301, barcode 710357530128 (paired with the Triple Concerto,  Howard Shelley and Richard Hickox in 1994 on Chandos 9333, barcode 095115933329 (with the First Symphony) and Steven Osborne with Martyn Brabbins in 2007 on Hyperion (I haven't yet heard Benjamin Frith on Naxos 8.553591, barcode 730099459129, recorded in 1995, published 1999)  – Ogdon and Davis take a slightly more urgent first movement (Tippett conducting is at the other pole, the most expansive and lascivious), which doesn't register as "pressing" or lacking any measure of lyricism and even lusciousness, but brings an undercurrent of nervousness to the lyricism, and I find the mood very welcome – something like a Midsummer Night's Dream fraught with an underlying sense of danger. The very vivid and detailed sonics so typical of the analog era, dryer and more boxy as they may be, give more bite and pungency to the orchestral outbursts than any of its competitors. The oboe sounds a bit nasal as oboes did everywhere in the 1960s: it caught my ear on first hearing, but doesn't bother me in the least on re-hearing, on the contrary I find that it brings character. In the second movement however, although this isn't likely to be perceptible by most listeners, Ogdon is fairly rough and not entirely accurate rhythmically in the awesome piano filigree – again he in Davis are the swiftest and a little more expansiveness might have helped: there are many, many notes to slot into a basic 6/8 rhythm. This is a redoubtable movement, not only to play but also to record, and it is very difficult to get the balance right, without giving the impression that the piano is covered by the strings, and the woodwinds and horns by the piano. The Finale is played with great bravura – by pianist and orchestra alike. The recording of Osborne and Brabbins is the best I've heard, because it combines the rhythmic precision and the lush lyricism without lapsing, as Tippett's own recording, into lasciviousness, but Ogdon-Davis remain, in their very urgency, an important statement.
The 1962 recording of Tippett's Concerto for Double String Orchestra (written in 1939) was not just a musical statement, but also a political one, since the Soviet Rudolf Barshai conducted the combined and Iron-Curtain-cutting forces of his own Moscow Chamber Orchestra and of Menuhin's Bath Festival Chamber Orchestra. It was originally paired with Barshai's transcription of Prokofiev's Visions Fugitives on HMV ASD 512 and Angel S 35981.
There is an editorial review, by a James Leonard, that you can find on various online shops, which says this: "The idea of joining two chamber orchestras for a performance of the composer's Concerto for Double String Orchestra is ingenious, but it is not especially well executed here. Separately either the Moscow Chamber Orchestra or the Bath Festival Orchestra might have been up to Tippett's vigorous string writing, but at least under the leadership of Rudolf Barshai they are not quite together either in terms of ensemble or intonation, and the result is too often muddled and scrappy."
I read this, I listen to the recording again, and I don't know what this James Leonard is talking about. Not together in ensemble or intonation? Give me specific spots please, or I'll take this as gratuitous slander. Muddled and scrappy? Did Leonard stick cotton in his ears while listening? I can only surmise that, if Leonard actually did listen to the recording (and I wouldn't put my hand under the axe that he did), he simply didn't comprehend what he was hearing. This remains, still today more than a half-century later, an exceptional reading, sonically and interpretively. First, the stereo separation is great, and lets you clearly hear – and more than in any subsequent recording – the two orchestras dialoguing and exchanging and tossing their phrases to each other, rather than giving you the impression, like many others, of an orchestra of violins opposed to an orchestra of basses. "Muddy"? This is one of the clearest recordings of Tippett's Concerto for Double String Orchestra, and I've heard about all of them – no figure of speech. Every instrumental line registers with perfect clarity and great crispness. If anything, one could find it somewhat dry, but "muddy"???? Second and more fundamentally, nobody has played Tippett's Concerto for Double String Orchestra like this since then – and it has been a loss. Like his predecessors Walter Goehr (who made the premiere and confidential recording in 1943, reissued by NMC in their "Remembering Tippett" collection, see link above, and a remake with the Philharmonia Orchestra in 1952, not reissued on CD) and
Stokowski live at the BBC in 1961 (on BBC Legends BBCL 4059-2, barcode 684911405927 with Nielsen's 6th Symphony and more, a CD published in 2001), Barshai takes an urgent, thrusting, dynamic and uniquely intense approach to the music, bringing to the fore its biting, explosive, jubilant aspects, but lending it also a subtle undercurrent of grimness, perhaps rage. Thereafter, starting with Marriner's famous recording for Argo, made in 1970 but published only in 1972, the tradition became to take a more spacious, brooding and pastoral view, an interpretive style which reached its point of extreme, and even caricature, in the uniquely ponderous performance of the composer in 1987 on Virgin  Classics VC 7 90701-2 – Tippett was 82 then, and I think it had some bearing on it. Let me mention two details, which speak for the whole: at 0:30 into the first movement there are two chords marked staccato. With no one will you hear them crack as with Barshai. At 3:27 in the Finale, there is an F dotted half note played by the cellos and basses forte and crescendo leading to an E fortissimo. Man! you can hear the bows slamming on the strings.
I don't know, maybe Leonard had so much in his mind the more brooding and pastoral approach of Marriner and subsequents that he confused urgency, thrust and bite for muddle and scrap. But I found his bio online, and I'll hold it in his favor and not against him that, after the record stores he used to run in the 1980s and 1990s at Ann Arbor went down due to the development of download, "bankrupt and in debt to the government, Leonard wrote 14,136 reviews, composition descriptions, and historical essays for the All Media Guide AKA Rovi between 2001 through 2010." Churning out so much, no wonder he doesn't really LISTEN to the recordings.
The composer-conducted Fantasia Concertante on a theme of Corelli, with Menuhin and, once more, his Bath Festival Orchestra, was recorded in 1964 and originally came with Britten's Bridge Variations and the original Corelli Concerto Grosso op. 6-2 from which Tippett drew his theme, both conducted by Menuhin. It too is a great version. What makes it, overall, one of the shortest-running versions ever recorded (only William Boughton, recorded in 1991, is in the same league, on
Nimbus NI 5334 with Tippett's Little Music for Strings and works of Lennox and Michael Berkeley, barcode 083603533427), is Tippett's urgent pacing of the "Andante espressivo" passage which opens at 6:15. Other than that, compared to his recorded successors (including himself, more than two decades later, for Virgin Classics, see link above), Tippett is very "mainstream", but always flowing, never lingering, lending great lyrical intensity to this intensely lyrical work. Tippett the conductor also obtains remarkable clarity of articulation from his orchestra – as in the Allegretto passage at 2:18, where the strings' repeated notes can sound very mushy. Fantasia Concertante, with its group of three soloists and its divided orchestra, is a difficult work to record, and I haven't yet heard an entirely satisfactory pickup, one that entirely elucidates all the intricacies of Tippett's uniquely dense part-writing – but HMV's 1964 sonics do go some way in that direction, more, for instance, than Argo's 1970 recording for Marriner. But what makes this version stand out is also the unique vehemence of its three soloists, Menuhin, Robert Masters and Derek Simpson – try for instance the passage at 2:50. Menuhin is in top form tonally, and he charges his solo line with somewhat sentimental phrasings, sounding, if I may risk the cliché, very "Jewish" (try his flourish at 2:59) – but I love it, it lends his solos a unique expressiveness. I've read some critics complain about the "lack of refinement" of this version. Well, certainly, if you equate "refinement" and "deliberation", or perhaps to "pianissimos at the threshold of silence", there are more "refined" versions. But as uniquely vehement, expressive, and searing, there are none.
Any Tippett collection starts here. After, these versions can be complemented by others, offering contrast in interpretation: in the Concerto for Double String Orchestra and Fantasia Concertante on a theme of Corelli, Marriner's Argo recordings from 1970 (see link above) stand on the opposite pole, spacious and pastoral. Steven Osborne offers great versions of the four Piano Sonatas and Piano Concerto (link above). For the String Quartets, the Lindsay Quartet has unique legitimacy, for having worked closely with Tippett and premiered No. 4 and 5, although I marginally prefer the readings of the Britten Quartet, originally on Collins Classics Collins Classics 70062, barcode 5012106700628 (but unfortunately they didn't record the 5th). But in their own style, urgent and vehement, these early and now historical versions have never been emulated.
For more Tippett, see my comprehensive discography (link will open new tab to pdf document that you can read online and/or download).