Michael Tippett: Divertimento on Sellinger's Round, Little Music for string orchestra, Sonata for Four Horns, Concerto for Double String Orchestra. Academy of St Martin-in-the-Fields, Neville Marriner, Michael Thomson Horn Quartet. EMI "British Composers" CDC 5 55452 2 (1995), barcode 724355545220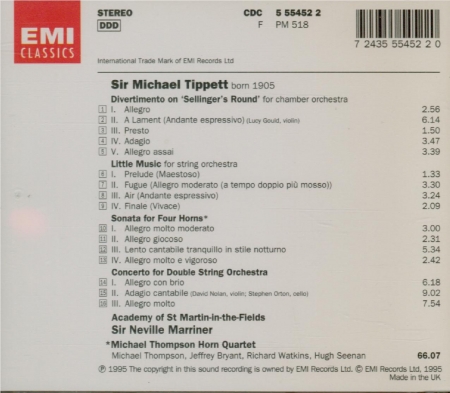 Compiled on EMI British Composers 0 95395 2 (2011), barcode 5099909539525, 5 CDs with works of Britten and Walton
Recorded 14, 15 & 18 February 1995, 12 & 14 May 1995 (Sonata for Four Horns) at Henry Wood Hall, Southwark, London,
A fine and original Tippett program
Originally posted on Amazon.com, 19 February 2014
…fine because original, original because it eschews the uquitous pairing of Tippett's two popular masterpieces for strings, the 1939 Concerto for double string orchestra and the 1953 Fantasia Concertante on a theme of Corelli, to which is often appended the more minor Little Music for string orchestra from 1946. And that was indeed the program of Marriner's first Tippett disc, recorded in 1970 for Argo, an important addition to Tippett's discography back then, when scarcity reigned (link will open new tab to my review).
Here, a quarter century later, Marriner returns to the Concerto and Little Music, but in the place of the Corelli Fantasia the program adds the rarer Divertimento on Sellinger's round (1954) and the Sonata for four horns (1955). Note that these are not, as is mostly the case in the "English Composers" series, reissues, but new recordings.
As befits its name, Little Music, comprised of four movements following without break, a Prelude, Fugue, Air and Finale, isn't major Tippett, because, except in the Finale, it lacks the melodic and rhythmic invention that are typical of the composer at his best. The Finale however is something else, and there the ebullient and passionately lyrical atmospheres of Tippett's first opera and great statement The Midsummer Marriage are adumbrated. The Sellinger Divertimento started out in 1953 as a single movement, "Lament", part of a collective set of variations on the famous Elizabethan theme commissioned by Britten to celebrate the incoming coronation of the second Elisabeth, and premiered at the 1953 Aldeburgh Festival (the occasion was recorded and comes now as a complement to Britten's Brandenburg Concertos, on
Australian Eloquence 442 9521, barcode 0028944295214): it joined the forces of Imogen Holst (who orchestrated William Byrd's harmonization of the theme), Arthur Oldham, Tippett (contributing the 2nd variation), Lennox Berkeley, Britten, Humphrey Searle & Walton. Tippett then took his Lament and devised his own "Divertimento", in five movements (the Lament again taking second position), with a variation on the theme included in each movement (with also quotes from Gibbons, Purcell, Arne, Field and Sullivan).
As entertaining as it is, Divertimento isn't a masterpiece either, there is too much in it of the light-weight, neo-Renaissance pastiche, its lyricism and melodic invention isn't quite as striking as in the Concerto for double string orchestra and Corelli Fantasia, and Tippett's very typical and personal rhythmic invention, by which the phrases' irregular rhythmic groupings defy the bar lines, is absent from it. But it is very entertaining, and it displays another very typical feature of the composer's style: the very busy instrumental activity. The short and explosive third movement Presto is an orchestral spectacular, and the 1953 Lament, but also the 4th movement Adagio (evocative of Nielsen at times) do rise above the occasion. At Aldeburgh in 1953, Britten fancied that the Variations should be played without indicating who had composed which and let each listener try and attribute who to what. Well, if you knew Tippett's Fantasia concertante on a theme of Corelli (in truth, not many must have, since it got its first recording only in 1964), "Lament" was unmistakable, because it uses the same kind of florid solo violin line. Given how much Lament belongs stylistically with the Corelli Fantasia, it is surprising that Divertimento was paired with the Fantasia only once on disc, its premiere
recording, never reissued on CD, by the unexpected National Arts Centre Orchestra of Canada under Mario Bernardi, published in 1975 by the Canadian Broadcasting Corporation.
Marriner leads an excellent version of the Concerto for double string orchestra, with a dynamic first movement, not as urgent and raging as the one recorded by Rudolf Barshai in 1962 with the combined forces of his own Moscow Chamber Orchestra and Menuhin's Bath Festival Orchestra (collated on an indispensable EMI twofer, 7 63522 2, with other great recordings of music of Tippett from the 1960s), but still with jubilant drive, more than Marriner's previous and slightly more heavy-footed and thicker Argo recording (see link above), and the fine stereo separation lets you hear clearly the interplay between both orchestras. The same dynamism imbues the Finale, but it was there already in 1970, with slightly sharper edges. It is in the slow movement that Marriner's conception has changed most. His previous version was very expansive and brooding, almost funeral. He now sets off at a more flowing tempo, although not as urgent as Walter Goehr (premiere and semi-private recording in 1943, now on NMC's "Remembering Tippet" with other premiere recordings of the composer's music, remake in 1952 with the Philharmonia Orchestra for HMV, not reissued on CD) or Barshai, more in line with Tippett's own in his 1987 recording for Virgin Classics, or with Richard Hickox on Chandos, also recorded in 1995, less than a month after Marriner . But in the course of the movement, as tension and dynamics build Marriner significantly steps up his tempo and rises to great climactic intensity. Ultimately his movement clocks as fast as Barshai's.
Marriner leads a fine version of the Sellinger Divertimento also, its most notable feature being the great drive he lends to the fast Presto and Finale. It is interesting though to note that nobody, neither Marriner nor his two predecessor Norman Del Mar (on Lyrita SRCD.257 with more
Divertimentos and Sinfonietas of Rawsthorne, Britten, Berkeley and Arnold, barcode 5020926025722) and Richard Hickox (same disc as above), plays the Lament at the composer's prescribed tempo – in fact, they all play it about twice as slow, not the "Andante" prescribed by Tippett at 72 quarter notes per minute, but a true Adagio, in Marriner's case at 38-39. On the other hand, although it is less perceptible, they all play the actual Adagio, the fourth movement, slightly faster than Tippett indicates, circa 84 eighth-notes/mn for Marriner to Tippett's 76 (and they all come within seconds of each other there). No complaint: although it distorts Tippett's intended tempo relationship (with his fast – medium fast – very fast – very slow – fast, turned into a symmetrical fast – slow – very fast – slow – fast), the symmetry it achieves is defensible and, more fundamental still, the Lament sounds beautiful like that.
In Little Music, I'm not so happy with Marriner's decision to "legatoize" the fanfare-like sextuplets (notated "brillante" by Tippett) that open the Prelude. Sure Tippett didn't write any staccato marks there, but everybody, including Marriner in 1970, plays them with a detaché articulation that reinforces their bite and brilliance. Here, they sound softened and somewhat watered down. Other than that, Marriner leads a good version, very similar (outside of the Prelude) to his former self, with as earlier a driving and ebullient Finale, but with slightly less robust edges and impact. I find the previous version preferable.
In the middle of all that enters the Michael Thompson Horn Quartet in the Sonata for Four Horns, more vivid in sound and biting in attack and articulation than the … Michael Thompson
Horn Quartet on Collins Classics (19292, "The Wallace Collection", barcode 5012106122925), but, consequently, slightly less atmospheric in the slow movement. The Sonata isn't among the canon of works considered as Tippett's masterpieces, yet it is: biting, angular, rhythmically bouncing, beautifully atmospheric, Tippett at his most inventive, even if the works evokes, as the liner notes justly point out, echoes of Britten and his Serenade for tenor, horn and strings.
Excellent and highly perceptive liner notes by Stephen Johnson, TT 66:07. This is a valuable addition to the collection of the Tippett fan. Note that the same year, 1995, Chandos released a Tippett CD under Richard Hickox with a very similar program, the song cycle The Heart's Assurance (originally for voice and piano, here in an orchestration by Tippett's assistant and specialist Meirion Bowen) substituting for the Sonata for Four Horns (see link above). Hard call, but I prefer the Sonata.
Note also that in 2005, EMI reissued, in the same "British Composers" series, with virtually the same cover, this very program, but shorn of the Concerto for double string orchestra, replaced by the Ritual Dances from The Midsummer Marriage performed by the Bournemouth Symphony Orchestra under Rudolf Barshai (5 86587 2), a recording from 1984 which came originally with a mediocre reading of… The Concerto for double string orchestra (
on EMI CDC 7 47330 2, barcode 077774733021). I find it an absurd decision from EMI (the original Barshai recording can still be found very cheap on the marketplace) and the presentation is very deceptive, letting you think that it is the same CD as here. I personally don't find the substitution of Barshai's Ritual Dances to Marriner's Concerto an attractive proposition at all. This one is the one to get.
For more Tippett, see my comprehensive discography (link will open new tab to pdf document that you can read online and/or download).