Michael Tippett: Concerto for Double String Orchestra, Fantasia Concertante on a Theme of Corelli (John Tunnell & Rosemary Ellison violins, Kevin McCrae cello), Songs for Dov (Nigel Robson, tenor), Scottish Chamber Orchestra, cond. Michael Tippett. Virgin Classics VC 7 90701-2 (1987), barcode 075679070128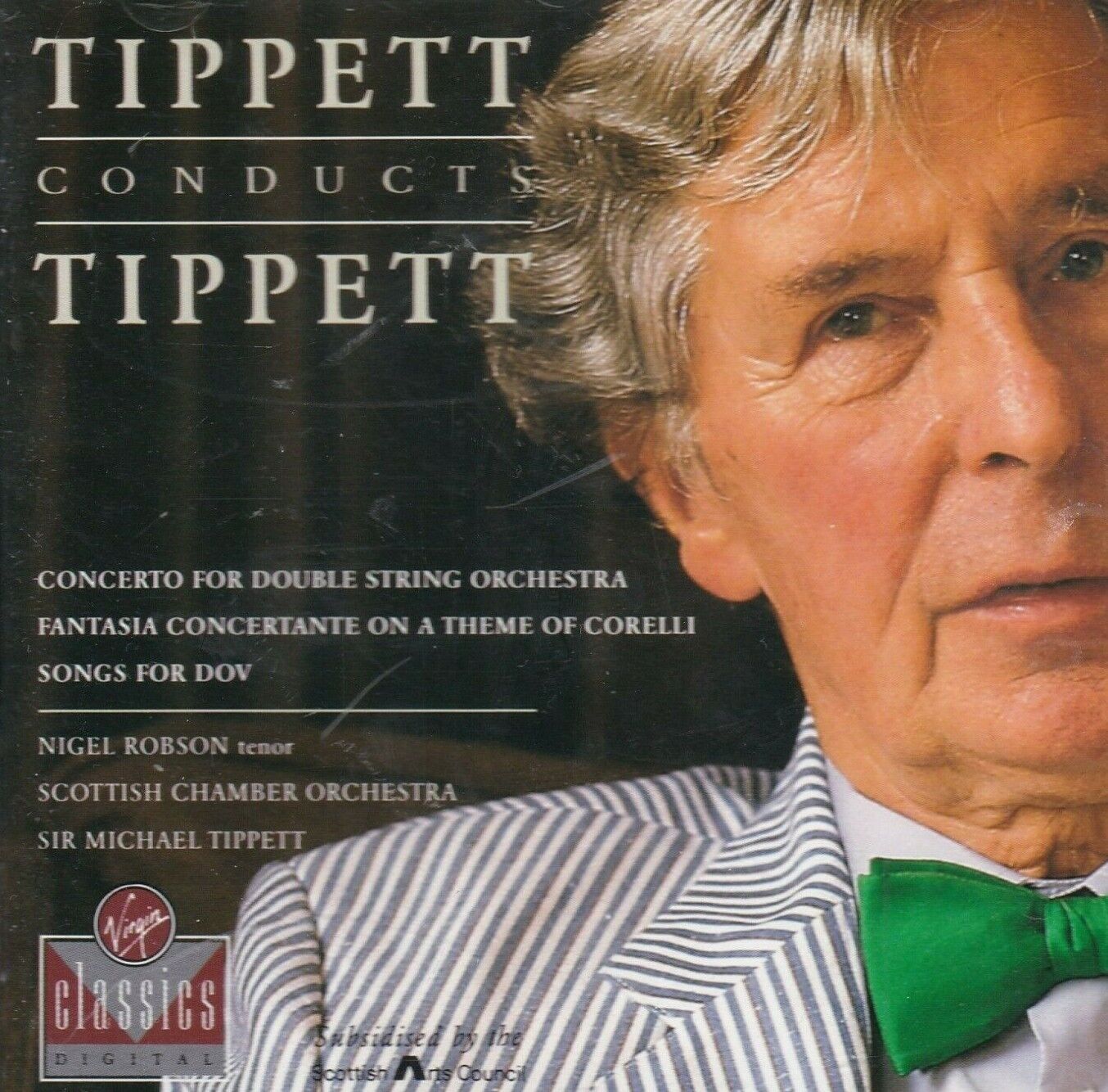 Reissue Virgin "Ultraviolet" CUV 5 61326 2 (1996) 724356132627
Reissue EMI "British Composers" 7243 5 86588 2 8 (2005), barcode 072435865882
Recorded July-August 1987 at City Hall Glasgow
Tippett at 82
Originally posted on Amazon.com, 2 March 2014
There is always, of course, a unique legitimacy to composer-conducted performances, even if, for various reasons, composers may not be always the best advocates of their own works: they may lack the technical skills to convey their vision to an orchestra (and there are testimonies of Tippett in the 1940s being more inspirational as a conductor than technically accomplished), or other interpreters may unveil in their scores things that even they didn't know were there. But here, in these recordings made in 1987, additional allowances must be made both for the age of the composer-conductor – Tippett was 82 then – and the distance in time from the original composition and conception of the respective works: the Concerto for Double String Orchestra was almost half a century back by then (1939), and the Fantasia Concertante on a Theme of Corelli, nearly 35 years (1953).
These considerations come to mind especially when listening to Tippett's Concerto for Double String Orchestra, and listening to it with a historical perspective. The composition's early recording champions, Walter Goehr (a first and semi-private recording in 1943, sponsored by Tippett's publisher Schott, and now reissued on a fine collection of the earliest recordings of music by the composer, "Remembering Tippett", on NMC, and a remake for HMV with the Philharmonia Orchestra in 1952, never reissued on CD) and Rudolf Barshai (leading the combined forces of his own Moscow Chamber Orchestra and Menuhin's Bath Festival Orchestra in 1962, again for HMV, reissued on an indispensable EMI twofer, 7 62522 2, with more great EMI recordings from the 1960s) conducted uniquely urgent and dynamic performances, even in the slow movement. It is Neville Marriner, recorded in 1970 for Argo, who ushered in an alternative interpretive perspective, more expansive and pastoral, although Marriner commendably kept enough cripsness and bite to his strings' articulation to offset any sense of sluggishness.
But it is, ironically, with Rudolf Barshai's remake, in 1984 with the Bournemouth Symphony Orchestra – the first music of Tippett to be released on the new CD medium – that deliberation turned into slackness and sluggishness (on EMI CDC 7 47330 2 with the Ritual Dances from The Midsummer Marriage, barcode 077774733021).
And now comes Tippett at 82, and he one-ups even the ageing Barshai. Just look at the timings of the outer movements:
Goehr 43: 5:41 / 7:36
Barshai 62: 5:38 / 7:28
Marriner 70: 6:19 / 7:40
Barshai 84: 6:22 / 8:09
Tippett 85: 6:39 / 8:32
If you listen to Tippett without any knowledge of the "historicals", his version might make an illusion, because the orchestra is well-recorded and there is a certain power and impact to it, with the antiphony of both ensembles registering well and the bass lines kept clear enough. But jumping from Barshai 1962 to Tippett 1987 reveals how much the latter is heavy-footed, cautious if not plodding, lacking energy, enthusiasm, substituting a sense of weight to a sense of drive. The slow movement fares better, both because it can better take the expansive approach… and because here Tippett ISN'T so expansive, half-way through the urgency of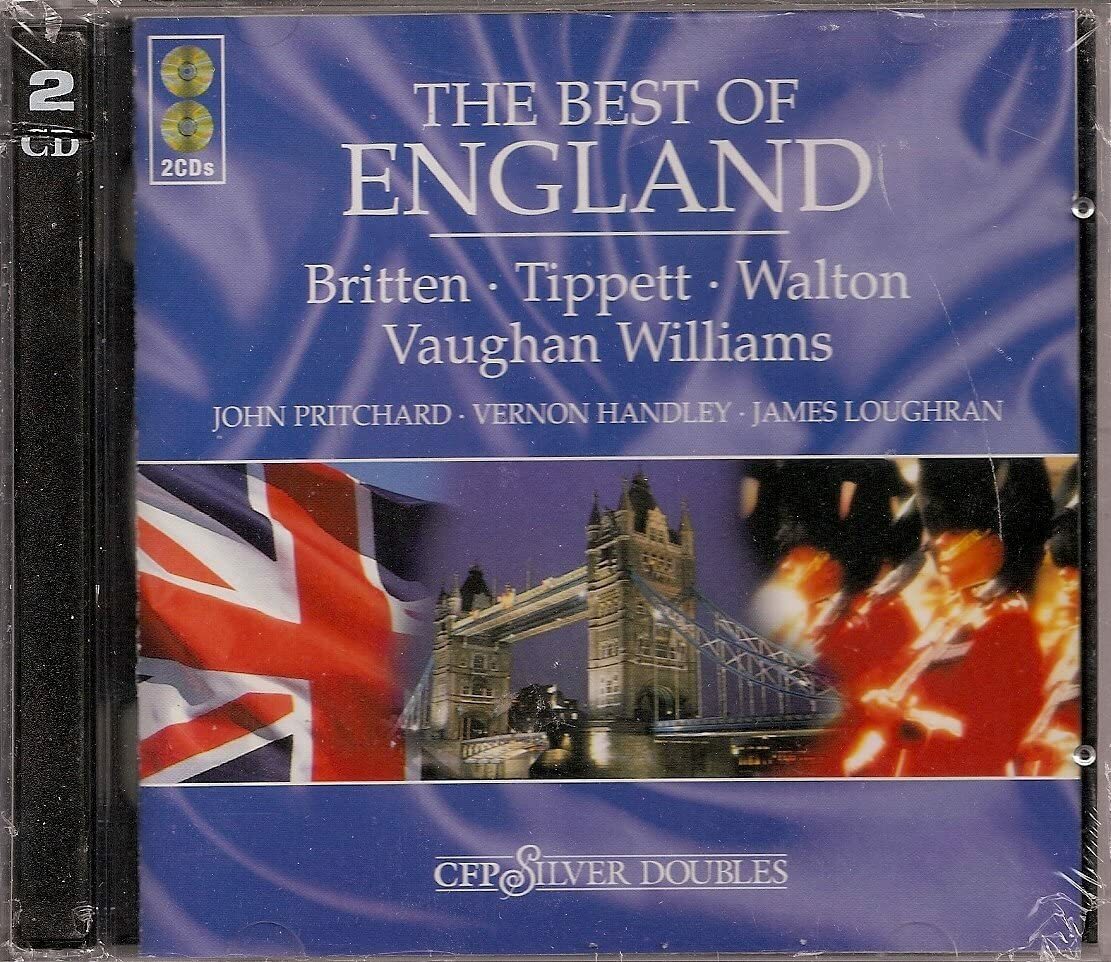 Goehr 1943 (arguably a bit TOO urgent) and Barshai in 1962 and even more in 1984, and the funeral expansiveness of Marriner 1970 and even more of Vernon Handley in 1973 (first reissued to CD in 1995 on a twofer from EMI Classics For Pleasure, 5 68975 2, "The Best of England", with pieces of Vaughan Williams, Britten and Walton, barcode 724356897526).
Sinfonia Concertante on a Theme of Corelli fares much better. The two references here, standing on the two opposite interpretive poles, are Tippett's own and premiere recording, made in 1964 with Menuhin and, once again, his Bath Festival Orchestra, again uniquely urgent and intense (and benefiting from a Menuhin in top form tonally and wonderfully vehement and expressive; it was reissued on the same CD compilation as Barshai's 1962 Concerto linked above), and, again, Marriner's 1970 recording for Argo, uniquely expansive. Tippett in 1987 stikes a kind of middle ground between the two. What made the difference between Tippett 1 and Marriner and all the others who subsequently recorded Fantasia Concertante was mainly their pacing of two sections, the "Andante espressivo" which starts after circa 6 minutes, and the ensuing Fugue, both very flowing with Tippett, uniquely deliberate with Marriner (there was the same difference, but to lesser degree, in the penultimate "Andante – Adagio alla pastorale tranquillo" section immediately following the Fugue). It is telling that both reached that "Andante espressivo" section in, respectively, 6:15 and 6:17, but that Tippett ended the Fugue at 12:51, and Marriner at 14:31.
Tippett in 1987 reaches the Andantino espressivo at 6:25 and exits the Fugue at 13:23, but it is really in the Andantino espressivo section that he gives more time to the music to unfold and breathe – his Fugue proper is very similar to his 1964 version. Interestingly, when Marriner re-recorded the Fantasia in 1982 for ASV
("The English Connection", CD DCA 518 barcode 5011975051824, reissue 743625051827, with works of Vaughan Williams and Elgar), he too had become much more "normal", and in fact strikingly close to Tippett 1987: 6:27 and 13:35, with the Andantino espressivo section taken in 2:42 (to Tippett's 2:40) and the Fugue in 4:26 (to Tippett's 4:18). For comparison:
Tippett 1964 Andantino 2:15 Fugue 4:22
Marriner 1970 Andantino 2:55 Fugue 5:19
Another striking difference is how Tippett now paces that penultimae "Andante – Adagio alla postorale tranquillo": even more swiftly than in 1964
Tippett 1964: 4:03
Marriner 1970: 4:50
Marriner 1982: 4:28
Tippett 1987: 3:36
…so that, despite the more spacious pacing of his "Andantino espressivo" section, Tippett's 1987 Fantasia runs very close to his 1964 recording: 18:32 to 18:21 (for comparison, Marriner 1970 = 20:57 and Marriner 1982 = 19:39).
Beyond the dry statistics, it is a fine version, lush sounding (although not totally elucidating the uniquely dense strands of Tippett's part-writing for three soloists and two orchestras), lacking perhaps a touch of bite in some of the sforzando accents (but those are minuscule details), and without the incomparable vehemence and expressiveness of the three soloists of 1964 (although those of the Scottish Chamber Orchestra are fine enough), and I find that the very flowing pacing of that penultimate section, far from feeling unfeeling or stiff, lends it a passionate and youthful intensity.
I am often drawn to the comparison between Britten and Tippett, and not only because they were the two towering personalities of British music after World War II. Although he died more than two decades before Tippett, Britten was Tippett's younger by 8 years, but he was also the youtfhful prodigy, already a recognized figure in the mid-1930s, and Tippett was the late blossomer, stepping into the limelight only at the end of World War II, in his late 30s, with the premiere of his oratorio A Child of Our Time. But while Tippett's stylistic starting point, as exemplified by the Concerto for Double String Quartet and Fantasia Concertante on a Theme of Corelli, was very close to Britten's, steeped in the traditions in English string writing rather than in the continental avant-garde of Schoenberg or Bartok, in the 1960s onwards, starting with his opera King Priam, Tippett also went much farther than his younger colleague in the direction of the avant-garde of his time. The orchestral song-cycle Songs for Dov, written in 1970 as an offshoot of Tippett's third opera The Knot Garden, is a good case in point. Ever since his 1937 First Piano Sonata, with its ragtime-inspired Finale, Tippett was attracted by the American vernacular, and the Five Negro Spirituals from A Child of our Time are the most popular examples of that attraction. Although aggressive and angular, making no allowances for the wider public's tastes and abilities (except perhaps in a general songfulness, albeit a stern and tense one, of the vocal line, retaining some vague links to the vocal style of Britten or of the earlier Tippett), Songs for Dov may be the most "pop-music" inspired music of Tippett (and a good contender among the contemporary compositions of those decades), the one most rooted in the American pop culture of the 1960s and 1970s. Contributing to that "pop" feeling are the text, its "Oh boy"s, "honey"s, "sure, baby"s and "play it cool" lyrics, the bluesy melodic turns, the percussion section and especially the vibraphone, the jazzy outbursts of the third Song, and the very particular timbre of the electric guitar, especially prominent in the first and third Songs.
Songs for Dov is a very seldom-recorded piece, and in fact this was only its second recording (and so far, it has remained so), after the one made by Robert Tear and David Atherton in 1971 (originally on Argo, paired with Messiaen's Poème pour Mi). By Tippett's own admission, this is formidable competition. In his autobiography, Those Twentieth Century Blues, Tippett calls Atherton "a conductor of genius". But Atherton's recording has not had wide circulation on CD,
and is available only on a 4-CD compilation of Tippett's vocal works released by Decca in 2005,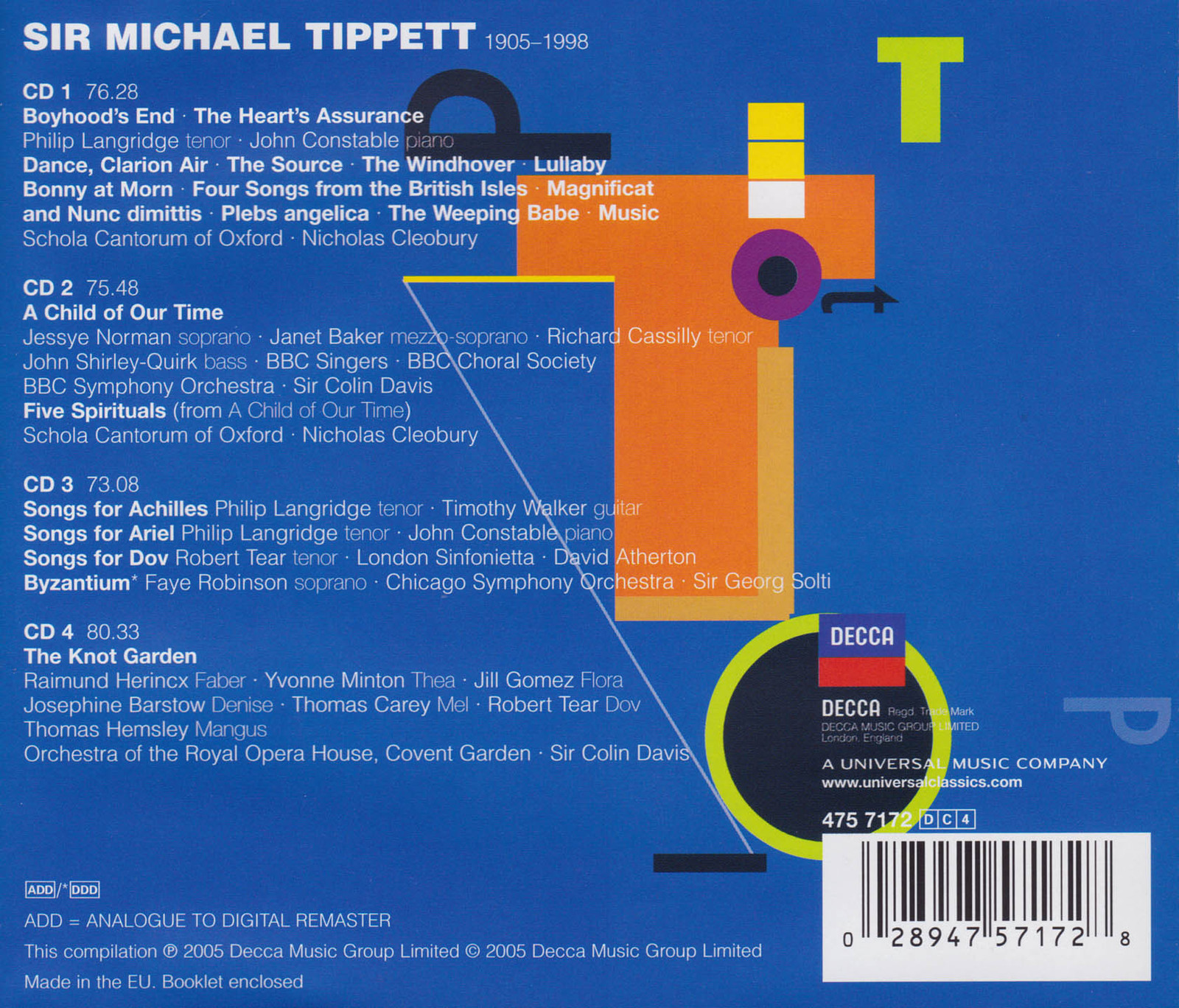 which, for the seasoned Tippett collector, entails a number of irritating duplications, most significantly of Colin Davis' A Child of Our Time and The Knot Garden, and of Solti's Byzantium (475 717-2, barcode 028947571728). A pity then if those wanting Songs for Dov in their collection should have to make do with an inferior reading, even graced with the composer's imprimatur.
I'm happy to report then that Tippett's recording is significantly better than Atherton's. His tenor Nigel Robson is better than Atherton's Robert Tear, in his clearer timbre (Tear's heavier and somewhat forced and congested delivery could almost be mistaken for Peter Pears at times), in his articulation (if, at 2:17 in Tear's first song, you can recognize the consonant C and the vowel O is in "come with me", good for you. I hear something like "higher'em with me"), in his breath control (it's a small detail, but Tear has a very bizarre and unfortunate breath intake at 4:39 in the first Song, right in the middle of a phrase and melodic flourish) and in the few spots of "sprechgesang"/spoken text in the 3rd song, at 8:11 and 9:03, where Tear can't help sing a little. Compared to that, Robson's slightly inaccurate entrance at 7:45 in the 3rd Songs is imperceptible without a score (and for the record, you'll hear one beat too many of temple blocks at 6:24). The Decca transfer comes with significant tape hiss and the Virgin recording is clearer and lets you hear many instrumental details that are covered by the general din with Atherton – most notably (but not limited to) the very characteristic trumpet playing with Jazz mute in the third song, which is, most unfortunately, almost lost in Argo's sonics. Tempos and timings are extremely close, but there is a touch of greater relaxation in Tippett's pacing of some fast passages that is very welcome. And in the only spot where tempos significantly differ – the coda of the 3rd Song, starting here at 9:26 (9:25 for Atherton, that's how close they are), a kind of chorale played by woodwinds and brass, recalling Stravinsky's Symphony for wind instruments, and which Tippett takes significantly faster than Atherton, it is because the latter has evidently not grasped the essential tempo relationship with the very beginning of the Song, where similar chords are played in double time by the brass ("con forza") as an underpinning to the violins and flutes melody.
Of fundamental importance also is that Tippett's electric guitar sounds much more genuine – even if I hadn't read what Tippett writes in Those Twentieth Century Blues about the vagaries of performances of his music in the 1950s-to-1970s, I would NOT have been surprised to learn, playing only by ear, that Atherton's electric guitar had been replaced by an electric organ or electric harpsichord. Tippett doesn't specifically say that it was, but he does write: "when, in the late 1960s and 1970s, I wrote for the electric guitar, in my third and fourth operas, The Knot Garden and The Ice Break, finding a player who could cope with the part was almost impossible. One either used an acoustic guitarist who could read accurately but had limited knowledge of the special sonorities of the electric instrument; or you engaged a rock musician, whose variable reading ability and inexperience at playing to a conductor's beat placed the security of the ensemble at risk. Indeed, to try and surmount the problem at that time, an electric harpsichord was often substituted; this was unsatisfactory". That's exactly how Atherton's electric guitar sounded to me: as an electric harpsichord, and unsatisfactory.
On the other hand, Tippett's electric guitar sounds wonderfully like… an electric guitar. And, after investigation, no wonder. In Those Twentieth Century Blues, Tippett adds: "In the late 1980s, however, those difficulties have disappeared: players like Steve Smith are at home with any kind of guitar, acoustic or electric, and their musicality and intelligence are an asset". Virgin gives the complete list of performers from (or with) the Scottish Chamber Orchestra. In Songs for Dov, "Guitar: Steven Smith".
This recording was an important statement of faith for Virgin Classics, the label established by Richard Branson at the end of the 1980s when he decided to move into classical music, surfing on the wave of success of his retail chain stores and of the new CD medium, as it was, quite simply, Virgin Classics's very first release, 90701. Virgin later recorded Tippett's opera The Ice
Break (VC 7 91448-2, barcodde 075679144829), and they were going to co-produce the recording of his fifth opera, New Year – but pulled out at the last minute. Later, of course, Branson pulled out of retailing and of classical music and sold Virgin's catalog to EMI (which in 2005 reissued this recording in their "British Composers" series, see reference in heading). Maybe t'was Tippett that got him on the verge of bankruptcy (in fact it was his airline company).
It would have been satisfying for the mind and easier for this review to be able to give a clear-cut conclusion, something like "sluggish interpretations by an 82-year-old Tippett" or "Tippett at 82 in uniquely youthful interpretations", but in truth, Tippett here defies such generalizations. The Concerto is more a testimony of Tippett at 82 than a competitive version, but Fantasia Concertante is as good as any on the market, and Songs for Dov is better. Outstanding liner notes by Tippett's companion, assistant and specialist Meirion Bowen, TT 70:55, the bottom line is absolutely in favor of this CD, and at 50 cents best offer at the time of writing, it is a shame that everybody is not swarming on it. That's how many amateurs of 20th-century music there are left in the world. Sometimes I feel like Charlton Heston in "The Omega Man".
For more Tippett, see my comprehensive discography (link will open new tab to pdf document that you can read online and/or download).