Mahler Symphony No. 9. Columbia Symphony Orchestra, Bruno Walter
Recorded 16, 18, 28 & 30 January and 2 & 6 February 1961, American Legion Hall, Hollywood, California
CBS Masterworks M2K 42033 (1985), originally no barcode, then 074644203318:
Bruno Walter The Edition (Rehearsal & Performance) Sony SM2K 64452 (1994), barcode 5099706445227 (Europe) or 074646445228 (US):
Collected in Bruno Walter The Edition vol. 1 Sony SX10K 66246 (10 CDs) 5099706624622 (with 64447 to 64459 – Mahler Symphonies 1, 2, 4, 5, Das Lied von der Erde, Lieder eines fahrenden Gesellen, Lieder und Gesänge aus der Jugendzeit, Wagner Orchestral Music, Violin Concerto by Beethoven with Szigeti) and Mendelssohn with Milstein):
Collected in Sony (France) 5054072 (5 CDs) with Walter's Columbia/CBS recordings of Mahler symphonies (2002) 5099750540725:
Collected in Sony SM5K 87988 "Columbia Legends" (5 CDs, with same content as above) (2003) 5099708798826:
Collected in Sony Original Jacket Collection SX13K 92460 "Famous Mahler and Bruckner Symphonies" (13 CDs) (2004) 827969246023:
Collected in Sony 88691920102 (7 CDs) with Walter's complete Columbia/CBS Mahler recordings including the mono recordings of the 1st, 4th and 5th (2012) 886919201024 (budget reissue, no liner notes):
Collected in "Bruno Walter The Edition" (39 CDs) (2013) 887654895226
An "Old Man's" view of Mahler's 9th – but an old man still full of punch
Originally posted on Amazon.com, 14 November 2011
Bruno Walter had a special legitimacy in this work, Mahler's last completed symphony. He was, when the symphony was composed (between the summer of 1908 and the winter of 1909/10) Mahler's favorite disciple, there were long exchanges of correspondence between them, and finally he premiered the work, after Mahler's death, on June 26, 1912. He also made its premiere recording, live with the Vienna Philharmonic, in 1938 (see my review – link will open a new tab).
So there is a direct line between Walter and the composer, although I wouldn't push the argument too far. Henry-Louis de la Grange, in his mammoth Mahler biography, doesn't record that there were any discussions between them on the score as there was with Das Lied von der Erde, and although there are reasons to argue that Walter's 1938 performance is indeed closer than any subsequent recording to what the symphony might have been under the composer's own baton (mainly, the very swift tempos in the outer movements, and the fiery intensity that results), that recording was made almost thirty years after any (undocumented) conversation that may have occurred between the two men at the time of the work's composition, and a quarter century after Walter premiered it in 1912. And this stereo remake, made in January 1961 (Walter's last recording session was made on March 31 of the same year, and he died on February 17 of 1962), is even further removed. It also shows a significant change in Walter's approach to the piece.
Critics have been split over the respective merits of this remake and Walter's premiere recording of the 9th, while usually recognizing the virtues of both. On the other hand, I remember hearing an interview of Zubin Mehta, who had been present at the 1961 recording sessions, disparaging it, on account of the fact that, for financial reasons, Columbia/CBS had pathetically afforded Walter only half of the necessary strings (April 2021 addendum: on his Facebook account, Mehta reproduces a written interview that was available on Universal's website when I originally wrote this review ten years ago, in which he expresses in very much the same words as I had heard his qualms about Walter's 9th. He adds that the members of the Columbia SO sight-read, and chides the critics for praising to such an extent a version that was the result, according to him, of mere sight-reading. The post with the complete interview is here, but since these things come and one day disappear, I've taken the liberty to copy and paste here the significant passage). Well, whatever the process, Mehta must not have listened to the results.
Certainly, the 1938 version is a major musical statement, and one that is entirely unique in its approach, paralleled in its brisk tempos and fiery intensity by few subsequent versions (only Hermann Scherchen, in a recording made for the Austrian radio in 1950 but published only in 1990 on Orfeo C 228 901 B, pushed the Walter approach to the point almost of caricature; but, with a coarse Moscow orchestra, Kirill Kondrashin in 1964 came closest to recapturing something of the white-heat intensity of Walter in 1938). But its constricted sonics are a big limitation, especially in the first movement with its intricate contrapuntal writing, much of which gets lost (horns and woodwinds especially). Now jump 23 years. Half the necessary strings, Zubin? I don't hear that in the least. What I hear, thanks to the great stereo sonics (Bernstein's recorded four years later on the same label were not as good) is not only power when needed, but also great clarity and transparency of every string line (essential especially in the first movement, with its antiphonal writing for first and second violins), and great pungency and instrumental character in the brass and woodwinds. And note that what I have is the first Western CD reissue, from 1985, as referenced first in the heading; the sonics may have been further improved in subsequent remasterings; but the 1985 sonics make me wish for nothing more. But Walter's 1961 version isn't only outstanding sonically, it is also an account that deserves to be acknowledged musically.
What one hears immediately in the first movement is, in the way the violin phrases are molded, the expression of Walter's unique goodness and lovingness. But Walter isn't just loving and mellow, mind you. Listen how the brass crash in at 19:33 in the first movement "mit höchster Gewalt" (measure 314), "with the strongest force" (or violence): it is devastating. Common critical wisdom is that, due to its pick up nature, the so-called Columbia Symphony Orchestra was no match to the New York Philharmonic with which Walter had done his first recordings for Columbia, in the 1940s and 1950s. With my ears only to judge (and not any reverence to an orchestra's stature, or any knowledge of what went on during the recording process), I couldn't agree less: I've often found the 1950s New Yorkers to be a sloppy band, lacking crispness and ensemble, and the Columbia SO appears here as in other recordings of Walter as a virtuoso ensemble, playing with precision, snap and vigor, abetted by the great sonics. Sight-reading, Zubin? Many orchestras couldn't play like that even after 10 rehearsals.
Is anything missing? Yes, Walter underplays the contrasts of tempo in the first movement, keeping everything too much in an allegro moderato tempo. "Etwas frisher" (somewhat brisker) at 5:45, "fliessend" (flowing) at 6:05, "allegro" at 6:59: these hardly register, the allegro risoluto "mit Wut" (with fury) at 11:37 is hardly risoluto and furious, the "Leidenschaftlich" passage at 13:35 could have been more passionate and animated. This is too invariably deliberate. I doubt however that any of this has to do with "sight-reading", but rather with Walter's old age, frailty and approaching death. Not so much a case of the body not able any more to convey what the mind conceived (as perhaps Klemperer in his final time), but a mind turned unresponsive to these brusque Mahlerian shifts and surges of passion. But Walter's "suddenly very measured and held-back" at 8:38 (measure 130), which he perceptibly holds back, has great character, and overall his orchestra's instrumental pungency makes up to a large extent for his relative lack of drive.
The same is true with the two, fast, loud and rambunctious middle movements: Walter may have been an old, weakened man nearing death when this recording was made, but the Ländler and Rondo-Burleske amply compensate in power, vigor and extraordinary instrumental pungency what they loose in sheer forward drive, in an approach strikingly close to Horenstein's in his 1952 recording for Vox (see my review). In fact, Walter's conception of the Ländler hasn't changed much since 1938, just a little more expansive and lacking a measure of savagery at 7:19 (measure 261) with the return of the tempo II ("but a little faster than the first time", indicates Mahler, and Walter doesn't observe) and again at 12:24 (measure 423), but the sonics are incomparably better than his own in 1938 and Horenstein's in 1952, and again the orchestra compensates for the occasional lack of drive with a lot of pungency. While still favoring a very laid-back and easy-going view of the opening section and Tempo I (Barbirolli in 1964 and Bernstein in 1965 provided a valid alternative, with a considerably brisker Tempo I, less good-natured and more exultant), Walter has a better grasp than in 1938 of the tricky tempo change from tempo III to tempo I at 6:04 (measure 230), but he still doesn't do anything of the "fliessend" (flowing) at 7:03 (measure 256) – a small detail that counts for nothing in view of the movement's charm and irresistible instrumental character, which no other version in the 1960s has equalled (only Klemperer came close): just listen to the earthy and clumsy ("schwerfällig") vigor of the 2nd violins upon their first entry at 0:19, and the extraordinary pungency of the saucy ("keck") horn immediately after (0:27). In the Rondo-Burleske Walter's conception HAS changed significantly compared to 1938, now going less for sheer forward drive (and his observance of Mahler's double acceleration in the finale is very minimal), but again he amply makes up with the power, the vigor, the instrumental character, the extraordinary intensity. What a din! Walter (like Bernstein after him) doesn't exactly observe Mahler's score when applying Mahler's required slow down at the movement's B section ("etwas gehalten", somewhat held back right at its entry at 6:23 (announced by violin tremolos and flute fluttertongues, measure 347) rather than eight measures later as prescribed.
Walter's 1961 finale may have added a few minutes to his earlier recording (21:02 to 18:06), it is still, by any previous and subsequent standard, a brisk and flowing approach (compare to Horenstein's 25:11 in 1952 or Bernstein's 22:55 in 1965, to say nothing of Levine's extreme 29:48 in 1979). But it is a tribute to Mahler's genius that I have rarely heard a recording here, be it the extremes of Walter 1938 or Levine 1979, that didn't convey the scorching intensity of the music, evidently not so much a function of tempo (slow or fast) as of intensity of bowing (Mahler instructs the strings to play with "grosser ton", big tone), of a sense of desolation in the more sparsely orchestrated passages, of the conductor's ability to bring devastating power to the climaxes. In that respect, I find Walter wanting only at 12:27 (measure 107), when the strings re-enter at full blast, in a more flowing tempo, after a long passage of bareness conveying the sense of an Abschied (farewell) to the world. The ensuing climax, at 13:25 (measure 118), with the horns and trumpets playing bells up, is as blistering as anyone's, but again Walter lets the intensity sag on the long held, fff string chords at 13:45 (measure 122).
This may not be, now, fifty years later (PS from April 2021: make it sixty for the repost on discophage.com), among the best versions of Mahler's 9th that you can get, but it is still an excellent version with which nobody will go wrong or get a distorted view of the composition, and it remains one of the essential milestones in the history of the symphony's recordings, a long list that begins with (but is not limited to) Walter 1938, Horenstein 1952, the neglected Leopold Ludwig in 1959 (first stereo version, recorded by Everest), Barbirolli 1964, Bernstein in 1965.
Here is a choice of some Japanese reissues of this recording. Just for information, I haven't heard them, can't comment on any sonic improvement they might entail (to be continued).
CBS/Sony 56DC141-2, no barcode
CBS/Sony 46DC5056-7 (1988) 4988009277455
Sony SRCR 8798/9 (1992) 4988009879826 (with Wagner's Siegfried Idyll – no cover photo found online)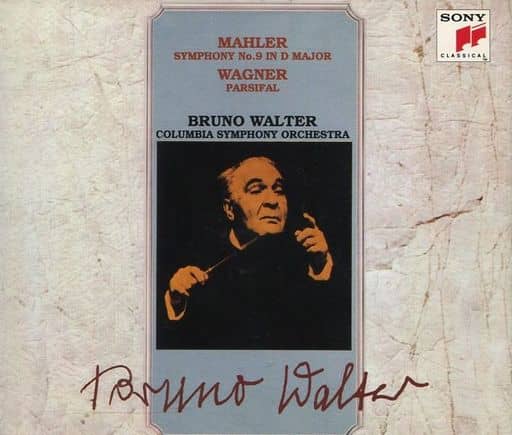 Sony SRCR 9973/4 (1995) 4988009997322
Sony  SRCR-2337/8 (1999) barcode 4988009233734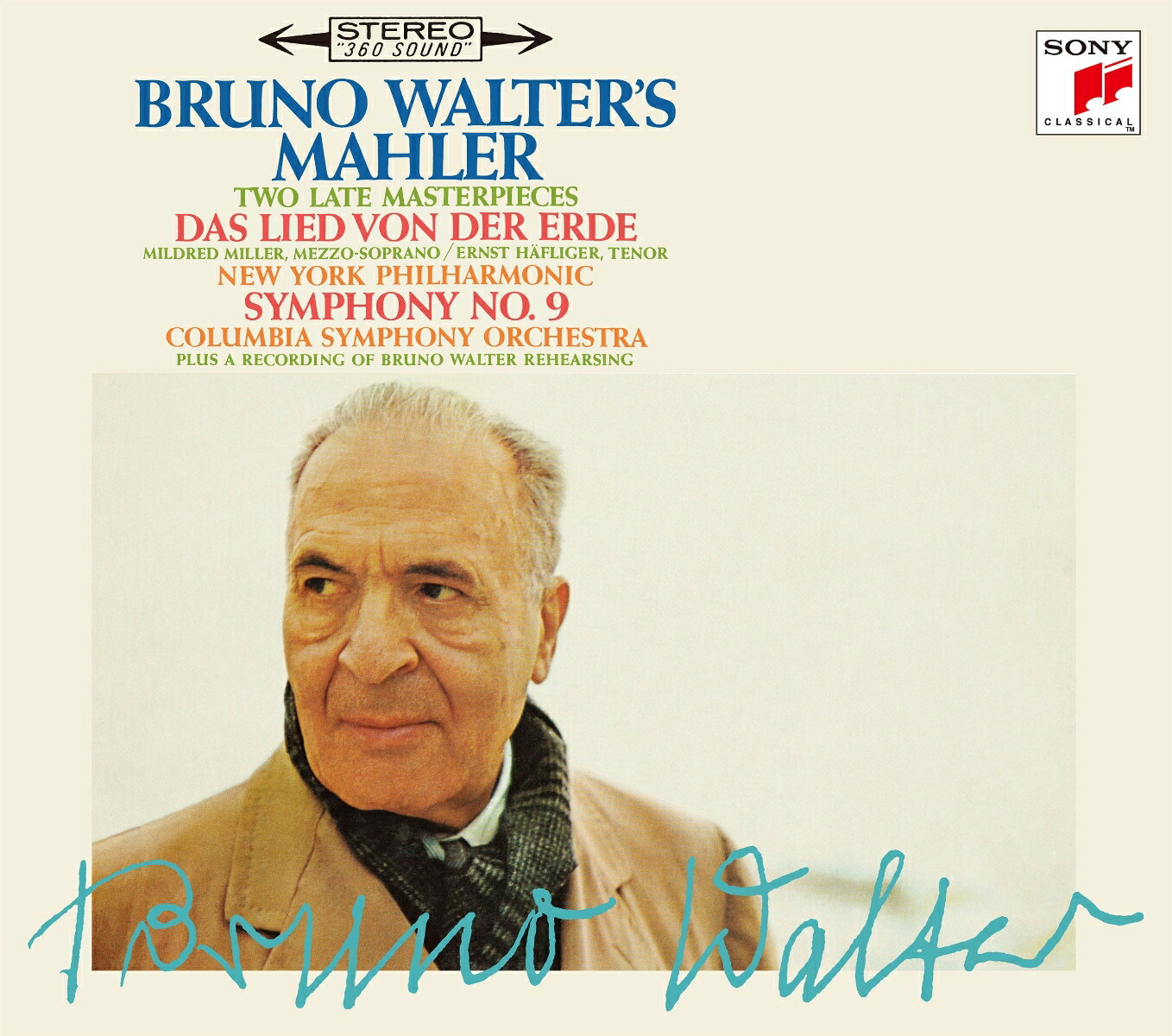 Sony SICC-10316/20 (4 SACDs + 1 CD, with Walter's complete Columbia Mahler stereo recordings and interviews) (2020) 4547366440515