Looking for a rarity on Amazon.com, Joseph Hector Fiocco's (1703-1741) Lamentations by Ensemble Concerto under Roberto Gini, a recording from 1992, 2 CDs on the obscure Italian label Giulia, GS 201021, barcode 8011662200204.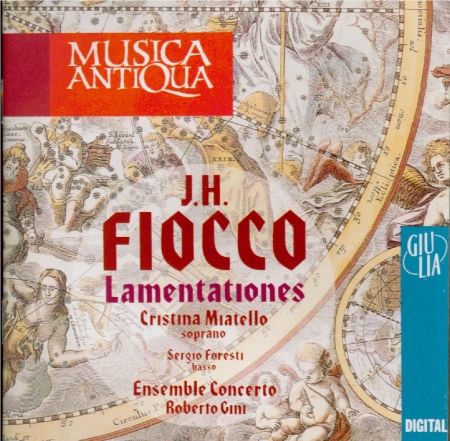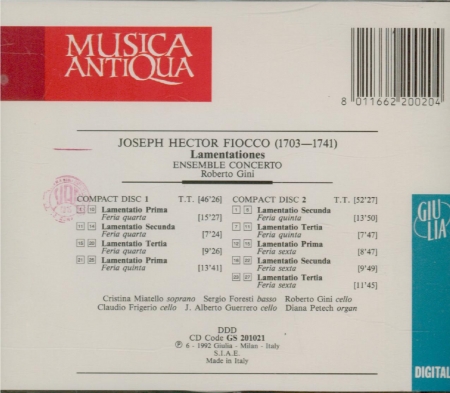 Searching the barcode on Amazon's search engine takes me instead to Bach Violin Sonatas by London Baroque on EMI Reflexe (link will open a new tab to my discography), label number CDC 7 49203 2 barcode 077774920322 – an entry in itself entirely botched, scanty product info, no product image:
Things are slightly better on Amazon.uk. At least you get the label and indication of the works played.
Here are the front and back cover photo of that EMI Reflexe CD, since the Amazons do not provide it:
Why such a mess? Well, again, because the impenetrable and all-dominating "system", in its great wisdom (or rather, human error by the ignorant dunces who enter that information), associated two entirely different barcodes, for two entirely different recordings, discs, labels, to one entry:
The result of that situation: if you buy, you don't know what you get: Bach by London Baroque on EMI Reflexe or Fiocco on Giulia. And that's through no major fault of the sellers: they just scan the barcode of the disc they have to sell and it is automatically added to the offers. I don't even blame them for not checking if the entry accords with the CD at hand: I understand that they are mass sellers and don't have the time for such petty details.
Not that it matters anyway: at 40 £ best price, the offers on Amazon.uk are ludicrously expensive even if you were sure you were buying the Fiocco (and no better on Amazon.fr), and the one at 9.95 on Amazon.com is evidently for the EMI Reflexe CD, as per the seller's description of the CD condition: "The 'Made in Japan" audio CD will play flawlessly, guaranteed, despite a number of very light surface marks. Includes a somewhat scuffed jewel case with, in VG or better condition, the pictured cover insert and the rear inlay. NO cut-out or ex-library marks. The track listing for this CD is as follows: 1-4) Sonata, BWV 1021; 5-8) Sonata, BWV 1023; 9) Cantabile, ma un poco adagio, BWV 1019a; 10-12) Sonata, BWV 1022; 13) Fuga, BWV 1026; 14-16) Sonata, BWV 1024. Featured performers are Ingrid Seifert, Charles Medlam and John Toll."
The entry on Melomania is perfect:
I'm not even going to bother to try and fix things with Amazon. It's not worth the energy and time I'd have to spend – and more likely, waste.